By Brad Pettiford, Athletic Media Relations Office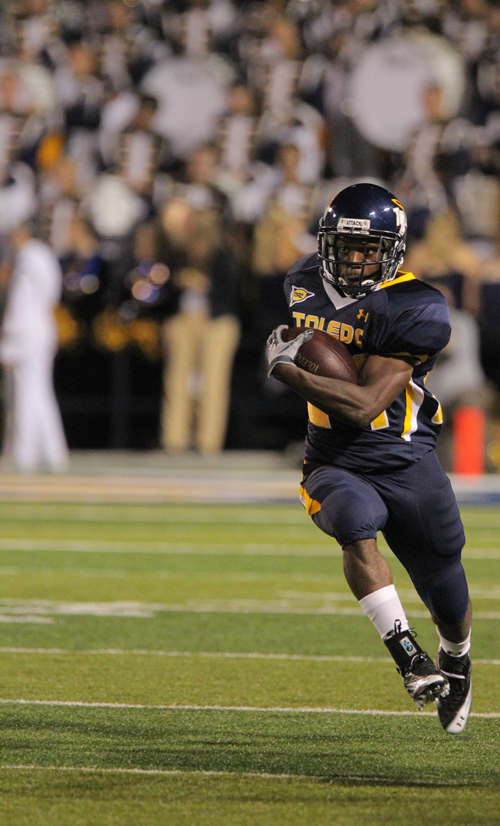 It came like a flash, a sudden moment early in Toledo's matchup against Florida International in the 2010 Little Caesars Pizza Bowl. But just like that, college football fans around the country were asking themselves, "Who is that guy?"
Sure, they had heard of Eric Page, the Rockets' speedy wide receiver and All-American kick returner, but Adonis Thomas? Who is he?
Thomas' 87-yard touchdown in the first quarter of the bowl game, his second score of the contest, highlighted a career-best 193-yard performance. Toledo lost the game, 34-32, but Thomas grabbed the attention of the national television audience and solidified his status as a rising star for the Rockets.
Virtually every college football preview magazine pegged him for the preseason All-MAC team. He also made the "Watch List" for the 2011 Doak Walker Award, which is given annually to the nation's top running back. Despite the heightened recognition, Thomas acknowledges that he is still flying under the radar.
"In my class, you have big-name guys like LaMichael James (Oregon) and Trent Richardson (Alabama) and I'm not mentioned with them," Thomas said. "So I feel like I still have a lot to prove."
While Thomas is still trying to make a name for himself on the national scene, he is honored to have his name mentioned among the pantheon of former Rocket standouts. He is aware of the exploits of those who have preceded him at his position – stars like Wasean Tait, Chester Taylor, Trinity Dawson, Jalen Parmele and DaJuane Collins – and is motivated to join their company in the UT record books.
More importantly, however, he wants to be remembered as a key part of a championship team.
"I'd like to rush for over 1,000 yards and lead the conference and even the nation in rushing," said Thomas. "But most importantly I want to be a great leader for this team. As long as the running game is doing the job and our team is winning, I'll be happy."
Thomas has developed into a complete running back during his collegiate career despite humble beginnings. A two-star high school prospect from New Jersey, he redshirted as a freshman in 2007. In 2008, he played in just seven games, all but one of them exclusively on special teams. A year later he gained only 151 yards, playing in just four games in the backfield.
Even as late as the season opener last year, Thomas was still No. 2 on the depth chart. He got his first start against Ohio in week two, rushing for 53 yards on 17 carries. Two weeks later he rushed for 79 yards in a 34-21 win over Purdue. From that point on it was clear that Thomas would be a force.
"I think it all clicked for me during the Purdue game last year," Thomas said. "I was able to break a lot of big runs and had a nice reception for a first down. It just seemed like everything was gelling and the game came so naturally to me that I realized that I could be pretty good."
Thomas closed out the 2010 campaign on a roll, gaining over 100 yards in four of the Rockets' last six contests. He finished the season with 1,098 yards, a conference-leading 6.3 yards per carry and 10 total touchdowns, earning second-team All-MAC honors.
Thomas' perseverance is a testament to his hard work and team-first attitude. He patiently waited in the wings and made the most of his opportunity when it finally arrived.
"The limited playing time early in my career was frustrating, but at the same time it was a blessing in disguise," Thomas said. "I got to see the game from the outside and learn from other peoples' mistakes, so when I got my opportunity I didn't make those same mistakes.
"When I finally got my opportunity, I wanted to show the coaches that I really could have helped the team earlier. But good things come to those who wait."