'60s
George Palovich (Ed '60), Sun City, Ariz., was chosen — together with his colleague Janet Trisler with whom he operates TriPal Arts — as artist of the month for the Western States Arts Federation website. He also had a show, "TriPal Arts: Fifty Years of Ceramic Arts," at Glendale Community College.
Millicent (Steva) Tropf (Ed '61, A/S '68) sends greeting from Shell Point Retirement Community in Fort Myers, Fla. From their home on a deepwater canal, she writes, she and her husband Gordon can watch "the river dolphins and manatees swim up to our seawall." Not surprisingly, both Tropfs have seriously taken up photography.
'80s
Larry Black (Bus '82, MEd '98), following 32 years as teacher and coach for Toledo Public Schools, most recently as Start High's principal, accepted the position of principal at Leipsic (Ohio) Junior/Senior High School. He and his wife relocated to McComb.
Dave Sontag (Ed '83, MEd '88) was hired as director of athletics and recreation for Jefferson High School in Monroe, Mich., where until 2007 he was baseball coach for 23 seasons. He also taught journalism and English at the school for 21 years and served as a counselor.
Christa L. Luttmann (Ed '84), Toledo, began working for Ohio Attorney General Mike DeWine as northwest Ohio regional director.
Duffield E. Milkie (A/S '87, Law '91), corporate vice president and general counsel for Cedar Fair LP, was elected to the board of directors of Firelands Regional Medical Center, Sandusky.
'90s
Karen D. Adinolfi (A/S '92) was promoted to partner with law firm Roetzel & Andress, which includes 12 offices in three states and the District of Columbia. Working in their Akron office, she focuses on labor and employment litigation, regulatory compliance and union matters.
D. Chris Cook (Law '92) was elected to serve a three-year term as District 10 representative on the board of governors of the Ohio State Bar Association. He practices with the Lorain firm of Giardini, Cook & Nicol LLC and serves as prosecutor for Sheffield Village, where he lives with his family.
| | |
| --- | --- |
| Scott Messina (Bus '93) was hired as director of human resources for Crown Battery Manufacturing Co. Inc., Fremont, bringing more than 15 years of experience in HR. | |
Jason Aslinger (Law '96), Greenville, Ohio, was appointed judge for Darke County Probate/Juvenile Court by Gov. John Kasich in March.
Gregory O'Dell (Law '96), Ann Arbor, brought 31 years of law enforcement experience to the University of Michigan when he became executive director for the department of public safety and the university's chief of police.
James R. Carnes (Law '98) joined the Toledo office of Shumaker, Loop & Kendrick LLP as a partner in the firm's litigation practice group.
'00s
Gregory H. Wagoner (Law '01) joined the Toledo office of Shumaker, Loop & Kendrick LLP as a partner in the firm's litigation practice group.
Capt. Justin Shedron (A/S '07) of the Ohio Army National Guard completed training on the UH-72 Lakota Helicopter — the Guard's latest Medevac copter — in Grand Prairie, Texas. He's slated to take command of a Medevac detachment located at the Akron-Canton regional Airport.
Jeff Moss (BusA '09, Univ Coll '11) accepted the position of network administrator with motion-control industry manufacturer Nook Industries Inc. in Cleveland.
Dane Theisen (Bus '11) was the subject of an article in the Toledo Blade in August, profiling his collegeclassiphix.com, a website where UT students can buy or sell items, then complete their transactions at the UT Visitor Center in Rocket Hall. See http://www.toledoblade.com/Technology/2011/08/21/Safety-is-in-store-at-online-site-for-UT-students-staff.html
Marriages & unions
Marielle K. Vorherr (HHS '05, HS '07) & Brian J. Schmidt (Eng '07). She's a physical therapist for Good Samaritan Hospital in Cincinnati, he's a civil engineer with Choice One Engineering, which has offices in Sidney and Loveland. Mason, Ohio.
T.J. Kiss (NRS '08) & Amy M. Neff. He's a registered nurse at Robinson Memorial Hospital. Fairlawn, Ohio.
Births
| | |
| --- | --- |
| Meredith (A/S '02, MEd '05) and Tom Blaine (Eng '03) welcomed twins Caitlin Michelle and Caleb Matthew in April, joining big brother Jacob and the family in Sylvania. | |
Extended Notes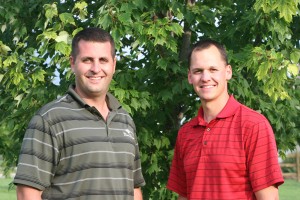 Ryan Hacker (MBA '08) and Matt Aston (Bus '99) have their heads in the clouds — it's part of their business plan. Neighbors in Sylvania since 2005, they became business partners by transforming a casual backyard conversation into the company they launched last month. Their venture — TruePoint Scanning — will be of interest to anyone who works in building design and construction, since it utilizes 3D laser scanning technology to create point clouds, allowing clients to convert data into files readily imported into BIM (building information modeling) software — the technology many industry observers feel will replace CAD in design and construction.
"We see this as an exciting industry that is just beginning to gain momentum and become mainstream due to the culmination of hardware, software and computer technology," says Hacker. "With the industry movement towards BIM, there will be a need for this type of technology to capture the vast amount of data that will be necessary to create these information models."
The partnership builds on combined strengths, he adds: Aston is already an entrepreneur whose successful company, Ground Penetrating Radar Systems Inc. provides an immediate a national presence; Hacker, who until August worked for Signature Bank, brings strength in finance, sales and technology.
"Matt and I have been doing a significant amount of due diligence and feel strongly that there is a demand for this service," Hacker says. "In addition, given Matt's success as an entrepreneur, he will be able to guide us from the very beginning."
Death Notices
'30's
Jack W. Galliers, Perrysburg, att. 1936-1941, Aug. 17 at 92.
'40s
Frances (Peirce) Hayman (Bus '46), Tiffin, Aug. 6 at 87.
Donald C. Petrie (Bus '46), Rome, Ohio, Aug. 10 at 88.
Mary C. (Stukey) Underwood (Ed '49, MEd '69), Swanton, July 28 at 83.
'50s
Carl W. Layman (Bus '50), Toledo, Aug. 13 at 88.
Paul J. Weiss MD (A/S '50), Aptos, Calif., July 25 at 83.
Jean L. (Lumley) Schultz (Ed '52, MEd '79), Monclova Twp., Aug. 16 at 81. Delta Delta Delta member.
Thomas M. Gill (Ed '53), Elmira, Mich., Aug. 21 at 82.
Beatrice S. (Smirin) Greenberg (Ed '54), Toledo, July 31 at 78. Alpha Beta Gamma member.
*Wayne E. Herkimer (Eng '54), Millbury, Ohio, Aug. 10 at 79.
Leroy C. Herdman (Eng '55), Springfield, Ohio, Aug. 9 at 93.
'60s
Charles D. Gibney, Geneva, Ill., att. 1960-1965, Feb. 18 at 68.
David Lanning, Toledo, att. 1960s, July 26 at 69.
Robert L. Stemmle (Bus '65), Toledo, July 28 at 69.
Mary E. (Mosher) Gerken (MEd '67), Toledo, July 27 at 90. She taught industrial hygiene classes at UT and MCO.
John J. Beck Sr. (A/S '68), Petersburg, Mich., Aug. 12 at 95.
Terry K. Stevens (Ed '69), Tecumseh, Mich., July 26 at 64.
'70s
Roger Preston (Law '70), Fairport, N.Y., Dec. 30 at 65.
Edward J. Masar (A/S '73, MBA '83), Novi, Mich., Aug. 19 at 68.
Edwina G. (Mercer) Biel (UTCTC '76, Univ Coll '95, MEd '07), Toledo, July 27 at 56. She was an adviser in the UT Student Success Center from 2001 to 2006.
Shirley J. (Minnis) Perkins (MEd '76, Ed Spec '77), Toledo, Aug. 9 at 83.
James F. Zaenger (Univ Coll '77), Overland Park, Kan., July 18 at 63.
'80s
Michael A. Yanik MD (Res '81), Maumee, Aug. 8 at 63. The plastic and reconstructive surgeon gained a reputation as an expert in the care of catastrophic burn and trauma injuries, and launched the area's first tissue bank.
Cynthia M. (Holewinski) Hiszak (UTCTC '84), Temperance, Mich., July 30 at 49.
'90s
Eric G. Saltzmann (Law '95), Anderson, Ind., Aug. 4 at 42.
Debra R. Rickenberg (MEd '97), Toledo, Aug. 3 at 54.
'00s
Tara L. (Yager) DeSantos, Toledo, a freshman in the UT Gateway program, Aug. 7 at 35.
Alexandria F. Winters, Toledo, a freshman in the UT Gateway program, Aug. 15 at 20.
Faculty, staff & friends
James H. Allen, Sylvania, July 29 at 62. He joined the UT in 2003 as a hall operations manager in Residence Life and later became manager of the Electrical Department, the position he held until 2010.
Terry L. Leazer, Sylvania, who was a mathematics instructor at UT in the '80s and '90s, Aug. 24 at 87.  
JoAnn "Babe" Stahl, Rossford, former MCO employee, July 28 at 70.
Melvin R. "Butch" Jahns, Toledo, Aug. 22 at 67. He joined UT staff in 1970 as a custodian, later becoming a store clerk in Purchasing and retiring in 2001 as a storekeeper in Maintenance Services.