Men's Basketball Preview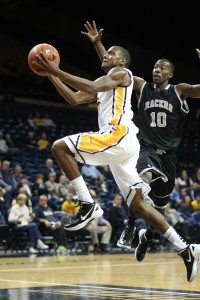 A revamped roster emphasizing athleticism and versatility has second-year University of Toledo head coach Tod Kowalczyk filled with optimism entering the 2011-12 campaign.
"We like our team and are very excited about our program's future," Kowalczyk said. "We're going to have virtually a brand-new group that possesses a good blend of experience and youthfulness. We just need to come together, and make sure we get better every single day."
Kowalczyk is eager to teach and coach a style of basketball that will allow the Rockets to adjust as needed against their opponent strengths and weaknesses.
"I think the strength of our team is going to be its versatility," Kowalczyk said. "We can play small or big. We will be able to pressure the ball and get in some passing lanes, while also being very fundamentally sound and conservative when needed.
"I also think we'll have offensive versatility, because we have different types of scorers at various positions and that's a good asset to have."
The Rockets have just three returning letterwinners from last year, led by sophomore F Reese Holliday (10.5 ppg, 6.6 rpg) and sophomore F/C DeLino Dear (8.1 ppg, 5.0 rpg).
"Both DeLino and Reese had very good offseasons and really improved," Kowalczyk said. "More of DeLino's improvement was in the strength department, and in Reese's case he's become a much better basketball player and a better shooter. Both guys have a long way to go, but we are certainly excited about their future."
UT will have an influx of talent hitting the floor for the first time that Rocket fans will be excited to see.
Dominique Buckley (Iowa State), Curtis Dennis (New Mexico), Rian Pearson (UW-Green Bay) and Matt Smith (UW-Green Bay) each sat out the 2010-11 season as transfers and are eager to don Rocket uniforms for the first time.
"Dominique, Curtis, Rian and Matt have used this past year in a positive way," Kowlaczyk said. "Sitting out in a redshirt situation is always hard, because you have to keep yourself motivated on a daily basis. I think all four did a great job in increasing their skill level and getting better in every single way."
Joining the aforementioned quartet will be a talented recruiting class of Julius Brown (Markham, IL), Ryan Majerle (Belmont, MI) and AJ Mathew (Ypsilanti, MI). Each received all-state accolades in their respective locales and will have an opportunity to contribute immediately.
"We are excited about our recruits' talent level but even more excited about the intangibles they are going to bring to our program," Kowalczyk said. "They are all great guys from great families, and I think they have the makeup to make a smooth transition to the collegiate game."
The challenge for Kowalczyk and his coaching staff will be to mold the new corps of talented players into a cohesive unit. The Rockets don't have any seniors on their roster, while Buckley, Pearson and Smith each serv as co-captains for last year's squad. Kowalczyk will utilize game captains this season."
"Leadership is always a concern of mine and this year is no different," Kowalczyk said. "We will need to do a better job as coaches of cultivating the right type of leadership and teach our players how to become effective leaders."
The following is a look at the Rockets by position for the upcoming 2011-12 campaign:
BACKCOURT
Transfers Dominique Buckley (6-2, 200), Curtis Dennis (6-5, 205) and Rian Pearson (6-4, 190) are expected to lead a deep, talented backcourt for the Rockets.
Buckley and Pearson can play at the start of the upcoming campaign, while Dennis will be eligible to play at the conclusion of the fall semester.
Buckley provides the Rockets a point guard with collegiate experience at a position where UT has struggled over the last four seasons. Ranked as the 124th-best player in the nation in 2008 according to ESPN 150 rankings, the Romulus, MI native Buckley finished fourth in the balloting for Michigan's "Mr. Basketball" after averaging 15.2 ppg, 6.3 apg and 5.6 rpg in his final prep season.
"I had high expectations when Dominique joined our program and he has far exceeded everything that I expected," Kowalczyk said. "He's a very good player and a great leader, and he's committed to being the best player he can be."
Freshman Julius Brown (5-10, 175) is also expected to contribute at the point and give Buckley the opportunity to shift over to shooting guard. Brown averaged 19.6 ppg, 3.8 rpg and 3.0 spg last year for Hillcrest (IL) High School and was a Chicago Sun Times Class 3A first-team and all-state selection.
"Julius is a complete player who can score, defend and be an impact player for us as a point guard," Kowalczyk said. "He's tough, athletic and can really pressure the basketball. He also has a tremendous ability to make other players better."
A pair of athletic guards, Pearson and Dennis, are slated to lead the Rockets' efforts from the wing position.
Pearson gives the Rockets a dynamic performer who can contribute both in the paint and on the perimeter. A Kansas City, MO native, Pearson averaged 6.4 ppg and 2.7 rpg as a freshman (11.3 ppg and 4.9 ppg in last seven games) under Kowalczyk at UW-Green Bay.
"Rian plays with an unbelievable amount of energy and activity," Kowalczyk said. "He is a player that can score around the basket, has a good mid-range game and is becoming a better ballhandler and shooter."
Ranked as the 13th-best prep school player in country by Scout.com in 2008, Dennis played two-and-a-half seasons at New Mexico before arriving in Toledo. The Bronx, NY native started the Lobos' first three games last year and tallied a season-best 12 points in 23 minutes in their season opener vs. Detroit.
"Curtis is very mature and was part of an extremely successful program at New Mexico," Kowalczyk said. "He understands what it takes to win at a high level, and the athleticism and perimeter shooting he can provide us will be very beneficial."
Providing depth at the wing will be freshmen Ryan Majerle (6-3, 185) and AJ Mathew (6-2, 175).
A four-year starter who scored more than 1,200 career points for Rockford (MI) High School, Majerle was named to Associated Press Class A First-Team after averaging 22.4 ppg, 5.5 rpg and 2.5 apg as a senior. He is the nephew of longtime NBA veteran Dan Majerle.
"There is obviously great stock with Ryan in the Majerle name and he is a tremendous shooter," Kowalczyk said. "Ryan's also the son of a high school coach (Steve Majerle) like I was, and he has a great feel for the game."
Mathew averaged 13.0 ppg, 4.2 rpg, 3.1 apg and 1.0 spg as a senior at Ann Arbor Huron (MI) High School to earn Detroit News Class A Second-Team All-State honors. He finished his career with a 3:1 assist-to-turnover ratio and 1,129 points, helping the River Rats to three district titles and a 2010 Class A state runner-up finish.
"AJ is a shooting guard who may also see some minutes at the point for us," Kowalczyk said. "He can really shoot it and can stretch a defense. He's also a high IQ guy, who makes good decisions and will bring a great deal of toughness to our program."
Providing additional depth will be freshman walk-on Zack Riddle (6-2, 165).
FRONTCOURT
The Rockets have three sophomores to turn to in the paint. Reese Holliday (6-4, 230) and DeLino Dear (6-9, 220) have a year's experience under their belts in the Rocket program, while transfer Matt Smith (6-7, 225) sat out last year after transferring from UW-Green Bay.
Holliday is Toledo's top returning scorer and rebounder after averaging 10.5 ppg and 6.6 rpg in an impressive rookie campaign. He ranked first in the conference offensive rebounding rankings with 2.83 rpg before sitting out the final six games of the season due to a stress fracture in his foot.
"Reese improved a lot during his freshman season, and we think he has a bright future ahead for us," Kowalczyk said. "He plays with a toughness and grit that all successful teams need."
Dear made a significant impact for the Rockets as well, averaging 8.1 ppg and 5.0 rpg to rank third on the team. He registered 12 double-digit scoring efforts, including 18 points and nine rebounds in 32 minutes vs. Big East foe Cincinnati (Dec. 4).
"DeLino has the hands and feel that you want for a big man," Kowalczyk said. "He's working hard to get stronger, and once he does that he will become even more effective in the post."
Smith may possess the most potential in the Rockets' frontcourt following a redshirt season that saw him get stronger and improve his game in all areas. The Whitewright, TX native started 34 games as a freshman under Kowalczyk at UW-Green Bay.
"Matt is a very talented and athletic player and will provide us with a tremendous interior presence," Kowalczyk said. "He's extremely long and possesses good instincts in the post, yet he can still make plays off the dribble on the perimeter."
Additional depth in the paint will be provided by sophomores James Ewing (6-5, 230) and Richard Wonnell (6-9, 225) as well as freshman Michael Speicher (6-6, 200).
The Rockets also learned over the summer that freshman forward Justin Moss (6-6, 240) would not be able to play collegiate basketball due to a heart condition that was detected in summer physicals. Moss had averaged 13.8 ppg and 9.3 rpg to earn Detroit News Class A Third-Team All-State honors and help Romulus (MI) High School to a 23-2 record and an appearance in the Class A state quarterfinals last year.
Women's Basketball Preview
Toledo Looks to Defend MAC Regular-Season Championship; Smith and Dortch Returning Starters for 2011 WNIT Champions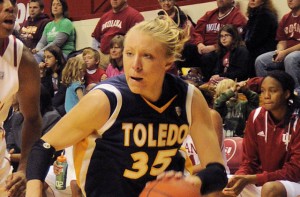 TOLEDO, OH – The Toledo women's basketball team has reloaded and aspirations are at the highest level heading into the 2011-12 campaign.
UT returns eight letterwinners from last year's squad that enjoyed one of the most successful seasons in school history. They will be joined by five newcomers who will look to help the Midnight Blue & Gold return to the postseason for a third-consecutive campaign.
"We are definitely excited about the 2011-12 season," 2010-11 MAC Coach of the Year Tricia Cullop said. "We have great senior leadership and more depth than last year's squad. I think this year's team is hungry for more. It should be a lot of fun."
All the 2010-11 Rockets did was win a school-record 29 games and become the first Mid-American Conference basketball program to capture a national postseason tournament. The 2010-11 campaign was highlighted by a historic six-game run through the WNIT, capped off by an eight-point triumph over USC in the championship game before a school and conference women's basketball record 7,301 fans.
Toledo also claimed an outright 2010-11 MAC regular-season championship for the first time in a decade with a 14-2 ledger, as well as successfully defending its MAC West Division title.
"Winning the WNIT gave our players the confidence that they could play with anyone in the country and showed them the true understanding of what the word "TEAM" means," Cullop said. "We had to overcome height, speed and strength disadvantages, but we pulled together and found a way to win. The WNIT was a terrific experience for our players and fans to be a part of."
Cullop, who has amassed a 72-30 overall mark over her three seasons at the helm of the program, second-best in the league in that time, will have a solid base of returning players in 2011-12 despite the loss of All-MAC performer Melissa Goodall and three-year starter Jessica Williams.
"Those two seniors (Melissa and Jessica) played a big part in helping us turn the program and will be greatly missed," Cullop said. "They played a big part in changing the culture of our program."
"One of the key strengths of this year's team is the fact that the players understand the sacrifice it takes to win and win consistently. They understand that if they want to have success again this year, they will have to be even more dedicated and put forth even more effort."
Cullop and the Rockets will also have to obsurb the loss of senior MAC Player of the Year candidate Naama Shafir (Hoshaya, Israel), who suffered a season-ending knee injury.
"Losing Naama is a big hit to our team as we lose our go-to player," Cullop said. "As our point guard, Naama had the ball in her hands a majority of the game. We are going to have to have other players step up and fill that role."
Despite the losses of Goodall, Williams and Shafir, Coach Cullop is excited about this year's team leadership from senior Courtney Ingersoll (Massillon, OH) and senior Haylie Linn (Madison, WI). This duo has played an essential role in Toledo's recent success and their direction will be important for the Midnight Blue & Gold this season.
"Courtney is the only returning captain, so my first expectation of the other two (seniors) would be to take on more of a leadership role," Cullop said. "My second expectation for these two players is to raise the bar. We won the WNIT and the MAC regular season (last year), but I want them to show the rest of the team on a daily basis just how bad they want to enjoy a second regular-season championship and how much they would love to experience and NCAA Tournament bid."
Cullop is certainly pleased with the Rockets' recent success, but certainly not satisfied, and the fourth-year coach looks forward to building on their accomplishments rather than resting on them.
"Our goals for this season are to win a third straight MAC West Division crown and repeat as league regular-season champions, but also add a conference tourney title to the mix," Cullop said. "Obviously, winning the MAC Tournament includes a ticket to the NCAA tourney. That is the next step for our program. Winning the WNIT was a great accomplishment for last year's team, but we would love to enjoy the experience of an NCAA tourney berth."
The following is a closer look at the 2011-12 Toledo Women's Basketball team by position:
BACKCOURT
The Rockets return an abundance of options in the backcourt in 2011-12, providing them with a number of feasible choices. Sophomore Andola Dortch (Akron, OH) will now spearhead the versatile and talented group following the injury to Shafir.
Dortch enjoyed an outstanding rookie campaign last year, averaging 6.6 points, 3.6 rebounds, 2.6 assists and squad-best 1.7 steals in 24.1 minutes per game. The 5-foot-7 guard ranked 12th in the league in thefts and 15th in helpers, earning MAC All-Freshman Team accolades. A MAC Defensive Player of the Year candidate, Dortch started the final 21 contests in the backcourt and collected at least three steals on six occasions, receiving the team's "Best Defender Award."
Dortch sparked UT with her intensity down the stretch and tallied 9.0 points, a squad-best 6.2 boards, 4.0 assists and a team-high 1.8 steals in 31.5 minutes per contest in the WNIT, including her first collegiate double-double with 13 points and a season-best 10 caroms against Charlotte in the 'Final Four'.
"Andola is one of the better defenders I have ever coached," Cullop said. "She really frustrates and wears down our opposing point guards with her tenacious defense. It is fun to coach someone who takes great pride on the defensive end. She also impressed me as the year progressed at what a scoring threat she became. During our WNIT run, she hit critical three-point shots, drove to the basket hard and hit pressure free throws. She's a fiery competitor who has a tremendous work ethic."
Another key returnee in the backcourt will be senior Courtney Ingersoll. Ingersoll, a 5-foot-10 wing player, is the team's energizer bunny and one of the squad's best rebounders on the perimeter, as well as an accurate shooter, solid passer and smart defender. She started 22 of 37 games as a tri-captain in 2010-11, averaging 4.2 points, 3.6 rebounds, 1.2 assists and 1.1 steals in 24.0 minutes. The Massillon, OH native has made at least two triples in a game on 21 occasions in her UT career, collected at least two steals 31 times and scored in double figures on 10 occasions.
"Courtney is the ultimate team player," Cullop said. "You'll see her just as excited if one of her teammates hits a big shot or gets a defensive stop than if she did it because she understands the value of each possession. It's also hard to accomplish anything unless you enjoy the people you are working with. Courtney's teammates know she cares about them and would do anything for them. She isn't afraid to do the "dirty work" to ensure a victory. She is fearless, enthusiastic and understands details. When she's on the court, things simply run smoother for our team."
Senior Haylie Linn (Madison, WI) also is expected to be a part of the Rockets' regular rotation at shooting guard in 2011-12. The 5-foot-11 off-guard appeared in 31 games off the bench a season ago, contributing 3.9 points, 3.0 rebounds, 1.0 assists and 0.7 steals in 14.5 minutes. The long-ranger shooter was at her best during the WNIT, tallying 7.0 points, 4.8 boards and 2.0 helpers in 21.0 minutes per contest. She knocked down a team-high three treys and registered 10 points with a collegiate-best eight rebounds in 26 minutes vs. USC in the WNIT Championship Game.
"Haylie really battled a foot injury for most of last season, so she didn't get a chance to show everyone what she was capable of until the WNIT," Cullop said. "I was so happy she had the opportunity to finally step to the plate and produce the way we always knew she could. She will keep defenses honest by her ability to not only shoot from deep, but also because of her quick trigger. Haylie has worked long and hard on her footwork and ability to shoot off of various screens. She is a fierce competitor who I know is working hard to ensure an exciting senior campaign."
Providing valuable depth in the backcourt will be junior Riley McCormick (Cleveland, OH) and sophomore Janelle Reed-Lewis (Detroit, MI).
McCormick, a 5-foot-10 guard, has two year's experience under her belt, which should lead to more consistency in 2011-12. The Cleveland, OH native averaged 1.9 points, 0.7 rebounds, 0.5 assists and 0.4 steals in 7.2 minutes in 23 games off the bench a season ago.
"Riley possesses one of the smoothest shooting strokes on the team," Cullop said. "She is a gym rat who works diligently on her game. Riley can really keep the defense honest with her ability to hit from deep."
Reed-Lewis, a 5-foot-4 guard, returns after registering 1.0 points, 0.6 rebounds, 0.2 assists and 0.3 steals in 5.1 minutes in 22 games off the bench a season ago. An athletic player who possesses uncanny speed and ability to push the ball up floor in transition, Reed-Lewis is also a legitimate perimeter scoring threat, evidenced by her 10 points in 13 minutes against Eastern Michigan.
"Janelle brings great energy and enthusiasm to our team," Cullop said. "Her personality makes her a crowd favorite. I love the fact that Janelle can create her own shot and has a quick first step. She has also improved her ball-handling and decision-making skills."
Freshmen Ana Capotosto (Saugatuck, MI) and Stephanie Recker (Pandora-Gilboa, OH) are also expected to make immediate contributions in the backcourt in 2011-12.
Capotosto, a 5-foot-10 guard/forward, averaged 18.0 points, 7.8 rebounds, 2.4 assists, 2.1 steals and 1.1 blocks per game for Saugatuck High School as a senior. For her efforts, she garnered first-team Associated Press Class C girls all-state honors for a second-consecutive season, as well as The Sentinel Player of Year for the second-straight season. The two-time first-team all-conference player would have broken the Indians' all-time scoring record if not for a stress fracture in her foot caused her to miss seven contests during the middle of the season. She still finished with more than 1,000 career points and helped Saugatuck claim a conference division title with an 18-3 ledger as a senior.
"Ana is an aggressive driver," Cullop said. "She loves contact and has the ability to post up as well as knock down the outside shot."
Recker, a 6-foot-0 guard, tallied 19.4 points, 6.2 rebounds, 3.9 assists and 3.2 steals per game for Pandora-Gilboa High School as a senior. She garnered Associated Press Division IV second-team all-state honors, as well as was named conference player of the year, first-team all-league, all-county, all-district and All-Northwest Ohio. Recker, who was selected to the Ohio vs. Indiana All-Star Team and All-Ohio All-Star Squad, wrapped up her career with 1,235 points, becoming the Rockets' all-time leading scorer.
"Stephanie has great size for a perimeter player," Cullop said. "Her size and length will pay off on the defensive end as she can cover a large area. She also has nice shooting touch from three-point range as well as with her pull-up jump shot."
Shafir figured to have an outstanding swan song in 2011-12 and was a candidate for MAC Player of the Year honors. A 5-foot-7 guard, Shafir appeared in the starting lineup in all 102 games in her collegiate career. The three-time all-conference selection and 2010-11 State Farm All-America Finalist (Region 4 honoree) averaged a team-high 15.3 points, a squad-best 5.1 assists, 3.4 rebounds and 1.3 steals in 30.8 minutes per game last season. She ranked third in the MAC in helpers (34th in NCAA), seventh in assist/turnover ratio (1.09) and 10th in scoring. The 2010-11 first-team all-league selection led the Rockets in scoring a squad-best 22 times and assists a team-high 31 times a season ago. She scored at least 20 points on nine occasions, pouring in a career-high 40 points (second-most in school history) against the Women of Troy in the WNIT Championship Game, en route to being named the All-Tournament Team MVP.
"It would be a crime to define Naama in terms of stats because she brings all of the intangibles as well," Cullop said. "She sets a great example for the rest of our players by continuing to challenge herself. She isn't ever satisfied. Naama continues to strive to get better. She is one of the most talented, yet humble players I have ever had the privilege of coaching. She has the whole package."
The Hoshaya, Israel native currently sits fourth in Toledo annals in career helpers (555), fifth in free-throws made (424), eighth in scoring average (13.9 ppg), 10th in steals (159) and 11th in points (1,415).
The two-time academic all-league recipient also ranks second (227, 2009-10) and sixth (188, 2010-11) in school history in assists, tied for third (169, 2010-11) and sixth (158, 2009-10) in free-throws made, tied for second (226, 2010-11) and sixth (200, 2009-10) in free-throws attempted, second (1,141, 2010-11) and ninth (1,069, 2009-10) in minutes played, seventh (414, 2010-11) in field-goals attempted and tied for 10th in points (567) and steals (68, 2009-10) in a single season.
FRONTCOURT
The Rockets have boasted one of the deepest and strongest frontcourts in the MAC under the guidance of Cullop, and look to continue that trend with the addition of three newcomers to a pair of emerging third-year talents in Yolanda Richardson (Toledo, OH) and Lecretia Smith (Elmhurst, IN) in 2011-12.
An all-conference candidate, Richardson showed glimpses of what a strong scorer and rebounder she can be late in 2010-11. The 6-foot-2 center played her best basketball since donning the Midnight Blue & Gold during the WNIT, averaging 11.7 points, 5.7 rebounds and a squad-best 1.0 blocks per game. She shot a scorching 59.6 percent (34-of-57) from the field in 24.3 minutes in the six postseason victories, en route to earning All-Tournament Team recognition. Richardson scored double digits in four of the contests, equaling her career high with 20 points against SEC member Auburn in the second round.
Overall in 2010-11, Richardson averaged 7.4 points, 5.6 caroms and a squad-best 1.4 rejections in 18.1 minutes per game. She finished fourth in the MAC in blocked shots, fifth in field-goal percentage (50.8%, 123-of-242) and 13th in offensive boards (2.36 rpg). She scored in double figures on eight occasions and swatted at least two shots in a game 15 times last season. Richardson currently ranks third in UT annals in career rejections (101), as well as ranks second (52, 2009-10) and third (49, 2010-11) in blocked shots in school history in a single season.
"Yolanda came alive in the WNIT last season," Cullop said. "We always knew should could be a force on the low block, but she proved herself against some of the best post players from BCS schools. It was great to see her thrive during a critical point for our team and gain the confidence necessary to hopefullly put together a consistent junior year. She's a solid rebounder, talented shot blocker and has the ability to finish around the basket with either hand. She is also becoming more of a vocal leader. It is exciting to see a local product thriving here at UT."
Smith, a 5-foot-9 forward, is one of the strongest players on the squad and possesses a tremendous work ethic. She started 27 of 29 games a season ago, averaging 6.7 points, 5.8 rebounds, 1.2 assists and 1.5 steals in 26.3 minutes. The Elmhurst, IN native scored in double figures on seven occasions, including a season-high 14 points against NCAA Tournament participant Dayton and grabbed at least seven caroms in a contest 10 times. She also shot a squad-best 55.5 percent (81-of-146) from the field, ninth-best in school history in a single season.
"Lecretia brings a lot of energy to our team," Cullop said. "She hustles, scraps and simply outworks people. She is a terrific rebounder and defender, and she has really improved her offensive skills in the past three years. What she lacks in height, she makes up with heart."
Smith sat out the WNIT after injuring her knee against Eastern Michigan in the MAC Tournament Semifinals, but is healthy and looks to continue where she left off last year.
"It was a tough blow to our team to see Lecretia injured in the MAC Tournament," Cullop said. "I know she would have given anything to have participated in the WNIT, but sitting out gave her insights and helped her develop her leadership skills. It would have been easy for Lecretia to have sulked and felt sorry for herself, but instead she inspired and coached her teammates to give their best."
Providing additional depth and size in the frontcourt will be junior Kyle Baumgartner (North Canton, OH) and sophomore Brianna Jones (Toledo, OH). Baumgartner, a transfer from the University of Akron, and Jones, a transfer from the University of Illinois, sat out the 2010-11 season per NCAA rules. Baumgartner will have two years of eligibility remaining, while Jones will have three years left.
"It was great to have both Kyle and Brianna in practice all last year, as they were able to learn our philosophy on both ends of the floor," Cullop said. "I know that experience will pay off this year. Sitting out is tough, it makes you appreciate every second you can play. I know both of these two are anxious to get back out there and help us fill the void left behind by Melissa (Goodall). We need both of them challenging for quality minutes. We will have great size in the post this year."
Baumgartner, a 6-foot-3 center, scored in double figures on 30 occasions as a two-year starter for the MAC East Division member Zips, including five double-doubles.
During the 2009-10 season as a sophomore, Baumgartner earned honorable mention All-MAC accolades, averaging 10.1 points, 6.0 rebounds, 1.2 steals and 0.5 blocks in 25.0 minutes per game. She shot 43.9 percent (130-of-296) from the floor, including 33.3 percent (13-of-39) from three-point land, and 71.4 percent (50-of-70) from free-throw line, ranking ninth in the league in defensive boards (4.09 rpg), 14th in field-goal percentage, tied for 14th in overall rebounding and 27th in scoring.
"Kyle has already proven herself in this league," Cullop said. "She is a strong low-block presence who can step out and down a three-point shot. Our staff has enjoyed working with her because she has a strong work ethic and is very competitive."
Jones, a 6-foot-2 forward, played in 12 games off the bench for the Illini in 2009-10. The Toledo, OH, native totaled nine points and four rebounds in 63 minutes of action. She shot 17.6 percent (3-of-17) from the field and 50.0 percent (3-of-6) from the charity stripe.
Jones averaged 17.6 points and 12.0 rebounds per game as a senior at Central Catholic High School, earning first-team All-District and All-City accolades as well as special mention all-state honors. She was ranked the No. 43 senior in the country by Blue Star and the No. 26 forward in the nation according to ESPN HoopGurlz. She led the team in scoring and rebounding each of her three seasons and topped the 1,000 career point mark during her senior campaign, finishing her career ranked second on the school's all-time scoring list.
"We are very excited about the competitiveness Brianna brings to the team," Cullop said. "She has a nice outside touch, is a strong rebounder and runs the floor well. It is exciting to have another player from the Toledo area on our roster."
Also expected to be factors in the frontcourt will be sophomore Mariah Carson (Detroit, MI) and freshman Taylor Carver (Woodlan, IN).
Carson, a 6-foot-1 forward, appeared in 15 games off the bench last season. She averaged 0.7 points, 0.9 rebounds and 0.5 steals in 3.3 minutes per contest.
"Mariah may be one of our better returning rebounders and shot blockers," Cullop said. "She just got better and better last season. Mariah saw some key minutes down the stretch of the WNIT run when we were in deep foul trouble and she answered the call. I love the fact that she doesn't back down from a physical game."
Carver, a 6-foot-1 forward, contributed 11.9 points and 7.7 rebounds per game for Woodlan High School as a senior. For her efforts, she earned first-team all-conference and honorable mention all-state recognition. Carver is the first Warriors girls basketball player to ever sign a National Letter of Intent with a Division I school.
"Taylor brings us the ability for a post player to knock down outside shots," Cullop said. "She is more of a face-up forward who can stretch the defense. Taylor also has the quickness to drive by slower frontcourt defenders."