'50s
Nina McClelland PhD (A/S '51, MS '63), UT dean emerita, was honored by the American Chemical Society (ACS) and selected to its 2011 class of Fellows.
She served in multiple roles at ACS, including chair of the board of directors.
'60s
Gerald R. Beale (Bus '68), retired from Merrill Lynch since 2010, was honored for his contributions to business at the 35th annual Birmingham Hall of Fame induction and scholarship banquet, held in October in the historic east side neighborhood.
'70s
Larry McDougle EdD (EdD '71), president of Owens Community College, Perrysburg, retired in September.
Gary Thieman (Bus '71), senior vice president of Medical Mutual's northwestern Ohio region, was named by Gov. John Kasich to serve a term ending in 2017 on the UT Board of Trustees.
| | |
| --- | --- |
| Bogomir Kuhar PharmD (Pharm '78), Powell, Ohio, a clinical consultant pharmacist, presented in the pharmacy management category at the 2011 Best Practices in Health Care Consumer Protection and Empowerment Awards in October, along with Miranda Weaver, a vice president for Catalyst Rx, which won the Platinum Award for empowering members with vital information on lower-cost drug alternatives, for its Generic Advantage Program. | |
Donald L. Plotts (MEd '79), president of North Central State College in Mansfield, Ohio, joined the board of directors of First Federal Bank of Ohio.
'80s
Beth Myers (MA '81) was recognized by Adrian College, where she teaches, with the Exemplary Teaching Excellence Award, sponsored by the division of higher education of the General Board of Higher Education and Ministry of The United Methodist Church.
Juan J. Perez (Law '85), partner in Perez & Morris LLC, was named by Gov. John Kasich to serve a term ending in 2020 on the UT Board of Trustees.
'00s
Jennifer Benedict (Law '02), partner in the Health Care Department of Honigman Miller Schwartz and Cohn, was elected chair of the board of trustees of Notre Dame Academy, Toledo.
| | |
| --- | --- |
| Patrick M. Bickley (Eng '02) joined Baker & Daniels LLP as an associate, focusing on intellectual property and patent work in the legal firm's downtown Indianapolis office. | |
Emilio V. Ramirez (MEd '03), educator and administrator in Toledo Public Schools, was honored with the Distinguished Citizen award at the Birmingham Hall of Fame's 35th annual induction and scholarship banquet.
David A. Peer II (MSA '05), Waterville, was promoted to senior in the tax department of Weber O'Brien Ltd.
Marriages & Unions
Danielle R. Vorst (HHS '09) & Michael A. Westrick (Eng '10). She's a third-year student in the UT College of Medicine and Life Sciences; he's pursuing his UT master's degree in electrical engineering.
Extended Class Notes
Love, death and unsavory realities at heart of alum's celebrated first novel
"Two friends showed me that love and death are far more complicated than your teachers, your priests, and pop culture want you to believe. They're the ones who showed me that no matter how young or old you are, you'd better start living and loving to the fullest right now. And if, by sharing their stories, I can prove that to you, it might make my having lived worthwhile."
So says John, a dying teen who's wise beyond his years. In telling the story of his two friends, John isn't kidding when he says "complicated." There's love in his narrative, certainly, but there's also pedophilia, rape and incest.
And two teen protagonists of rock-star charisma: Gordon Byron and Michelle (Shelly) Shelley.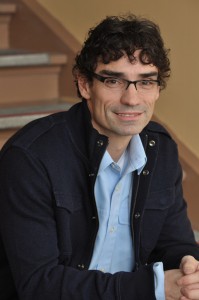 If any of this begins to sound familiar — including John's surname of Keats — it's because John is the creation of writer Ty Roth (MS '05) and the narrator of Roth's debut novel So Shelly, which was named one of the top 10 romances of 2011 by the American Library Association.
If that isn't auspicious enough for a newly published author, the American Booksellers Association listed Roth among is best New Voices in Young Adult Literature for 2011.
A 27-year veteran of teaching, Roth first had the idea of using the three youngest poets of the Romantic period of English literature — Keats, Lord Byron and Percy Bysshe Shelley (yes, Roth does a gender switch) — when observing his students' reaction to their work.
"I realized that the students were as interested in the lives of the writers as much as in their poetry. Especially because Byron and Shelley lived such scandalous lives — like a modern TV series," says Roth, who today teaches English at Port Clinton (Ohio) High School.
"I initially had the idea that the later Romantics would make great novelistic heroes, but I shelved the notion while writing two other books — which didn't go anywhere! When I came back to it later, this is the one that sold."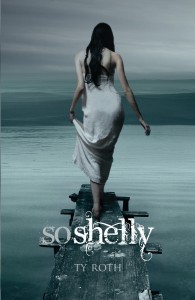 Told partly in flashback, So Shelly — set in an unnamed lakeside town that sounds suspiciously like Port Clinton — begins shortly after the death of Shelly in a boating accident (of course) and follows the attempt of Gordon and John to steal her cremated ashes for what they consider proper burial rites.
Dark stuff, certainly, but Roth is only staying true to the novel's gothic antecedents. "You don't have to understand all the parallels with the Romantic poets to enjoy the novel," he says. "It's very much an issue book — issues that apply not just to young people, ranging from racism to promiscuity.
"If you read it at a shallow level, you see the sex and some of the language and you think that's all there is, but what the book shows is what Byron's own life demonstrated: He left shattered lives in his wake. His own life was in many ways destroyed by his own lifestyle; it left him empty. For young people who read it, the point I'm trying to get across is that if you choose that lifestyle, you're going to be left the same way."
Anything but preachy, Roth — who's had some interest from Hollywood adapting So Shelly — wrote the book as a rattling good story for young adults. "I always say, if I could be somebody for a weekend, it would be Byron," he laughs. "For everyday, it would be more like Keats."
Death Notices
'30s
Blanche (Fishler) Edelman (Ed '35, MEd '70), Holland, Oct. 11 at 98.
'40s
Mary E. Spencer Davis (Bus '40), Memphis, Tenn., Sept. 23 at 93.
Henrietta A. (Rump) Sterling (Ed '41), South Rockwood, Mich., Sept. 29 at 92. Alpha Delta Kappa founding member.
**Ruthann E. (Scheib) Neal, Oroville, Calif., att. 1942, Sept. 13 at 87.
Harold Mumford, Ottawa Lake, Mich., att. 1943-1948, Oct. 16 at 87.
Merlin C. Race (Bus '49), Browns Mills, N.J., July 31 at 92.
'50s
Herman C. "Bud" Kahler (Pharm '53), Pemberville, Ohio, Oct. 22 at 80.
*Marjorie (Halprin) Zalewski (Ed '55), Toledo, Oct. 14 at 78. Alpha Omicron Pi member.
Joseph E. Bauer Jr., Toledo, att. 1957-1962, Oct. 11 at 72.
Rita L. (Tucholski) Urzykowski (Ed '58, MEd '65), Toledo, Oct. 1 at 79. Part-time faculty at UTCTC in 1990s.
Frank E. Kaspitzke, Toledo, att. 1959-1965, Oct. 12 at 70.
'60s
Richard A. Schutt (Bus '60), Heathrow, Fla., Aug. 10 at 73.
Paul H. Scofield (UTCTC '63), Monclova, Sept. 29 at 69.
Norman Rubinoff (MBA '67), Toledo, Oct. 11 at 70.
**Rex C. Keener (Law '68, MLS '90), Holland, Sept. 2 at 81.
**James R. Cannaley (Bus '69), Holland, Sept. 28 at 66.
'70s
Lillian Lutchey (UTCTC '71), Toledo, Oct. 9 at 70.
Delora M. (Peoples) Atkins (Ed '72, MEd '84), Rochester, N.Y., Oct. 19 at 82. Alpha Kappa Alpha member.
Janell (Baker) Lang (MEd '74, Ed Spec '84), Ottawa Hills, Oct. 5 at 66.
Mark J. Bennett (A/S '76), Concord, N.H., Feb. 5 at 56.
Eugenia "Jean" Raftopoulos (A/S '76), Lake Mary, Fla., Oct. 4 at 77. She and her husband Demetrios founded the Dion Raftopoulos Bioengineering Scholarship to honor their late son, also supporting the Dion Raftopoulos/Sigma Xi Award for Outstanding Research. She was a member of the Presidents Club and Heritage Oaks Society.
Sister Mary J. Nusbaum PhD (PhD '79), Temperance, Mich., Oct. 17 at 84.
'80s
Larry S. Pollak (Law '81), Columbus, Oct. 19 at 55.
Ruth A. (Townsend) Rumpf (Ed '81), Toledo, Oct. 7 at 52.
Judith K. (Liebnau) Rucinski (UTCTC '85), Beverly Hills, Fla., Oct. 2 at 71.
George G. Wells (UTCTC '85), Wauseon, Oct. 21 at 62.
Christine Lyman (UTCTC '87), Montpelier, Ohio, Aug. 11 at 52.
'90s
Shannon L. Tabb (UTCTC '97), Toledo, Oct. 18 at 41.
Douglas J. Washing MD (Res '99, Res '05), Sylvania, Oct. 16 at 41.
'00s
Sara E. "Libby" (Lane) Decker (A/S '02), Ottawa Hills, Sept. 29 at 64.
*Debra S. Hansen RN (NRSG '05), Toledo, Oct. 20 at 54.
Faculty, staff & friends
Charles Gunther III, Toledo, Oct. 5 at 78. The longtime Toledo Museum of Art administrator received a prestige appointment as UT adjunct assistant professor of education in 1976 and was named adjunct professor of art education in 1986.
Jack N. Hepinstall, Fort Myers, Fla., Oct. 3 at 89. Athletics storekeeper 1980-1981.
Thelma Belle Baker Schell Katz, Toledo, a data entry operator in pharmacy at MCO, 1990 and 1991, Sept. 26 at 80.
Judith E. Royal, Liberty Center, who was hired as a word processing specialist at MCO in 1992 and retired from UTMC in 2007, Aug. 27 at 61.
Joseph J. Tucholski, Toledo, who worked in MCO Maintenance from 1993 to 2004, Oct. 4 at 69.
*Alumni Association member
**Lifetime member