UT Alumna Stars in the NBA
by Patty Gelb
"Some people want it to happen, some wish it would happen, others make it happen." Michael Jordan.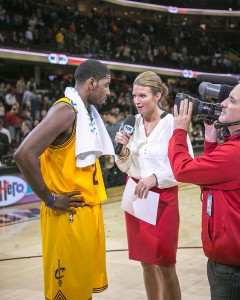 If there is a person who personifies this quote from Michael Jordan, it would be the young Allie Clifton a 2010 graduate from The University of Toledo with a degree in Sports Analysis and Communications. You may remember her as the 5'11" forward that tore up the court while playing for the Toledo Rockets, but this year she translated that basketball experience into a position as the new sideline reporter for the Cleveland Cavaliers.
Born Allyson Bethany Clifton to parents Bill and Kim Clifton in Van Wert, Ohio, Allie grew up playing sports alongside her younger brother Corey and her older sister Abbie. Her sports "career" started at the young age of six when she swam competitively for the local YMCA. Shortly thereafter, she started playing basketball for the YMCA co-ed league – although she was the only girl on her team.
In 7th grade, Allie was faced with the decision of having to choose to play basketball or swim competitively as the seasons ran consecutively. As fate would have it, Allie chose basketball. Throughout junior high and high school she played basketball, volleyball and competed in track & field.
When it came time to decide on a college to attend, Allie went on many recruiting visits. She was 90% committed to Butler University but had one more recruiting trip to make – The University of Toledo. "It felt like home the moment I walked onto Centennial Mall," said Allie. "Then when I saw Savage Hall and met with the coach, I turned to my parents and said, 'This is where I want to go to school.' I wanted to commit on the spot!"
Her parents told her to wait, that this was a very big decision and that she needed to think about it and they should discuss it. "We got as far as the Wendy's in Perrysburg on the way home before it was finalized," Allie said. Not only did she love the campus and the area, she felt being only an hour and a half from home was comforting and her parents could come and see her play.
Allie speaks VERY fondly of her time her at The University of Toledo. She certainly had an incredible basketball career. With the Rockets, she was a four-year letter-winner and three-time captain. During her time here she started 83 of 100 games and finished with averages of 8.3 points, 4.9 rebounds and 1.6 assists per contest. She notched double-figures on 41 occasions and is in UT's top 10 in career field-goal percentage.
Allie came to The University of Toledo with the intention of getting her degree in the field of education. She comes from a family of educators. Her father is the High School Principal at Van Wert High School, her sister is a para-professional, and her aunts, uncles, and cousins are all in the field of education as was Allie until three and a half years at UT. Literally, the day before she had to have classes changed before the last semester for her undergrad degree, she decided education wasn't for her. She went to her dad and told him she wanted to give sports broadcasting a try. She loved basketball and sports so much and she knew that she was finishing as a player – but didn't want to leave the field. Her parents were very supportive of her decision. "It was meant to be," Allie added. "All of my classes transferred perfectly and I was able to graduate on time with the degree that I wanted."
While working on her Masters in Communications at UT she got her first broadcast job at BCSN. Her first year there she did color commentary for girls high school basketball games. "I was awful," said Allie. "But I kept plugging away, getting more on-camera experience and learning." She then got an intern position at Channel 11, WTOL in the Sports Department with Dan Cummins, Mike Lacett and Jordan Strack. She shot game highlights, learned the mechanics of the cameras, along with the editing systems and she put together video packages. After her internship was over, she stayed on as a volunteer where she was on camera for several months starting in the football season. She stayed on at WTOL learning everything that she could. While finishing her Masters, Allie got a paid position at Channel 13 ABC as a reporter. She did sports features, live news, even covered a double homicide murder.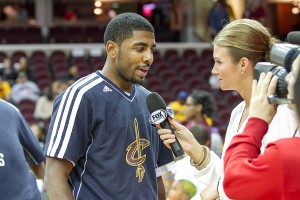 At that point, she was offered a position working with the Toledo Mud Hens for all of the home games as a field reporter. Although she never played softball; her Dad was a baseball coach, her brother played baseball and she was around it most of her life. "I can't learn a sport by reading about it," said Allie, "I have to be inside the game and I have an emotional connection to sports." She did such an incredible job that she has already been signed on for the 2013 season and will be the field reporter for 85 games this season.
When Allie first graduated, she sent her audition tape and resume "EVERYWHERE" as she put it. Out of the blue, she got an email from the Coordinating Producer of Fox Sports Ohio. He had received her tape and heard of her from another producer across the country. He asked Allie if she would interview for a position with Fox Sports Ohio/Cavs. Her interview was on a Wednesday and she got the job two days later on Friday. Being a lifelong Cavaliers fan – this position was a dream come true.
Her first game on the sidelines she says she was incredibly nervous. "I just kept thinking to myself – no one is watching, no one is watching, only mom and dad are watching." But in reality over 20,000 people were watching… and they liked what they saw. That first game she did a half-time segment, a walk off the court interview and lots of commentary. "It was frightening at first – it was a fear of the unknown."
Allie Clifton is a shining star that is only going to keep rising. Although she is very happy with where she is, she does say that like her sports career, "I am never satisfied. One day, I would love to see myself at a national network. I am always working to improve. I am always striving to better myself. I know that what I am doing right now will give me the experience to prepare myself for that one day."
When asked what she felt when she first came to The University of Toledo she said "It was a new beginning for me. I can't imagine where I would be if I went anywhere else. I am getting married in August. Timing was perfect because my fiancé started at UT as the Assistant Men's Basketball Coach at UT after my playing career was over. Four out of my seven bridesmaids are friends, teammates and roommates from UT. The University of Toledo has been a blessing to me. I was back on campus just a couple of weeks ago and everyone should be so proud of all of the work that is being done on campus and around the campus. It just looks beautiful. I love Toledo and the University and if the opportunity ever presents itself, I would love to raise a family there. I credit my success to UT and Toledo."
---
Mr. Parker Goes to Washington
By Patty Gelb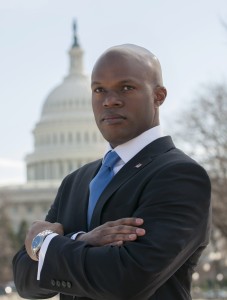 The life that Darnell Parker, CFE, lives is dedicated to pursuing his passions. He graduated with his BBA ('96) in Finance and Accounting from The University of Toledo and his MBA ('00) in Information Systems from Central Michigan University. Since then, Darnell has been building his career in the areas of Finance and Information Systems. During the 2008 financial crisis, he worked in the FDIC Division of Resolutions and Receivership Investigation Department investigating bank failures.
In May, 2012, Darnell was detailed to the Office of Complex Financial Institutions (CFI) in Washington, D.C., as a Senior Resolution Planning and Implementation Specialist. The CFI is a new organization within the FDIC with the mission to promote financial stability and public confidence by conducting risk analysis and supervision of systemically important financial institutions. It also provides leadership and coordination with foreign entities and regulators, developing and implementing effective resolutions and liquidation strategies. It does all of this without financial assistance by or cost to the U.S. taxpayer. The FDIC says that the establishment of the CFI is the first step in ending the presumption of "too big to fail."
As a Resolution Planning and Implementation Specialist, Darnell's role focuses on FDIC's plans, strategies and readiness efforts for troubled Systemically Important Financial Institutions (SIFI's) as required under Title II of the Dodd-Frank Act. Darnell researches, analyzes and implements FDIC's internal resolution planning in the event of a firm's insolvency and a systemic risk determination being made, appointing FDIC as a receiver. This involves developing strategies and policies for FDIC to resolve the entity at the lowest cost to the creditors, while mitigating systemic risk to the economy as a whole.
When asked how his time at The University of Toledo helped him in his career, Darnell said, "The University of Toledo cultivated global relationships and broaden my unique understanding of religion, education, finance, and social reengineering to maneuver within diversity challenged and politically sophisticated organizations, making my career a reality."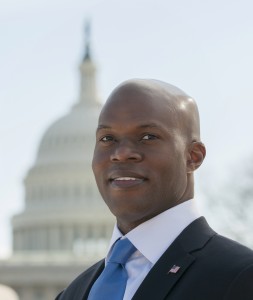 Darnell holds several certifications, in addition to his BBA and MBA. He is a Certified Fraud Examiner (CFE) and has six other certifications as a Certified Internal Auditor. He has two Information Technology licenses, is a Certified Governance of Enterprise IT and Certified Risk & Information System Control by the ISACA. Darnell is a Certified Project Manager and a Certified Six Sigma Black Belt and Green Belt.
Outside of work, Darnell's greatest joy is uplifting the youth in the communities he lives in. He is the founder of Community Fitness & Education, Inc., a 501(c)3 nonprofit headquartered in Atlanta, Georgia. The organization assists underserved high school students by preparing them for the ACT and SAT tests and emphasizing the importance of collaboration to combat obesity and promote active lifestyles in kids ages 5 – 18. He is a member of the 100 Black Men of Greater Washington, Inc. and serves in the Saturday Leadership Academy, which works to enhance academic performance and teach leadership skills to African American youth in the Washington, D.C. area.