By Patty Gelb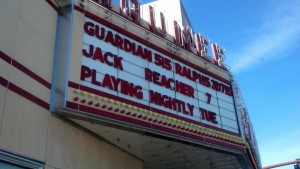 Uplifting, inspiring and warm-hearted are all words that could describe the movie "Playing Nightly," but, when the idea was first conceived, it could have been anything but a feel good story. When director and owner of Leata Films, Jason Hamilton (B.A. in Film '94) first thought about the idea of an in-depth documentary about local Toledo musicians, he wondered if the focus would be people unhappy in their long-term music careers still playing in Toledo. What he found was quite the opposite.
Hamilton always had a love of music and specifically people playing guitar. His parents owned a home down in the Florida Keys and he remembers going there all of his life, seeing the musicians and wondering about their lifestyle and how they made a profession from it. Hamilton spent several years in California working at Paramount, Fox and Saturday Night Live Studios, but when he came back to Toledo he wanted to pursue the idea of the life of a small town musician.
So Hamilton teamed up with Mike Malone (B.A. in Theater and Film, '79) with whom he had previously worked with on a 35-mm feature film, "The Toledo Conspiracy."  Malone had more than 25 years experience working with every major network as well as a client base ranging from Harpo Productions to Ford. In fact, the background footage that you see on the Dr. Phil show where they are "telling the story" is often filmed by Malone. Mike also had a strong love of music as a member of the well-known Toledo band Locoweed.
The pair did not know exactly what the focus of the film would end up being. They chose five local musicians, developed a series of eight control questions and interviewed each of the musicians in a variety of settings. "Part of this was an experiment because I wanted to see if we could connect these people's lives using the same questions, knowing that everyone would answer them totally differently," Hamilton said. "So there was an outside chance that this would not have worked out at all. They could have had wildly different answers but you could start to see trends that go along with the questions."
What came out of these interviews was the stirring movie "Playing Nightly." The story documents the lives and careers of Jeff Stewart, Johnny Rodriguez, John Barile, Bobby May and Kyle White. The featured artists are all locally and nationally recognized musicians that have played as close as Sylvania and as far away as Amsterdam. Stewart and White have won Toledo's favorite singer/songwriter multiple times, Rodriguez has played with The Drifters and has been a staple in Toledo for over 20 years, Barile shared the stage with the likes of Jethro Tull, Foreigner and is a veteran of multiple bands, while May has been a major influence in the Toledo area playing with Crystal Bowersox at the Grand Ole Opry and even being the inspiration for her song "Grey Haired Rock Star."
The theme that permeates throughout "Playing Nightly" and across all of the artists is their true love of music and performing. "I have played in bands," Malone said. "But it came to a time in my life when I just said 'I have to start making some money.' People don't realize that it is really hard work. And as much as these guys play, it can be grueling. I thought that I was going to see a little more disappointment than I did. Instead, I saw proud people who like what they do and who had this purpose of life to entertain and were very happy with their choices."
Work on the film began early in 2012. It was snowing in some of the first shots filmed and the filmmakers did interviews and shot footage of the artists performing all summer and through the fall. They did not try to glamorize the performances at all. There were times that they went to capture the performance and there were only four people in the bar which you can see in the film. At the other end of the spectrum, while filming one of the interviews in the front window of the Cock and Bull bar, the Toledo Mud Hens game let out and suddenly thousands of people were strolling past in the background. "It gave an interesting feel because Toledo in general is not a walking town," Malone said. "But in this scene you get a very urban vibe."
When it came to the decision on who would be in the film, Hamilton was looking for people who had a similar level of enthusiasm for the project. He also wanted people around his own age although some skewed higher and some a little lower. But the main thing is he wanted people who had been doing this for a long time. Most of them have been performing for 25 years and some (like Bobby May) even more. "The artists have to keep up the energy," Hamilton said. "They are doing it every day, eight shows a week, sometimes two shows a day on a Saturday and Sunday. Afterward I got comments like 'Why was this person left out' or 'You didn't even scratch the surface of that person's talent.' It sometimes seems like you get questioned more on the decisions you don't make rather than the decisions you do make. This movie was meant to focus on these guys who are doing this all of the time. Not just someone in a band who played a gig once every couple of months."
The movie premiered at the Maumee Indoor Theater on March 5, 2013. The first showing sold out and they had to add 60 seats. About 750 people saw the two showings "which for a documentary about local Toledo musicians is pretty fantastic," Hamilton said.
So what is next for "Playing Nightly?" It is currently making the film festival circuit and is entered in several festivals. It recently received an honorable mention at the Sunset Film Festival in Los Angeles. It is also going to be featured locally on PBS sometime this fall. The current run time of the movie is approximately 73 minutes but due to time constraints it has to be 55 ½ minutes long. "We have to cut it down by 15 minutes which is very hard to do to a completed project without losing its context," Malone said. "You can take out two and a half minutes just from timing, but now we are trying to take out some of the ambient stuff from the bars. We tried to show how it was for them performing when they are playing live in a bar so we are trying to cut back on some of those scenes. It is tricky work."
Hamilton also spoke of working on another showing locally in Toledo although he said, "Its final landing spot will more than likely be Netflix."
To see the movie trailer of "Playing Nightly" and to learn more about Leata Films, click here.
To read more about "The Toledo Conspiracy" or to see the trailer, click here