by Patty Gelb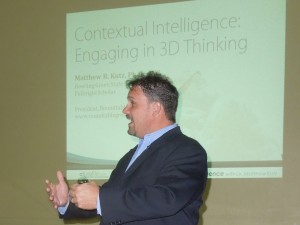 What do you do if you are a University of Toledo alumnus working as a professor at rival BGSU? If you are Matthew Kutz ('97 with dual masters in exercise science and education), you wear your 1995 Las Vegas Bowl Championship ring and attire to staff meetings.
"I was an athletic trainer the year UT won the '95 Vegas Bowl under Coach Gary Pinkel," said Kutz. "I've got the ring. I've got the jacket. I've got all of the gear. I love to wear all of it to work just to get everyone's goat."
For those who don't remember, the 1995 Las Vegas Bowl featured the Toledo Rockets vs. the Nevada Wolf Pack. This game is the first division I-A football game to go into overtime, with Toledo winning 40-37 and capping an undefeated season.
While other BGSU faculty also graduated from UT, Kutz is unique because he worked with the UT athletic department. "I love the Rockets and because I was with the football team, I feel the rivalry is potentially bigger for me since football is really the epitome of a rivalry between schools," said Kutz.
Kutz was a graduate assistant athletic trainer for both the UT football program and track and field. Growing up in Toledo, he loved the Toledo Rockets and attended many UT football games with his father and church youth groups. Kutz went to Anderson University for his undergraduate degree and said he actually felt guilty not going to UT. He was determined to be a Rocket for his graduate degree.
"I really wanted to have somewhere in my history that I was a UT Alum," shared Kutz.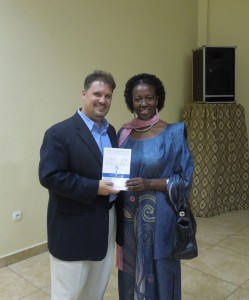 Kutz is also a Fulbright Scholar. The Fulbright Scholar Program is an international educational exchange program sponsored by the U.S. government and is designed to increase mutual understanding between people of the United States and people of other countries. Recipients of Fulbright grants are selected on the basis of academic or professional achievement, as well as demonstrated leadership potential in their fields. This very elite program operates in over 155 countries worldwide.
Kutz returned to the Toledo area after spending all of the 2013 spring and summer terms in Rwanda as a faculty member and a teacher. His main responsibility was training and equipping their physical therapists, nurses and physicians in sports medicine.
"Sports are a big thing that pulls a lot of people together and creates a lot of national identity which is very desirable to developing countries like Rwanda," said Kutz. "I was invited me to come over and teach in their physical therapy school. They wanted me to train their professionals in sports medicine because they are really trying to up their game in the national sports arena and to do that they needed a stronger infrastructure in terms of their sport health care."
Although this was Kutz's first time traveling as a Fulbright scholar, he has traveled internationally many times. He is a consultant with the Honduran and Rwandan Olympic committees plus he is an athletic trainer for the USA track and field program.
Currently Kutz is a full time professor at BGSU and teaches in the sports medicine area. His course load and teaching are in athletic training but his research interest is in management and leadership, specifically in allied health care professions. He is particularly interested in the attributes and differences in what makes a leader successful, even when they have to change industries. He studied hospital and clinic administrators who moved successfully into different roles and different settings. He became curious to see if the results that he was finding in health care settings translated into other arenas.
"I wondered if you could take a world famous basketball coach that has won 88 titles and put him in charge of a baseball team," said Kutz. "If coaching is coaching, and motivation is motivation, and getting teams to work together as teams is the same; then theoretically that coach should be able to win games no matter what he is coaching. That is after they have learned about the nuances of the game that they are coaching of course."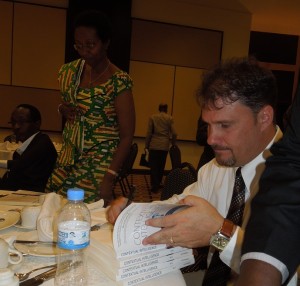 Through his research he discovered that there were some universal traits that transcend industry and context. His research found that if the person had particular leadership skills, they should be able to work anywhere successfully. Kutz wrote a couple of papers on these theories that were published in academic journals "that only nerds like me read," said Kutz.
Two years after he published those articles, he received a phone call from a senior executive at Proctor and Gamble who found Kutz's articles through a Google search. The executive thought the articles were cutting edge and were going to change the way business was done in the world, especially in the global marketplace. This executive told Kutz that the way things are changing so quickly; leaders have got to be able to transition across industries, context and geographic boundaries. He asked Kutz to come to Cincinnati and hold a training seminar for the Proctor and Gamble executive team.
"I told him that I could, but that he needed to know that I have never done anything like that before," said Kutz.  "I am a sports medicine guy and I don't really do the corporate America type thing. So I went down, gave them my shtick and they loved it."
Kutz was told that was the best information that they've ever heard and he was asked again where his book on the subject was. He said that he didn't have a book at that point but he shared a few more of the articles that he had written and they loved those too. At that point, they hired Kutz to do consulting and seminars for them. Those connections turned into other corporate connections with other seminars and training programs. Suddenly Kutz was traveling all over the world, consulting on these theories that he uncovered in his research and everyone asked the same question "do you have a book on this subject?"
"So I ended up writing 'Contextual Intelligence' that came out in January of 2013 right before I left for Rwanda," said Kutz. "It's all been kind of a whirlwind for me quite honestly."
"Contextual Intelligence – Smart Leadership for a Constantly Changing World" shares a leadership model that will help the reader navigate through constantly shifting environments. The book integrates a cutting-edge 3D thinking framework with 12 core behaviors that will help diagnose context and lead others to higher levels of performance. Today's leadership landscape is dynamic and challenging. Earlier theories and assumptions appear to be over simplistic in their ability to flex with the volatility and complexity of organizations, which function in a knowledge economy at a local, national and global level. "Contextual Intelligence" integrates the principles of tacit knowledge, synchronicity and time orientation, which are essential competencies for today's leaders.
"The book is a perfect example of what you can do when you transition from one stage in life to another stage in life," said Kutz. "Whether it is from a small university to a large university or whether it is from one job to another job, one industry as a manager to a totally different industry as a manager, our lives are categorized by change."
Not only is Kutz's book selling pretty well, when he got back from Rwanda, he found out that it is a finalist for the Outstanding Leadership Book of the Year awarded by the International Leadership Association at their global conference in November.
What is next for Kutz? He is off to Montreal to the International Leadership Association Global Conference to see how his book ends up placing in the competition. He has also been out publicizing his book and continues to consult for some of the world's largest corporations like Marathon Oil, Airtel (which is the third largest telecom company in the world based out of India), Promedica and Proctor and Gamble.
"The first paper that I wrote on this subject was back in 2008 so it had been four or five years then all of a sudden it snowballed dramatically," said Kutz. "I have written text books on leadership and management, but this was my first practitioner corporate America non-academic book. It's kind of funny how it all worked out and I still don't really know how it all worked out like this."
"Contextual Intelligence" is available for sale on Amazon, Lulu and through the book's website www.ciprofile.com.
To see a You Tube video of Matt Kutz talking about his book "Contextual Intelligence":