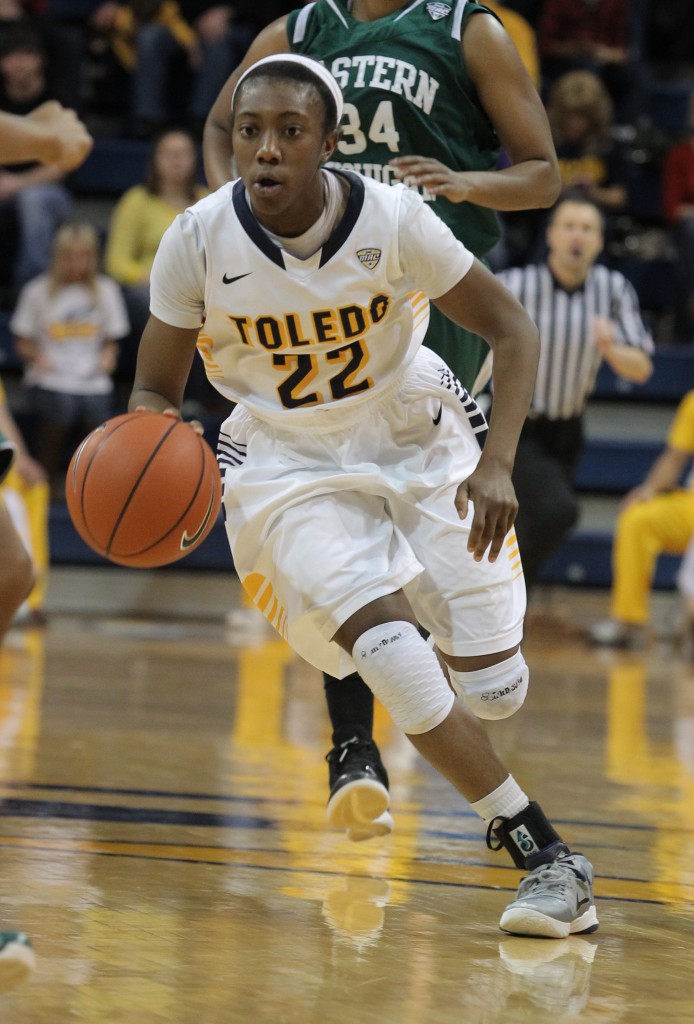 The motto for the University of Toledo Athletic Department is "Toledo Tough" and no student-athlete embodies that more than women's basketball player Andola Dortch. The fifth-year guard has battled through two torn anterior cruciate ligament (ACL) injuries since arriving on campus and is on the verge of becoming one of the most decorated players in UT history.
"I've seen a lot of athletes get hurt and never get back to the same level of play as before their injury," Dortch said. "I didn't want that for myself. I wanted to be tough enough and resilient enough to make it back and be better than before."
As one of three seniors on this year's team, Dortch is the Rockets' emotional leader and one of the top players in the Mid-American Conference. A 5-foot-7 guard, the Akron, OH native is a tremendous defender, who also pushes the ball very well in transition and helps Toledo play at a high tempo.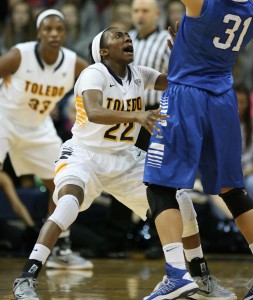 The two-time reigning MAC Defensive Player of the Year enters her final season wearing the Midnight Blue & Gold fourth in school history in career steals (217), ninth in assists (375) and 22nd in scoring (1,060).
But all the laurels and accolades may not have occurred if Dortch wasn't tough enough both physically and mentally to go through a few grueling rehabilitations in her time at UT.
"When you compete at the highest level, you don't play for yourself, you play for your team," Dortch said. "Individual honors really don't mean anything if you don't win. You play for the name on the front of the jersey, not the name on the back."
Dortch arrived on UT's campus in the summer of 2009 following an outstanding prep career at Akron Kenmore High School. She was a three-time Akron City League Player of the Year and ranked among the nation's Top 75 point guards by the Collegiate Girls Basketball Report.
After suffering no more than a slight ankle injury while in high school, Dortch tore the ACL in her left knee while playing in a pickup game in July of 2009 in Savage Arena.
"It was a freak accident," Dortch said. "At first I thought I just hyper-extended my knee. I went to the trainer and was told nothing was wrong. The next day, I went to do a jab step and my leg completely gave out. I still didn't know what I had done, so I went to the trainer again. This time she could tell something wasn't right, so I got an MRI and learned I had tore my ACL."
Dortch sat out the 2009-10 campaign while rehabbing and was eventually cleared to start practicing again without a brace in March 2010. Unfortunately, she almost immediately tore the ACL and meniscus on both sides of her right knee during another pickup game.
"I drove to the basket, made a sudden stop, and my knee buckled," Dortch recalled. "But this time it was much more painful. I became very frustrated and it made me depressed. I had just finished the rehab on my other knee."
Dortch was not one to simply give up. Instead she found the mental and physical toughness to start the rehab process all over.
"As much as I wanted to, there was no way I was going to allow myself to quit," Dortch said. "I knew I couldn't be scared of something else happening, because that's when you put yourself at a greater risk of having another injury. I constantly kept telling myself to not worry about anything, but rather to just go out and do the necessary work to get back stronger than ever. If something happens, that's how it's supposed to be, because I'm a firm believer in everything happens for a reason."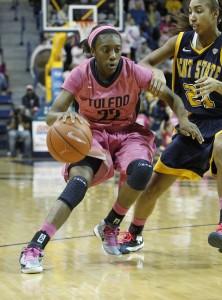 Dortch did come back stronger than ever and played an intregal part in Toledo's record-setting 2010-11 season. She reaped the benefits all her hard work in the training room and weight room by being  named to the MAC All-Freshman Team. She averaged 6.6 points, 3.6 rebounds, 2.6 assists and squad-best 1.7 steals in 24.1 minutes per game, ranking 12th in the MAC in thefts and 15th in helpers. She played a big role in helping UT secure its first MAC regular-season title in almost a decade and capture the WNIT crown.
Dortch followed up her first year with a fantastic sophomore campaign and became the first Rocket to garner MAC Defensive Player of the Year accolades in school history. She contributed a team-high 13.6 ppg, a squad-best 4.8 apg, 4.0 rpg and a team-high 2.0 spg in 33.3 mpg. Dortch started all 34 contests and finished third in the MAC in assists (43rd in NCAA), fifth in three-point field-goal percentage (36.8%, 35-of-95) and assist/turnover ratio (1.2), sixth in scoring and tied for seventh in steals.
Despite not suffering from any serious injuries throughout the course of the 2011-12 campaign, Dortch battled some lingering pains in the lateral meniscus in her right knee. After Toledo was bounced in the 'Sweet 16' in the WNIT, Dortch learned she had sustained more slight tears around her knee. Since there was enough time to get a procedure done and be ready for the start of next season, Dortch had a scope done to shave off some of the loose cartilage.
"I battled with some pain throughout the year and it became worse as the year went along," Dortch said. "Once the season ended, I decided to get a scope down so I could be ready for the start of the next year."
Dortch plowed through yet another round of grueling rehab and experienced another banner campaign last year, helping lead the Rockets to their second MAC regular-season title in the last three years. She averaged 10.7 ppg, 4.8 rpg, 3.5 apg and a conference-best 2.7 spg in a team-high 30.8 mpg en route to collecting first-team All-MAC accolades. Dortch was also selected the MAC Defensive Player of the Year for a second-straight year and led the league in thefts, as well as ranking fourth in assist/turnover ratio (1.5), eighth in helpers, 14th in three-point field goals made (1.2) and 15th in scoring and free throw percentage (69.4%, 77-of-111).
Sixth-year head coach Tricia Cullop knows the road for her star player hasn't always been easy, as she sings her praises with her toughness and strong work ethic.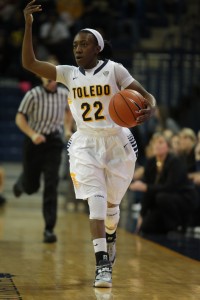 "Andola is one of the toughest players I've ever coached," Cullop said. "She has endured a lot  during her time here, but she's never backed down from a challenge, and I'm honored to be her coach. To earn MAC Defensive Player of the Year one season alone is a big honor, but to win it two-consecutive years shows how respected Andola is throughout our league. She sets the tone defensively for our team. She also does a great job running our break, commanding the offense and bringing leadership."
And so far in 2013-14, Dortch is healthy, knock on wood, and supported by a group of talented and gritty teammates that just might help her cement her legacy as one of the most decorated players in school history with a MAC championship.
"If we stay healthy and stay focused on improving each and every day, this season can be real special," said Dortch, who was named a team captain earlier this fall in a vote of her teammates. "We have the potential to be a championship team."