by Patty Gelb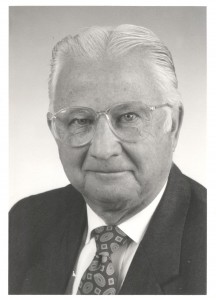 The words "true gentleman" are often used to describe the late Jim Findlay (Bus, '48), one of Toledo, Ohio's most respected business leaders and philanthropists. He passed away peacefully at age 87 in Hospice of Northwest Ohio on October 20, 2013 after battling prostate cancer for many years.
Jim was known for the love he had for his wife of 55 years, Celia, who preceded him in death. Celia was Jim's high school sweetheart. She attended UT with him, graduating with her bachelor's degree from the Judith Herb College of Education in 1949 and she was a former homecoming queen. Jim and Celia's large family included children, grandchildren, siblings and many nieces and nephews.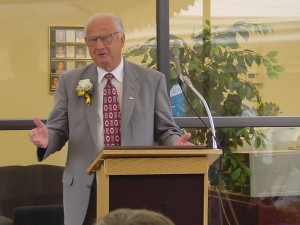 Jim started his life in Toledo but his family moved to New York when he was an infant to find work during the great depression. They moved back to Toledo when Jim was a young boy around 10 years old. Jim graduated from Scott High School in 1944. He then enlisted as an Air Corps Cadet toward the end of WWII. He served in Wichita Falls, Texas, and Lowery Field in Denver, Colorado.
After his discharge from the Air Corps he returned to Toledo. On the day of his return he discovered that his father and his pastor from Glenwood Lutheran Church had enrolled him in The University of Toledo. He attended UT from 1945 through 1948.
Jim worked for the City of Toledo as Chief Civil Services Examiner and was Distributor Relations Manager for National Laboratories. Jim co-founded, with Jim Lower, Impact Products, Canberra Corporation, and Fresh Products.
Jim had many passions in the community in addition to his business career. He coached youth softball, basketball and volleyball for over 20 years. He was also very active in his church, Glenwood Lutheran, teaching Sunday school, serving as superintendent and church council president.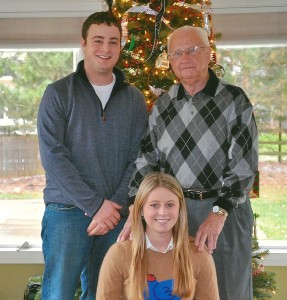 Jim was also known as an incredibly generous philanthropist. He was recognized by his peers, receiving the philanthropy award "Entrepreneur of the Year." He was also presented the coveted Jefferson Award in Washington, D.C., where his friend Marcy Kaptur flew the American Flag over the White House in his honor.
"Jim Findlay personified philanthropy," said Vern Snyder, vice president for Institutional Advancement for The University of Toledo. "He worked very diligently to understand the causes he supported and held those causes to his very high standards. Jim was an alumnus, friend and benefactor to his University of Toledo. He is missed."
The University of Toledo was honored to have been one of many of Jim and Celia's passions.  Their support of the University included more than $1.4 million in contributions, establishing eight endowments and impacting the lives of countless students. Their generosity benefited the UT Athletic Department, Camp Adventure, National Youth Sports Program, the Catharine S. Eberly Center for Women, the College of Business and Innovation and the Judith Herb College of Education.
Jim co-founded, along with Dick Anderson, Cleves Delp, Sr., and Richard Gross, the UT Center for Family and Privately Held Business. The Center was established in 1992 to serve the needs of family businesses. The Center provides a forum for idea exchange and networking, while developing a body of knowledge to help families in all stages of business ownership and growth.
"In addition to being a mentor, co-worker, leader, someone to vent to, share challenges and concerns with, Jim was my friend," said Debbe Skutch, director, UT Center for Family & Privately-Held Business. "I will never forget him and I know the UT community and our entire region will forever be the better because Jim and Celia lived their lives among us."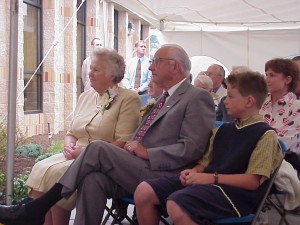 Jim and Celia felt strongly about the Center and the community's families in business. They established the Jim and Celia Findlay Family Business Recognition Fund to ensure that the Center recognized the positive impact families have on the community in economic development, mentoring, community commitment, creating jobs, entrepreneurship and innovation.
"Each year at the Center's annual recognition event, we honor our leaders for their service, our member companies' accomplishments and of course, Jim and Celia for their dedication, commitment and love of life," said Skutch.
Jim also served as chair of the Business Advisory Board for the UT College of Business. Dr. Tom Gutteridge, senior vice provost and dean of academic administration, remembered meeting Jim shortly after he arrived at UT in 2003. Gutteridge came from the University of Connecticut to become the dean of what is now the College of Business and Innovation.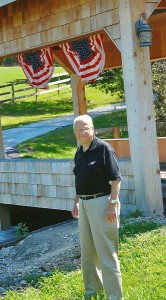 "One of the first individuals I met was Jim Findlay," said Gutteridge. "I really got to know him when he was still very active in Impact Products. I had been here maybe a week or two and he called up and asked me if we could meet up for lunch. Jim took me around and showed me his company. I was honored to have worked with him over the years in a variety of capacities. If I were to sum up the word that I would use to best describe Jim is, he was a true gentleman."
Jim was a member of the UT Foundation Board from 1990 – 2000 and also held the position of Chair of the board twice.
"One of the best things about my job is that I get to meet and interact with so many wonderful people who want to make a difference," said Brenda Lee, president of The University of Toledo Foundation. "Jim epitomized that. He truly was about making a difference in the world. He was a kind, generous, compassionate man who took the time to get to know and understand you. He was a friend and a mentor and he will be missed."
Jim received many honors from The University of Toledo over the years for his generosity, guidance, intellect and sharing his business acumen. He was awarded the College of Business Pacemaker Award and also received the UT Alumni Association's Blue T Award in recognition of his dedication to his alma mater. In 2001, the Findlay Athletic Complex on Scott Park Campus, funded by his generosity, was dedicated.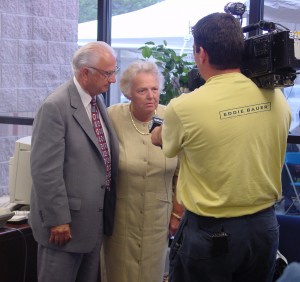 "This is a great university, and we always try to do our best to support it," Jim said at the dedication. "Celia and I are thankful for everything the University has done for us."
"As one of many student-athletes who entered the Findlay Athletic Complex at Scott Park, we were very familiar with the Findlay name," said Dan Stong, major gift officer for Athletics and former UT baseball player. "However, most of us were not fortunate enough to meet Jim in person and really get to know him. I had that opportunity. Even though our friendship lasted for only a few years, I feel blessed to have learned, laughed and lived alongside him. He truly made an impact with our student athletes, UT and the community."
Jim was also a contributor to the Glass Bowl Stadium project and a former member of the UT Athletic Committee and the Rocket Fund Advisory Board. He shared his love of The University of Toledo's athletics in his 2001 autobiography, "In the Company of Friends."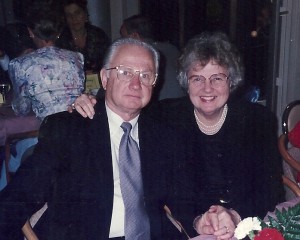 "Some of my greatest spectator thrills have come from watching UT sports teams," Jim wrote. "Even as a student, from 1946 to 1948, I seldom missed a basketball or football game. Such was my enthusiasm that I quietly slipped away from a family Christmas party in 1946 to watch a UT basketball game against South Carolina."
In 1990, Jim was chosen to be UT's twelfth man for the UT vs. Navy game. He ate with the team, attended locker room sessions and paced the sidelines.
"Never have I done so little and felt so important," said Jim describing the experience. His love of UT athletics was very well known.
"Jim Findlay was a terrific friend to The University of Toledo Athletic Department in so many ways," said Mike O'Brien, UT vice president and athletic director. "More importantly, Jim was a kind, generous, humorous and loving man who was an advocate of countless charitable causes in the Toledo area. He had an enormous impact on everyone around him. Our deepest sympathies go out to his family and the many friends he made in his lifetime. Jim was a great Rocket and will be truly missed."
Jim's impact reached across the University and the world at large on so many levels.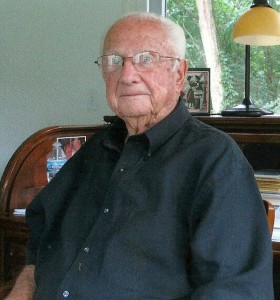 "One of the most inspiring things is Jim always had an eye out for others," said Dave Nottke, senior associate athletic director for development & external affairs. "If he saw someone in need, he was there to help.  In 2000, we were at a local hotel for a luncheon prior to our MAC Championship game. One of the servers had a huge abscess on his ear and Jim noticed a lot of people pointing this out. I remember Jim getting up and talking to our team physician and then calling the young man over.  Jim personally made the arrangements for the young man to have surgery and have his ear returned to normal.  I remember asking Jim to share the details with me and he simply said, 'I was able to make a small difference and now he doesn't have to go through life with this problem.'"
A proud moment in Jim's life was receiving his Honorary Doctorate from The University of Toledo in 2002.
"How could an average student and an ordinary Joe be the guest of a college president and receive from his hand the highest honor the University can bestow? Unimaginable," said Jim describing the day in his autobiography. "By any objective standards, my contributions were trivial and insignificant and unworthy of the honor conferred upon me this day. My sense of gratitude is therefore all the more deep and heartfelt."
To receive this honor there is a nominating process of individuals who exemplify their profession and in Jim Findlay's case it was in the field of business. The honorary degree is conferred to the individual at a commencement ceremony and is the highest honor that the University can bestow on someone.
"He was very much a visionary," said Gutteridge.  "Jim was from a different mold. He was more of the entrepreneurial and visionary type and I think that kind of personified how he looked at things."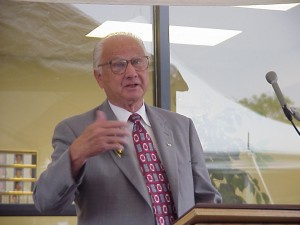 Jim Findlay will be greatly missed by many and his memory, and what he gave of himself, will always be remembered.
"Jim has been a wonderful mentor and friend over these last many years, and I will miss him sorely," said University of Toledo President Lloyd A. Jacobs, M.D.
"Since working with Jim, he has been on my shoulder whenever I wrestle with a decision or challenge that could go either way," said Skutch. "I ask myself, 'What would Jim do or tell me to consider?'  I have yet to go too far wrong with his advice and I will continue to do so."