By Patty Gelb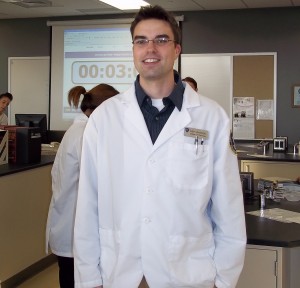 With the recent freezing temperatures and the record breaking amounts of snowfall, you would think the reason Dr. Andy Hochradel (Pharm, '12) moved to Augusta, Ga. following graduation was to escape the cold. But the reason wasn't to avoid Toledo's weather, it was for opportunity.
Born and raised in Toledo, Hochradel attended Our Lady of Perpetual Help for elementary school and graduated from Bowsher High School. When it came time to go to college, he chose The University of Toledo. Originally he attended undergrad with an interest in environmental science, but quickly switched his focus over to pharmacy.
"Once I got started taking classes like biology, chemistry and physics, I felt I had a natural path for math and science," said Hochradel. "When I started thinking more practically about what I would do using my knowledge, I thought pharmacy was a good field to be in."
Hochradel also credits his parents for his decision to go into the field of pharmacy although he said that he didn't realize that influence at the time.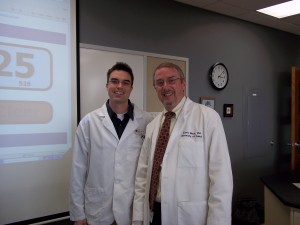 "I wasn't thinking this way when I was 18 or 19 years old, but my father is an accountant and my mother is a nurse," said Hochradel. "Accounting is attention to detail and nursing is about as direct patient care as you can get. Pharmacy is smack dab in-between that, attention to detail and accountability, plus direct patient care."
Hochradel worked at the Kroger Pharmacy on South Detroit and Glendale in Toledo for almost four years during pharmacy school. But, following his graduation from UT, he accepted a position as a staff pharmacist at Barney's Pharmacy, Inc. in Augusta. He was exposed to Barney's while doing one of his eight rotations during pharmacy school.
"I spent a month at Barney's and it was my first experience in an independent community pharmacy," said Hochradel. "It is a family-owned business, so I got to know the owner. I really learned a lot about operating a pharmacy and loved the autonomy of an independent store. Barney's is in a growth phase and we aim to be our patient's complete healthcare destination. Our slogan is, 'Come home to Barney's for all of your healthcare needs.' We do a lot more than just fill prescriptions."
A major area of interest for Hochradel is a growing trend in pharmacy called Medication Therapy Management (MTM). With MTM there are more and more opportunities to bill for cognitive services like ensuring that the medication is appropriate, making sure that a patient knows how to use their medication and monitoring the patient for side effects rather than just dispensing and getting paid per prescription filled.
"There are interventions that a pharmacist can do to help a patient reach a goal," said Hochradel. "If I have an encounter with a patient that influences their adherence to their blood pressure medication for example, what kind of cost savings does that have on the healthcare system, employer, insurance company or patient's out of pocket expense down the road? We know what will occur with uncontrolled hypertension. We are preventing issues such as cardiac disease or a heart attack. The price tag on a heart attack is hundreds of thousands of dollars verses compensating a pharmacist in the range of $1 to $3 a minute for an intervention. There is more and more outcome data showing that doing something in the realm of preventative health today is a cost savings opportunity and improves the care of that patient."
MTM is very much a team-based approach, where the pharmacist works very closely with the primary care provider or physician. As Hochradel shared, it is not taking over the patient.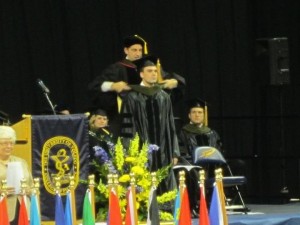 "One area where I feel my position is a big advantage is for patients with chronic diseases on maintenance medications," said Hochradel. "Since they are coming into our pharmacy several times a month, I see them and can implement systems to check on therapy, triage any side effects or break down barriers to getting care. Sometimes something as simple as taking the time to understand their specific insurance issues can be a huge assistance because a lot of patients stop therapies because of cost. But if the patient knows I can help by looking into alternative treatments with their physician that are less expensive or that fit into their specific insurance formulary, I become a resource to them."
Hochradel's career is really taking off as of late. A couple of months ago, he transitioned from his staff retail pharmacist position to become the specialty pharmacy director, which is a new venture for Barney's Pharmacy. Hochradel will be focusing on providing medications for specific disease states that are being treated by specialists.
"Augusta has a teaching hospital similar to UTMC," said Hochradel. "They have transplant operations, oncologists, inflammatory conditions and rheumatologists. These are examples of the types of unique conditions that are being treated by specialists. Typically people in rural areas have to go to bigger cities to seek these treatments and these patients require extra attention. There are a lot of quality assurance initiatives and critical documentation. It is more involved than the types of prescriptions that we were doing at Barney's today."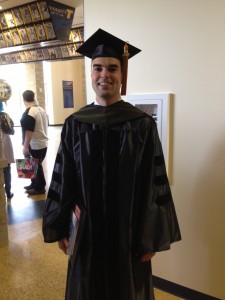 Hochradel feels his education at UT really prepared him well. He was part of the transition at the College of Pharmacy where third and fourth year professional students were located on the health science campus at UT.
"The vision of moving to the medical campus was to have us work more closely with our colleagues who are in different disciplines in healthcare," said Hochradel. "It put us in an environment where we have to meet each other early on in our careers and to have more respect for what everyone does and to learn the value in team-based medicine. My current ventures into specialty pharmacy and MTM are using those very principals. I am not hesitant to work with a physician or a nurse to do what we have got to do to improve the treatment for the patient."
One day Hochradel would like to own his own pharmacy whether it is with Barney's or on his own. Two other Barney's locations were opened with junior partners and he has been in discussion with the owner about opening stores or formalizing the specialty pharmacy department as a new business. It seems like he is in the right place at the right time.
"I still call Toledo my home and choosing the pharmacy program at UT was one of the best decisions I have made in my life so far," said Hochradel. "I would say the college's focus on leadership and patient care helped me so much. One thing that they taught us really well was how to be a professional. Everything from dressing the part, acting the part to how to do an interview. It's a really comprehensive program and I am very thankful for it. I also had some really good mentors like Dr. Steven Martin and Dr. Curtis Black who spent a lot of time with me one-on-one fostering my professionalism. And my advisor Jose Trevino played a big role in helping me get into the pharmacy program. We stayed in touch all through pharmacy school. I plan on maintaining my relationship with The University of Toledo, specifically the College of Pharmacy and Pharmaceutical Services. I always look forward to visiting my hometown."