My Year of Detours Out of the Cul-de-Sac
By Sherry Stanfa-Stanley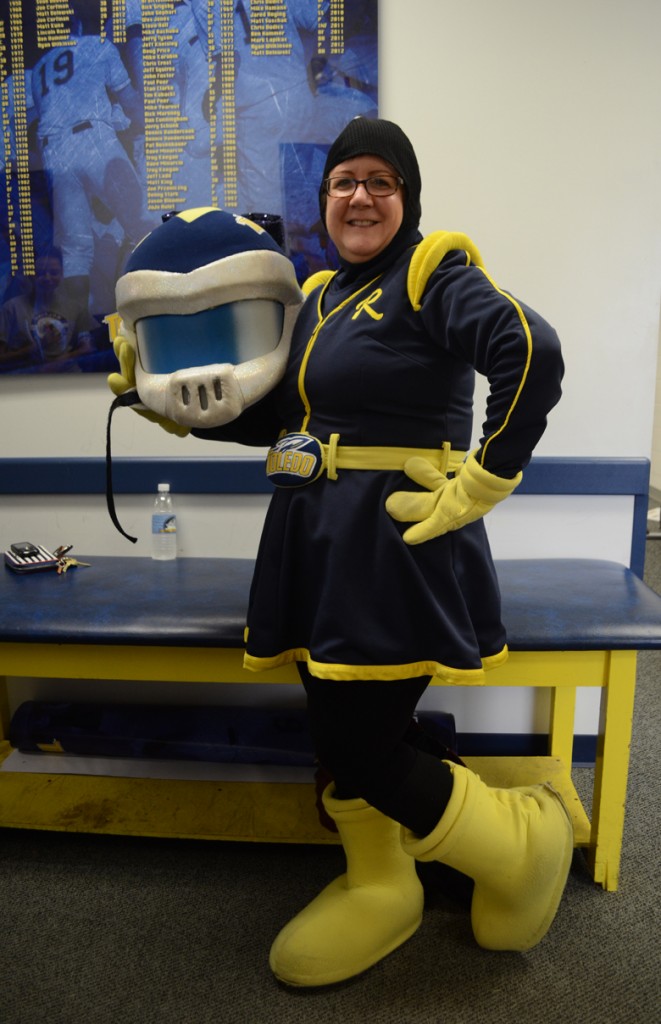 While I followed after the city's SWAT team and vice squad as they stormed a house on a drug raid, I only wished I was wearing a bullet-proof vest, a holster, and a pair of Depends.
I never would have imagined myself having the opportunity to take part in a raid, let alone having the nerve to see it through. But at that moment—four months into my year of new adventures—I was learning to take deep breaths and let lots of wild, frightening experiences roll off my shoulders.
As I stumbled into my 50s, I realized I'd spent most of the last 30 years doing the usual ordinary things: same daily routine, same house, same job. Not that I have any complaints about my job: I've been director of communication and fund stewardship for The University of Toledo Foundation for nearly 22 years. I work for a place I respect and appreciate, with terrific colleagues, alumni, and donors.
Still, I knew my life was in a bit of a rut. I know many people in a similar situation, particularly middle-age women who spend more than their share of evenings folding clothes in front of the TV, daydreaming about the world out there while they contemplate having that second bowl of ice cream. Weary of dishing myself vanilla, I was in need of more exciting flavors—and maybe a bit of nuts.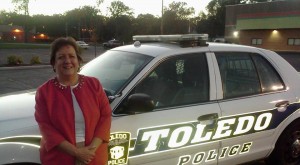 So, I sold my home of 21 years, bought a condo, and lost 30 pounds. Then I pondered how else I might shake up my life. Thus was born, "The 52/52 Project: My Year of Detours off the Cul-de-sac," a year of enlightening, exciting, and frequently frightening new experiences.
As I approached my 52nd birthday, I embarked on 52 things I'd never before done—a year of weekly experiences far outside my comfort zone. They've ranged from being a zoo-keeper for a day, to plunging into the icy Maumee River in January, to auditioning for the show "Survivor."
Not a Bucket List
A bucket list, this was not. The 52/52 Project has been about changing my life, pushing my boundaries, and learning to laugh at myself along the way. It's been both terrifying and liberating.
Why now? Was the anticipation of turning 52 some significant or magical moment? Perhaps I subconsciously recalled that my father died a week after he turned 53. Maybe my recent visit to Italy, with half my trip spent traveling entirely on my own, taught me I was capable of more than I imagined. Or, maybe I was just losing it.
Regardless of my motivation, at some point we decide either to continue sighing at the status quo of our lives or else we embrace change. I chose change, albeit with trembling hands.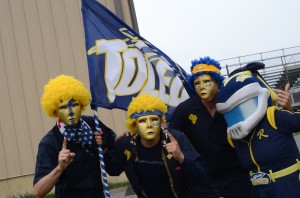 I included a number of outrageous items on my list, primarily designed for a laugh. As adults, most of us have forgotten how to be silly. Going outside our comfort zone requires being able to laugh at ourselves.
Just a few weeks into the project though, it began to evolve. The readers of my interactive Facebook page and blog, where I've shared stories and photos of my adventures, appeared charged and excited. Several called me an inspiration. An inspiration? Me? The middle-age woman who never thought of herself as more than a cautionary tale? Based on my reader response, I included a couple more thought-provoking items on my list, including volunteering at a nursing home and taking a homeless person to lunch.
The 52/52 Project has inspired some of my readers to jump-start their own lives. Several have embarked on their own, similar projects. Together we've jumped the curb, taking a detour from the safe and secure cul-de-sac of our lives, to visit personally unexplored territories.
Along with my readers, I've learned three rules for changing one's life through a year of new experiences:
Never say never.
Be assured the anticipation is almost always more frightening than the reality, although the reality is usually unlike anything you anticipated.
Buckle-up. It's sure to be a bumpy ride.
Here's a synopsis of some favorites:
I Will Survive
When I learned the TV show "Survivor" was holding an open cast-call on a Lake Erie island only a hop and a skip away, I cancelled all plans for the day. Because when serendipity comes calling, you'd better open the door.
I nailed my one-minute screen audition. At least that's what my comrades at Put-in-Bay told me. Disclaimer: Some of them may have been drinking. But I'm still standing by for my call-back. Surely the show's producers are seeking a middle-age, square-shaped woman who's simply ready to change her life.
Zip-a-Dee-Do-Dah
Nearly halfway through my year of new experiences, I'd never made it to the very moment of execution and still been consumed with such fear that I seriously considered backing out. That is, not until I was strapped upside down into a harness, 75 feet above the ground, with only an inch-thick cable keeping me from crashing to my death.
Somehow, I survived—and actually enjoyed my zip-lining ride. I realized the anticipation of fear is almost always worse than the reality of the experience. If we're brave enough to spread our wings, we may be surprised just how high we can soar.
Choking down Creepy Crawlers
Eating a chocolate-covered cricket wasn't so bad—until a leg or maybe an antenna—became wedged between two of my top molars and had to be dug out with my fingernail. The worm proved a bigger challenge. Unlike its gummy candy counterpart, it was crunchy. Much like the dried-up kind you find on the driveway a couple of days after a heavy rain.
The ordeal proved just slightly less horrendous than expected. But, let's be honest: My expectations were exceedingly low.
Honk, If You Pretend to Like Mimes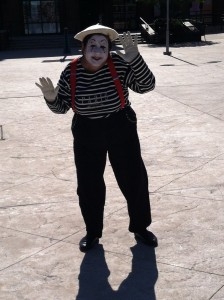 Being a mime at a busy shopping plaza presented a few challenges, including the fact that when it came to silent street performers, most people I knew had few nice words to say. I geared myself up for feeling awkward, out-of-place, and unloved: much like my adolescent years.
Yet being a mime for a day proved that the craziest, most random ideas in our lives often end up leaving us smiling—and speechless.
Stranger of the Bride
Here's a little hint about crashing wedding receptions: If you want to remain inconspicuous and anonymous, it's probably best not to discover you're Facebook friends with the owner of the reception hall—or to accidentally catch the bridal bouquet.
It's All Happening at the Zoo
I fed an alligator, had my hand licked by a dingo, and exfoliated a rhinoceros. Just another day in the life of a zoo-keeper at The Toledo Zoo—and in my year of new experiences.
Out on the Street
For years, I passed by them: the disheveled strangers standing in the median, holding cardboard signs reading, "Homeless and Hungry." I rarely stopped to offer a dollar or even a warm smile. I was wary and suspicious—until I took a chance on Linda.
I took Linda to lunch and gave her $5. She gave me an experience that changed me for good.
I'm Just a Singer (in a Rock and Roll Band)
My professional musical background consisted of singing along with the radio in the car. Still, singing on stage—with much pre-planning for my song, plus a rehearsal or two—had found its way onto my list. What I hadn't planned on was unexpectedly being called up on stage by The Danger Brothers, a popular Midwest band. (Thank you, Joan Uhl Browne.)
As I lumbered onto the stage, I told myself that if The 52/52 Project was indeed about going outside my comfort zone, this impromptu performance surely fit the bill. Yet once I grabbed the microphone and launched into song and dance, my stage fright all but disappeared. It felt so right. At that moment, I knew I'd come a long way through the past six months. My journey wasn't finished yet. Who says it's over when the fat lady sings?
Rocking the College Mascot Costume
Possessing no athletic ability whatsoever, along with feigned interest in watching most sports, had hindered me as a sporting enthusiast. Maybe I just needed to find my niche.
Hitting the field as one of the mascots of my alma mater, The University of Toledo (Class of 1983), thirty years after I graduated, was my final chance to make NCAA history. After an afternoon of slapping hands and giving high-fives, I'd like to think I rocked being "Rocksy," with one small caveat: It was tough to score a mascot's M.O. of a sassy saunter when you're a clumsy middle-aged woman—wearing clown shoes.
Frozen
After my ordeal at a nude beach (I won't elaborate), I promised I'd never again complain about cramming my full-sized, middle-aged parts into a swimsuit. Clearly, I never considered I'd be wearing one on New Year's Day—in Ohio—while I plunged into the icy waters of the Maumee River.
I was joined by 300 others taking part in Waterville's annual Polar Bear Plunge. One swimmer wore just a threadbare pair of underwear, and another was outfitted in a bathrobe and Viking horns. I rolled my eyes at the nuts around me, until it dawned on me that I was an active member of this circus freak show.
As I blinked to shake off the icicles forming on my eyelashes, I questioned my sanity. Yes, it would be a cold day in hell before I jumped into an icy river again. That would be nuts.
More to Come
Some of the adventures still to come over the next four months include:
Driving a stock car
Hopping on the first flight out from the airport—wherever it might be going—with no pre-scheduled airline reservation, no hotel reservation, no car rental, and no itinerary
Joining a team of professional ghost-hunters from the TV shows "Ghost Hunters" and "Haunted Collector" for a ghost hunt at the Mansfield Reformatory
Throughout my 52/52 experience, I've realized we're all capable of changing our lives, whether we're 30, 50, or 80. All it takes is a bit of imagination, an open mind, and an ability to laugh at yourself. And, perhaps, a tiny amount of crazy. "Crazy" comes in handy when you're exfoliating a rhino.
To learn more about The 52/52 Project, follow along at sherrystanfa-stanley.com or on Facebook at www.facebook.com/The52at52Project.