Do you want to enhance your career by learning more about law and the legal system, but you don't want to devote three years of full-time study to obtain a J.D. degree?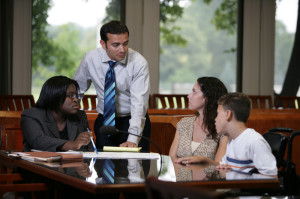 If yes, the Master of Studies in Law (MLW) program at the University of Toledo College of Law may be just right for you. Toledo Law is now accepting applications to its new MLW program for Fall 2014.
Designed primarily for professionals aiming to enhance their existing careers, the MLW program also can help re-direct and launch career paths. The MLW program can benefit those who work with lawyers, whose work is governed by laws or regulations, and in other career settings where knowledge of the law is valuable.
"Law is pervasive and affects virtually every workplace," said Ken Kilbert, Associate Dean for Academic Affairs at Toledo Law. "Students in this innovative program gain skills and knowledge that are widely applicable yet can tailor their studies to concentrate in a particular field."
Students earn the MLW degree by successfully completing 30 credit hours, which equates to two semesters of full-time study or more semesters of part-time study. Day and evening courses are available, making it convenient to pursue the MLW degree part-time while working full-time.
After one introductory course, MLW students take classes alongside J.D. students, acquiring a basic foundation in the law and exploring upper-level electives of their choice. Toledo Law offers courses in a wide variety of subjects. Concentrations include health care, human resources, criminal justice, business and many more.
The MLW degree does not entitle a graduate to practice law or take a bar exam. If that is your goal, Toledo Law offers full-time, part-time, day and evening options to earn a J.D. degree.
MLW classes at Toledo Law start August 23, 2014. For more information about the Master of Studies in Law program, visit http://www.utoledo.edu/law/admissions/apply/mlw.html or contact the Office of Law Admissions at 419-530-4131, law.admissions@utoledo.edu. To apply, go to apply.utoledo.edu.