UT Alumna Lori Dixon and her Team at Great Lakes Marketing Have Made Their Presence Felt Around the World
By Patty Gelb
Toledo area adults have opened, closed and evaluated everything from gas cans to eye-droppers and pill packages to five-gallon buckets. Area children have sampled the flavors and textures of cough syrup, vitamins and pain medications – with none of the actual medicine included in the samples – to help major pharmaceutical companies decide which flavors are the most palatable. Even those flammable lighters you might use – the ones with the thumb-lock safety feature – were tested in Toledo before their approval by the Consumer Product Safety Commission.
You may not realize it, but Toledo area residents are at the forefront of innovations for many consumer products and services around the world because of work being done by an internationally-recognized, Toledo based, marketing and research firm owned and operated by a UT alumna.

Dr. Lori Mitchell Dixon (BA '82, MBA'84) and her company, Great Lakes Marketing Research (GLM), located on Executive Parkway in the Westgate area of Toledo, conducts product testing and market research for some of the largest companies and organizations in the world, as well as federal agencies. GLM is celebrating its 50th anniversary in 2014.

"I consider us an aid-to-decision-making company," said Dixon. "We help other organizations make better decisions by understanding their customers. Everything today is about meeting the needs of the marketplace and we provide that information back to our clients."
GLM offers a full-array of market research services and has extensive experience with consumer and industrial products, the pharmaceutical industry, utilities, healthcare, banking and financial services, community service agencies, packaging and child-resistant packages, and the automotive aftermarket.

GLM's client list includes companies like Bayer, Pfizer, Procter & Gamble, and Johnson & Johnson. They work with local organizations like the Toledo Museum of Art, Toledo Zoo and Toledo Mud Hens as well as federal agencies such as the U.S. Postal Service, Federal Trade Commission and the Consumer Product Safety Commission. GLM has clients in over 25 states and 11 countries.
"The main purpose of the research is so that companies are smarter," said Dixon. "There is so much competition. If you don't understand your customer, somebody else will. And, they will do a better job."
Over 20,000 families from Northwest Ohio and Southeast Michigan already participate in testing that helps shape how companies introduce products to the marketplace. The results of that testing help GLM's clients determine what works and what causes consumers massive headaches.
Dixon, who purchased the firm in 1985, has been with GLM for 36 years. The owner of the firm at the time was Dixon's neighbor, who hired the teenager when she was a student at Ottawa Hills High School. Pre-college teens were given the opportunity to work part-time in the afternoon while attending school in the morning.
"I was hired to be a secretary, but I wasn't very good at typing," Dixon said with a laugh. "I took a typing class at COM Tech (the former UT Community and Technical College), my freshman year (at UT), to learn how to type so that I could keep my job. They were very patient with me. That typing class was a huge help."
Dixon originally planned on going away to college, but she enjoyed her job at GLM so much that she decided to enroll at UT so she could continue to work at the market research firm. There was some family history already at UT which helped influence her decision — her three older brothers are all alums.

"I loved being at UT," Dixon said. "I joined all of the clubs. I was in a sorority (Pi Beta Phi), the international business club and every intramural sport that you could do — and I loved it! I lived at home and would walk with my coffee down the street to get to classes. I still worked at Great Lakes and would ride my bike to the office. It was perfect! After the end of my sophomore year I thought, 'Ok, I am here, I am never leaving.'"
Dixon knew when she went to school that she was going into business. She enjoyed the market research classes which coincided with her work at GLM. The more she learned, the more she grew with the company.
Dixon was in the international program while at UT and had the opportunity to go to Europe and do some market research for a company in Amsterdam. She thinks her experience working at GLM, while at UT, is the reason she got the position. While in Amsterdam, she received a letter from the chair of UT's marketing department asking if she wanted to come back and work on her master's degree; they could offer her a graduate assistant position.
While working on her master's, a visiting professor, Dr. John Ryans, spoke to her about the doctoral program at Kent State University. Because of her interest in market research, he felt it would be a good fit. After completing the master's program, she taught for a couple of quarters at UT then went to Kent State for her doctorate in statistics and marketing. Upon completion of her Ph.D. in 1989, she returned to UT and taught at College of Business and Innovation for nine years while continuing to work at GLM.
As her career burgeoned at the marketing and research firm, so did her family life. She married UT alumnus Mark Dixon (BA,'77) and they had two children, daughter, Karla and son, Mitch.
"Once the kids came along, I just couldn't do everything, so I decided I would just do the company," said Dixon.
It turned to be a great decision.
"I went from typing, to research assistant, to project manager, to project director, to owner," said Dixon. "I bought it in 1985 along with Mark Iott (BA,'69, MBA,'86). Mark and I owned it together until 2010 when he retired."
Dixon said that her company gets the kind of national and international contracts that they do because part of their growth strategy was specializing in areas like packaging research. The Toledo area has several companies that design packaging. Owens-Illinois (OI) made the first child resistant packaging, which the government said had to be tested before marketing. The relationship between OI and GLM was born and today GLM is the only company in the world, that can test specific categories of child-resistant packaging.
"We grew that relationship with OI and we took it to the next step, then the next step, then the next step and just withstood the test of time," Dixon said. "Now we are the only ones doing a certain government-mandated testing. So that is one niche."
The amount of packaging that is required to go through testing is immense. All of the medications that are in the pain relief, cold and flu, and analgesic aisles at your local store are substances regulated by the Consumer Product Safety Commission and are in child-resistant packaging. There are different types of pre-packaged bottles, blister packages, bottles that the pharmacists label, special wallet packs and many more varieties.
"Those are all tested by companies like mine," said Dixon. "There are very few companies like us in the U.S. So since 1970 when the (Poison Prevention Packaging Act) went into effect, we've probably tested everything that you see on those shelves right here in Toledo."
While working with these large pharmaceutical companies, other opportunities began to materialize. The clients that GLM worked for testing child-resistant packaging realized they had an opportunity to capture more of the consumer thought process. Soon, jobs grew to include testing the packaging to make sure it was consumer friendly. Then GLM would ask consumers if they liked the design of a label. Dixon's work with these large firms continued to grow.
"If you do a good job, you keep getting more opportunities," said Dixon. "And if you keep doing more and doing better with those opportunities, you just get more opportunities. That's how I think we have grown over the last 50 years – making sure every time we get an opportunity, we go above and beyond so there will be more of them.
Package testing is just one small part of what makes up GLM's services. Probably one of their biggest clients is the U.S. Postal Service. For example, the postal service worked with many different companies to bundle and mail individual trial-sized product samples like shampoo, conditioner, pet food and other items. GLM helped the postal service decide which type of box, brand name and items that should be sent. Nearly 20 years ago, GLM competed with market research companies across the nation to get the contract to study this idea and to do other market research for the postal service.
"For the sample box study, we went to several different markets and asked consumers, 'Do you want to get samples, would you use them, and do you like the idea of them coming to your home from the post office?'" said Dixon.
GLM also had different designs of boxes to share with panelists. They were looking to find which designs made consumers want to open them.
"We then went to the next step and asked about different names for them," said Dixon. "This would give it a recognizable brand so when that box came, you knew immediately that it was good, safe and those are high quality products that came from the post office."
Someday, you may get one of these boxes in your mailbox and you will know that it was designed using input from a Toledo-based company.
But for other projects for the postal service over the years, GLM has done online studies, conducted telephone interviews and even sent staff members into post offices to ask people about their experience as they left the facilities.
"Whatever it takes to get the voice of the customer, we do it!" said Dixon.
GLM uses a variety of tactics to gather information that companies need. Their facility has a fully monitored telephone interviewing center and a state-of-the-art focus group facility that includes both in-person and remote viewing for clients out of the area. They conduct telephone interviews, mail and internet surveys nationally and internationally. It takes a specialized mix of methods to reach the research objective and GLM has all the tools to capture the information and meets the clients' needs.
Other areas in which GLM specializes are:
Mystery shopping – In order for a company to evaluate how it is doing in terms of customer service, employee performance and customer satisfaction, GLM is often hired to conduct mystery shopping. This is an ideal way to provide their clients' insight to the company from an outsider's perspective.
"It could be a franchise organization that has different locations and they want to make sure that each one of those locations has the same quality signage and has the same cross-selling pattern," said Dixon. "Sometimes they are introducing something new and they want to make sure that if you ask about it, their personnel are able to explain it correctly. Sometimes people will call and want to get information over the phone before they come in, so we mystery shop to make sure prospects are handled correctly on the telephone. You can spend a lot of time having the best marketing plan but if it is not executed, it's not doing you any good."
Mock Trials – For some large jury trials, GLM will be hired by law firms to conduct mock trials with a jury made up of people selected from the community just as they would be for a real trial. There is only so much information that a person can absorb and lawyers want to learn how to best prioritize it. Lawyers understand that a juror who is sitting in a court room for hours listening to testimony is only able to retain so much information. They want to understand how their message is coming across and whether jurors are hearing what is most important to the case.
"It is not just spinning it," said Dixon. "It is as much trying to learn, what do you understand? If I am talking way above your head, you are not going to retain any of this. If I am talking below you, you are going to be insulted. I have to position it so you are getting the truth. That takes understanding of your audience and mock trials give that opportunity."
Work with political campaigns – Politicians are studying the hot buttons. They are looking to learn if we are more concerned about x, y or z to help them build their platforms.
"You are going to hear 19 political messages in an evening," said Dixon. "Only a couple of them are going to penetrate and say something that you will remember in the morning. You will only remember the message if they speak to you and the content is relevant. So they may have to test multiple things, all of which they are passionate about, but they might not be what you are passionate about."
The company is thriving under Dixon's leadership although she attributes the success 100% to a team effort.
"This is not just my company," she said. "This company is really about all of us working together and joint decision making."
Dixon has a strong love for this community and The University of Toledo. She sat on the UT Alumni Association Board of Trustees in 2000 for one term and the family is season ticket holders for Rockets' football. "We love going to the football games and seeing everyone there," said Dixon. "We love going to Art on the Mall. We ride our bikes over for games and events; it is just right there. My son is at the University of Cincinnati and he wanted to pick up another class so took classes at UT over the summer. It was so perfect. Everybody was just so easy to work with over there."
Her company, GLM, has just under 50 employees and a lot of them are UT grads.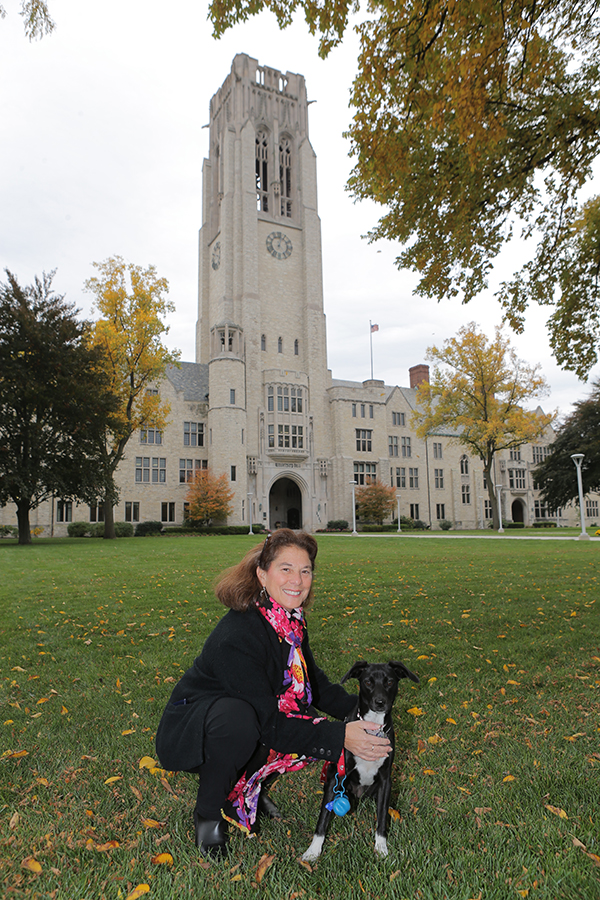 "We hire as many UT students as we can because that is how I got my start," said Dixon. "I feel we need to support the University because they are producing the brain power around here. We have been getting interns and part-time employees from UT since the beginning. And actually, two of our senior managers were hired as interns from UT. We have four part-timers right now and they are all UT students. Most of the employees who have been here for a long time all have their degrees from UT."
A staff member, who is not a UT grad, is of the four-legged variety. Dayta (pronounced data) is a small black mix adopted from a local shelter.
"She came along because we thought it would be nice for her to help us relax or just set a nice environment in the office, and she does that," said Dixon. "She stops and visits everyone's office and says, 'Hello, thanks for the bone.' We were challenged to a FitBit contest with other companies in town, so Dayta encourages us to go for a little walk."
Dixon lives a mile and a half from her office, so she and Dayta walk to work most days.
GLM's work with the Toledo Mud Hens, Toledo Zoo and Toledo Museum of Art have helped those local organizations in a variety of ways. They have done work for the Mud Hens for over 10 years including the research in 2002 to determine if the move to Fifth Third Field in downtown Toledo was right for the community and its fans. They have researched what motivates people to buy season tickets.
"An organization like the Mud Hens wants to make sure the community is satisfied with how they are delivering on their brand promise," said Dixon. "The Mud Hens deliver entertainment. They want to make sure you as Toledoans are being entertained because that is what they exist to do. It could be, 'What was your experience?" We might ask 'Would you come? What would you expect if you came? If you came, did you enjoy yourself?'"
GLM also conducts visitor surveys for the Toledo Museum of Art. They have staff members at every major exhibition to ask visitors about their experience.
"Evaluation of what we are doing is an important priority for our director and board," said Kelly Fritz Garrow, the museum's director of communications. "So surveys give us very valuable information on the types of visitors coming to different exhibitions, what their experiences are while they are at the museum and ways we can improve our service or visitor experience. It gives us the feedback that we need to improve our offerings and also our visitor experience."
GLM recently conducted focus groups for the museum on how it could better message their initiative on visual language and visual literacy, which is the ability to derive meaning from images. The museum wanted to create a message that people understood. The museum was also looking for takeaways from the group on how they could better explain visual literacy in a relatable and understandable way. In the focus groups, participants were shown presentations to get feedback on what they thought the museum was trying to say.
"The focus groups have been amazing for us," said Garrow. "They are so in-depth. If you are doing messaging, and you hear the same themes over and over, you realize that you need to go back and explain this better. Or, they really grasped this concept, but they are not getting that concept, so how can we better explain it. It is just really helpful to get more in-depth reaction from people on information that is being presented. It's really helped us craft our message and our teaching in visual literacy and visual language. And that helps us better connect with them."
Dixon really enjoys working with local companies and shining the spotlight on Toledo whenever she can.
"Toledo is a test market for so many products that are used across the globe and that is exciting," said Dixon. "I love seeing a television commercial and saying 'Yes! We tested that product or that slogan.' And they came here, to Toledo, on a national campaign. They came to Toledo to test those ideas."
Any why Toledo?
"We are truly a slice of Americana," said Dixon. "The demographic profile of Northwest Ohio is reflective of the US population. We have tested farm products to lock sets. Whomever the intended customer, we have them in our region."
One way you and I can get involved in research is through GLM's Ask Toledo Consumer Panel. When GLM gets a call from a company wanting to use Toledo as a test market, they email everyone on the panel and ask some general questions. If someone from the panel fits the target market, they are invited to go to GLM's offices and do research.
"If they come in and do a focus group it is $75 for 90 minutes," said Dixon. "And we talk about something you care about because that is why you got invited. One that we did a couple of nights ago was on pet products for pet owners. You talk with other pet owners and we learn what you like and don't like about certain products."
The research can include sitting in a focus group and other kinds of product evaluations.
"For example, we might have you come in and open some cream, have you wear it for a while to see if you like how it feels. We might ask if you liked how the package dispensed the cream or whatever the client wants to learn about how consumers think about their product," said Dixon
GLM has been doing panel research for about 15 years, utilizing a database they populated with the names of more than 20,000 families available to participate in research.
"We are always looking for more people because the more people that we have, the more test-market friendly Toledo is," said Dixon. "If someone asks us to do a Midwest market test and we can put that together quickly, then that research comes to Toledo. It allows us to influence the products that make it into the marketplace. It is really beneficial for Toledoans to sign up."
Toledo has been fortunate to have this internationally known organization right in its own backyard for half a century. And, with Lori Mitchell Dixon at its helm, its success should continue to rocket upward.
"It is great to have a market research firm with a nationwide reputation just a few minutes away that we can work with," said Garrow. "It is nice to get this national and even international expertise right here in Toledo. Lori is so smart and knowledgeable and she is so easy to work with in terms of helping us on a limited budget get what we need. She is such a strong supporter of the community and places like the museum. She is just a neat person and a real asset to Toledo."
If you are interested in learning more about Ask Toledo or would like to sign up, click here to be directed to their website.