By Patty Gelb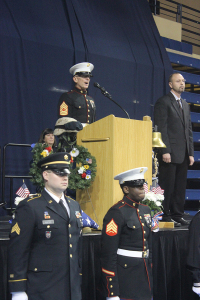 The weather felt like it was ordered specifically for the occasion. That morning was the last warm day of the season in Northwest Ohio. It was sunny, with a gentle breeze carrying the 60 degree air. It dawned the perfect day for the Tenth Annual Veterans Day Appreciation Breakfast and Resource Fair held November 11 on the campus of The University of Toledo.
This celebration, drawing over 400 attendees, took place in John F. Savage Arena. Veterans and guests of all generations arrived and were welcomed by uniformed members of The University of Toledo ROTC and Presidential Ambassadors.
All who attended this celebration were greeted by camaraderie, a buffet breakfast and 35 organizations in attendance providing services, information and assistance to veterans.
The event was held on the home court of the Toledo Rockets basketball teams. Organizations ringed the arena and guest tables were set up in rows from one basket to the other. Overhead, the electronic scoreboard screens displayed waving American flags. A stage at one end of the stadium held a poignant display of a Battlefield Cross and wreath in remembrance of fallen and missing soldiers.
The Veterans Day Appreciation Breakfast and Resource Fair has been at Savage Arena on UT's campus for four years now. Prior to its move to UT, the event had a number of homes since its inception over ten years ago in a meeting of the Lucas County Veterans Service Commission and the Lucas County Commissioners. The idea was to create an event that would honor all who served our country on Veterans Day, plus bring together services to help veterans.
"(Current Lucas County commissioner) Tina Skeldon Wozniak was a real strong supporter," said Lee Armstrong, U.S. Navy (retired), executive director of the Veterans Service Commission. "She wanted to help get the word out about what we could offer veterans."
The first event was held at the since demolished Toledo Sports Arena and then moved to different locations for many years. Originally, it was a very different event because the breakfast was in one location and the resource fair was held at a separate location. Meetings several years ago between the Lucas County Veterans Commission, The University of Toledo and the American Red Cross helped develop the partnership that now organizes this annual occasion.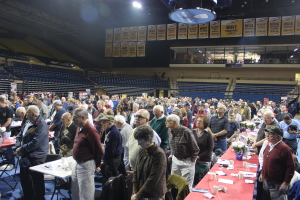 "The University of Toledo is proud to have the opportunity to host the annual Veterans Day celebration at Savage Arena," said Vern Snyder, vice president of institutional advancement. "UT has a long tradition of supporting veterans through a variety of services such as participating in the Yellow Ribbon Program, which provides scholarships to military veterans; our Military Service Center and, of course, our Veterans' Plaza. Bringing the Veterans Day Celebration to UT was an honor and it is nice to give the event a true home."
The American Red Cross is one of the main partners of this event.
"About four years ago we hooked up with the Red Cross and (American Red Cross Regional CEO) Tim Yenrick's group," said Armstong. "They are now truly the workhorse on this event. Tim and his staff coordinate the vendors. We all work together on this as a team."
At Savage, veterans had the opportunity to stroll among the vendor tables. The American Red Cross, Lucas County Veteran's Commission and UT, plus many other companies and nonprofits had tables with information about services to assist veterans.
In addition to the organizers, the event was presented by Fifth Third Bank, Block Communications, Inc. and Lucas County.
Before breakfast was served, an invocation was given by Chaplain Peter Drury of the 180th FW Ohio Air National Guard. After breakfast, guests were welcomed by the master of ceremonies, Jerry Anderson from Toledo News Now. The colors were presented by The University of Toledo ROTC Color Guard and Joint Services Honor Guard. The national anthem was sung by UT vocal performance music major, Devon Desmond.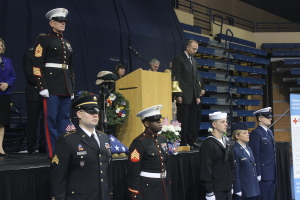 Daniel Cannode, Purple Heart recipient and commander of Region II of the Military Order of the Purple Heart led the Pledge of Allegiance and was the first speaker of the event. Cannode served with the United States Coast Guard from 1966-1972 with a Tour of Duty in Vietnam with United States Coast Guard Squadron One aboard the USCGC Point Grey 82324 from 1969 to 1970.
"As a veteran, I always look forward to this event," said Cannode. "Being a commissioner of the Lucas County Veterans Service Commission it is so invigorating. I spoke with three or four WWII vets for about 15 minutes each and just stood there mesmerized by what they have to say about the war."
Other distinguished speakers included Wozniak, Congressman Bob Latta, State Representative Teresa Fedor and President of The University of Toledo Student Veteran Affairs Josh Ortiz.
The keynote speaker was Toledo Mayor D. Michael Collins.
"I welcome you all to today's ceremonies," said Collins. "Today is such an honor and privilege to be able to be here before you. A veteran is a person who displays honor, duty and country. We're here to honor heroes, remember their achievements, their courage and their dedication. And — to say thank you. Thank you from the heart for their sacrifices."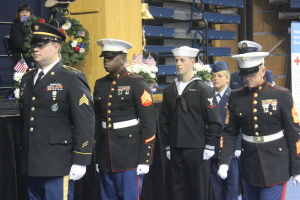 Fedor's remarks shared the meaning of the importance of Veterans Day.
"Today's the day we pause and remember and say 'Thank you,'" said Fedor. "Today's the day we honor their service and sacrifice — for all to understand the foundation and soul of this nation is extraordinarily defined by those who served and fought for the freedoms that we enjoy today. As we remember all those who have served our nation, words cannot express our deepest gratitude. It is that gratitude that unites us as one nation and anchors us in the past in order to preserve our future and freedoms."
At one point in the ceremony, World War II veterans were asked to stand and be recognized. The few that were there stood to the rounds of applause from the entire group.
"The greatest generation is passing away so fast," said Cannode. "Every Veterans Day we go and there are fewer and fewer. I would ask anyone who sees a World War II veteran to not only thank him for his service but to thank him for your freedom. If it wasn't for that generation, who knows what the United States would be."
After the speeches and recognitions, the ceremony ended with a moving rendition of "Amazing Grace" on bagpipes, ringing of the bell and a single bugler playing "Taps."
Following the ceremony, a shuttle bus was available to take veterans to The University of Toledo Veterans' Plaza. Dedicated on November 11, 2009, The University of Toledo Veterans' Plaza is an outdoor memorial created to honor all those who served our country. Located between Centennial Mall and the east entrance of the building that many UT alumni would know as Memorial Field House, the Veterans' Plaza is a reflective and beautiful spot on campus.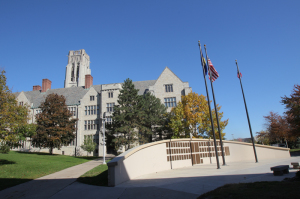 The plaza honors almost 400 individuals and groups who served our country. Messages on the plaques are tributes from family members, friends, high school and college chums, corporations and service groups to the honored loved ones who served in the armed services.
For those interested in still honoring a loved one at The University of Toledo Veterans' Plaza, you can contribute $1,000 toward a custom plaque on the wall to honor a veteran. Nameplate listings are sold for $100. If you are interested in more information on how to honor someone on the wall, please contact Gail Simpson at gail.simpson@utoledo.edu or 419.530.8425.
Veterans Day, 2014 on the campus of The University of Toledo was an inspirational day and an opportunity to show their appreciation for all those who have served our country.