By Patty Gelb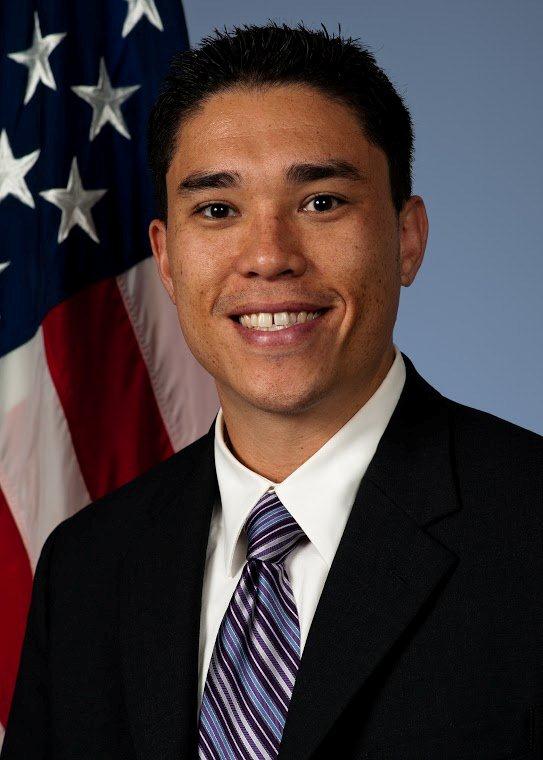 Benjamin Tran (B.S., Engineering, '05), knew as a youngster that he wanted to be on the cutting edge of technology development. So, as a freshmen engineering student at The University of Toledo, he decided to pursue a co-op position at the U.S. Air Force Research Laboratory (AFRL) at Wright-Patterson AFB near Dayton, Ohio.
"It seems many good ideas come out of the military," Tran said. "I knew I would get exposure to the latest and greatest technology."
Fewer than ten years later, Tran, now a full-time civilian employee at the AFRL, was in Washington D.C. in September to receive the 2014 Samuel J. Heyman Service to America Medal. This honor is given by the nonprofit, nonpartisan Partnership for Public Service to U.S. civil servants whose outstanding achievements have improved the lives of Americans and others around the globe. Tran and his co-worker, Sean Young, were the recipients of the most prestigious award dedicated to honoring America's civil servants as a result of their development of a cutting-edge system of sensors that when placed on unmanned aerial vehicles (UAVs), more commonly called drones, identify improvised explosive devices (IEDs) and destroy those bombs before they can cause harm to the men and women in the armed forces.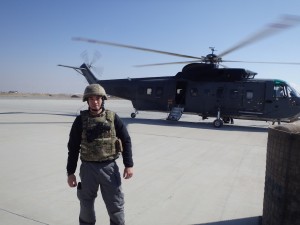 In the past, IEDs caused two-thirds of the casualties to U.S. forces in Afghanistan. AFRL – the Air Force's only organization dedicated to the discovery, development and integration of war-fighting technologies for the military – assumed the responsibility of addressing this concern.
As an AFRL electronics engineer, Tran was working on flight testing small UAV systems in the laboratory when he had the opportunity to deploy to Afghanistan. The miltary needed to use the small UAV to help detect IEDs as well as the insurgents emplacing the IEDs to help keep troops out of harm's way when traveling on main supply routes during combat missions. Tran deployed to Afghanistan to help employ the cutting edge small UAV system.
He had not been in a war zone before.
"It was very eye-opening," said Tran. "They sent me directly to the front lines."
Tran was embedded with a route clearance patrol, flying UAVs and doing counter IED detection.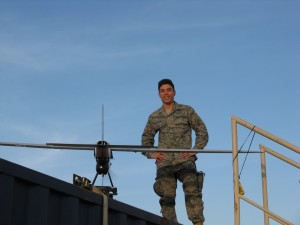 "It was quite an experience to go from working in a laboratory-type environment where you get to go home at the end of the day and sleep in your bed, to being on the front lines, getting shot at, with rockets coming into the base," said Tran. "It is a much different environment for an engineer to go and experience something like that."
Although it put him out of his element, the deployment to Afghanistan helped him with his research. He was able to see what soldiers dealt with day-to-day, get feedback back to the lab and implement changes immediately.
"You get that really good, candid and honest feedback from the guys on the ground who are very open and honest to tell you 'Hey, this particular piece of your technology works and this particular piece of your technology doesn't work as it is designed and you need to work on it,'" said Tran. "It's super helpful. We have been able to take their feedback and inject it directly back into our development and our research and acquisition cycle back in the labs."
Although being on the front line in Afghanistan helped his research, his work was back in the lab in Ohio. It was in that lab that Tran was able to fulfill his lifelong dream of working in military research. His upbringing instilled a love of country that made him want to use his skillset in a way that gave back.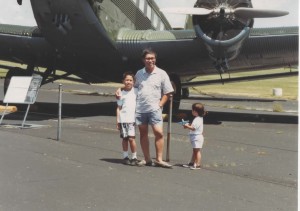 Growing up in Upper Sandusky, Ohio, the son of a Vietnamese immigrant, Tran was raised to appreciate his country's freedoms. He grew up hearing stories of his grandparents selling everything that they owned to get their family of ten out of Vietnam before the fall of Saigon. The family spent a year in a refugee camp in Thailand before St. Peter's Church in Mansfield, Ohio sponsored them to immigrate to the United States. Getting a second chance in America made the whole family appreciate their adopted country.
"My dad would always share stories about things he saw during the war in Vietnam," said Tran. "He was in college right around the fall of Saigon. The communists came in, raided his school, took all of the books out into the front yard and burned them all in view of the students. He would share stories like that where you just think 'Wow, can you imagine that happening here in the United States?'"
The appreciation of country that permeated the family influenced young Tran. He also developed the same love of military, airplanes and rockets like his father, who was a mechanical engineer at a small company in Findlay, Ohio. When he was a child, the family took many trips to the Wright-Patterson Air Force Museum and he built model airplanes and rockets alongside his dad.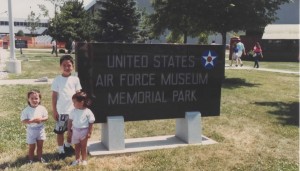 In high school he excelled in science and math and knew that he wanted to go into engineering. When it came time to decide on a university, Tran chose The University of Toledo.
"There were several factors that played into going to UT," said Tran. "The UT College of Engineering's reputation for being a smaller, but very good and prestigious engineering school in Ohio. The other factors were the location, only an hour and a half from my hometown. And, I absolutely fell in love with Toledo's campus. I loved the look and the feel and the sense of community that everyone on campus had. I went and toured several Ohio schools and I knew Toledo was for me."
Tran has fond memories of his time at UT and he excelled both in and out of the classroom. In 2002, he was one of the re-founding fathers of Pi Kappa Alpha, a social fraternity, when they were welcomed back into McComas Village on campus.
"It was basically a bunch of my friends who were mostly engineering and pharmacy students who wanted to break out of our shell and meet other students on campus and get more involved with the community and campus in general," said Tran. "We thought that would be a good avenue, which it was."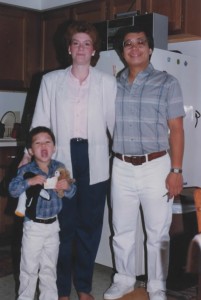 Tran knew he wanted a career where he could be involved in military research.
When given the chance to interview for the AFRL summer co-op position and with the encouragement from his advisor, Rhonda (Schorling) Moore, he jumped at the opportunity. Tran feels that her guidance and support in applying for the position at such a young age helped shape his career path.
AFRL had gone without co-op students for ten years because of budget cuts and Tran was part of the first class that they brought back. He wasn't very happy about his first year at AFRL and almost didn't return.
"Nobody knew what to do with us because they hadn't seen co-op students in ten years," said Tran. "They kind of stuck me in a corner and had me read reports all summer which really wasn't that thought provoking at the time. I actually came back to Rhonda and asked her to see if she could find me another [co-op opportunity]."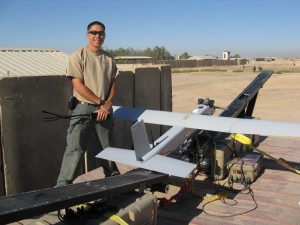 Knowing Tran's interest in the military, Moore advised him to give it another chance. AFRL wanted Tran back and Moore told him that if it wasn't working out the second summer, she would look for other opportunities. Tran agreed with the plan.
"My second co-op ended up being awesome," Tran said. "They took me out on trips to different Air Force bases, I got to crawl around inside an F-16. I think they still use that picture today in the College of Engineering recruiting stuff. If it weren't for Rhonda, I don't think I would have gone back."
Moore called Tran a talented and gifted young man. "We definitely are proud of him and all the amazing accomplishments he has had so far," Moore said. "He is a true testament to the Engineering Co-op Program and how it can provide phenomenal opportunities while in college that can help propel [students] for their future careers."
Tran took something else away from his time at UT that is very important to him. During his senior year, he met Kelly Swick (BS,'06, MBA,'08), who was a junior majoring in biology. Her sorority and Tran's fraternity teamed up to work on a homecoming float. They had mutual friends who introduced them during the float-building activities and they hit it off.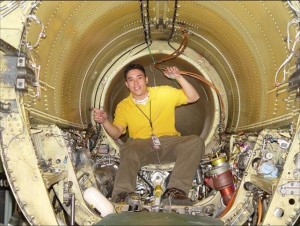 The next two years were monumental for Tran. Following his 2005 graduation, Tran was offered a full-time position with AFRL. He started that summer as an associate electronics engineer and also started working on his master's degree in engineering at Wright State University. In 2007, he married Swick and two years later he received his master's degree.
"For a little over five years [at AFRL] I was doing a lot of the controls related research and getting out and doing flight test stuff with small UAVs," said Tran.
In 2011, he did his first volunteer deployment to Afghanistan as one of the first civilians from the lab and he was grateful for the experience.
"We're supposed to be the dreamers and thinkers of the military, which we are and do a very good job of that," said Tran. "But sometimes you get so far detached from what's real and what kind of technology is really available to the soldiers right now that it definitely levels you a little bit."
Tran lived, patrolled, ate and slept side-by-side with troops on the front lines. He was able to see exactly how his technology was being used, train soldiers and instantly make modifications and improvements.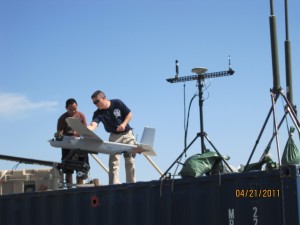 The UAV system that Tran took on this deployment did not have the new cutting-edge sensor. That technology did exist in larger aircraft, but was not yet installed in the smaller UAVs.
Based on a combination of feedback from Tran's deployment – a threat that Tran could not give specifics on due to security reasons – and the validation of the need for this technology from a three-star Army General in D.C., funding was generated and urgency for quick development of the needed new sensor system began.
"Once this general said this has to happen now, that is when Sean and I were pushed together," Tran said. "We were told 'Ben, you have the deployment experience and the UAV expertise. Sean you have already been working on this sensing technology. You two put your brains together and get these two things to work together. Here's your money. You have six months to make this happen…go.'"
The project was quickly accelerated through an acquisition cycle that could typically take anywhere from up to ten to twenty years and they got it down to six months.
When asked if they made that timeline, Tran responded instantly, "Absolutely!"
What came out of this fast-tracked research and development was the UAV sensor system that led to the discovery of many IEDs, weapons caches and individuals responsible for malicious activities against coalition forces.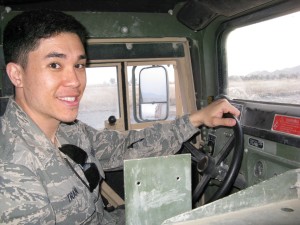 "I can tell you that the type of technology that we put on the small UAVs existed in bigger aircraft before, but the lower tactical level guys never had control of that type of an asset before," said Tran. "It was putting a new sensor on a small UAV to provide a new detection capability. But the real effectiveness was combining that with putting it in the hands of soldiers who were on the ground and were at the platoon level. A platoon is a group of about 20 guys as opposed to a brigade where you've got like 10,000 troops. So you are bringing it down from a brigade level asset to a platoon level asset."
Developing a tool like this is not an easy feat. It takes a lot of science, research and calculations. There is hardware development and flight and controls testing. All the specialized software to operate the system had to be created. Recognizing the need, having the knowledge from the front line and the skills to make it happen, Tran and Young worked tirelessly to fast track the development.
"I would say that 'Ah-ha' moment came when we actually had our first flight test," said Tran. "We were demonstrating the technology, here in the States, with guys who understood the problem. These were guys who had been deployed before and understood the threat. They said 'As soon as we send this over there, this is going to do good things.'"
They quickly finished the flight test portion, packed up the system and sent it overseas. It was deployed with oversight from an Air Force Captain and immediately put into action. The first mission that the system flew was ironically on September 11, 2012, which gave its first flight a surreal feel.
That poignancy was accentuated by something Tran experienced on one of his deployments. While oversees, he witnessed a fallen hero ceremony.
"In a fallen hero ceremony; everybody lines up on the tarmac. They bring the troops who have been killed in action, with the U.S. flag draped over their casket, and they are loaded onto the plane," said Tran. "When you experience something like that, it really tears at your heart. To know that I have had a hand in preventing those types of ceremonies and especially, even the guys who get wounded — lose limbs — to know that I'm preventing those sorts of things from happening, it is a very tremendous feeling."
And helping prevent these ceremonies is exactly what has transpired.
"Between September, 2012 and September, 2013 — the specific place and the specific Army unit that the system was flying for did not experience one fatality due to IEDs," Tran said.
The success of Tran and Young's work resulted in their being presented the Heyman Service to America Medal (Sammies). Each year, the Partnership for Public Service sends out a request for nominations across all divisions to help highlight dedicated federal employees who have made significant contributions to our country. Honorees are chosen based on their commitment and innovation, as well as the impact of their work on addressing the needs of the nation.
Tran and Young's branch chief, Hector Guevara nominated them. It was endorsed by the executive director of AFRL, Ricky L. Peters, and submitted to the Partnership.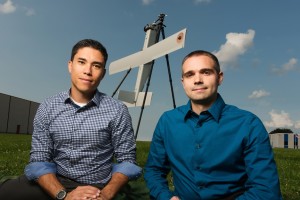 "It's our understanding that the Partnership received about 400 nominations from across the federal civil service and they narrowed it down to around 30 finalists and we were selected as winners in our category out of the 30," said Tran.
The Partnership presented eight medals in September to public servants whose outstanding achievements have improved the lives of Americans and others around the globe. Tran and Young were among them.
They were treated to a black tie, gala event at the Andrew W. Mellon Auditorium across from the Smithsonian Museum for American History in Washington, D.C. The awards were presented by the Deputy Secretary of Defense, Robert Work. Tran recalled a special honor when Work pulled him and Young aside backstage. It was the night before the U.S. was going to launch air strikes on ISIS and Work had meetings with President Obama following the award ceremony. He told them he would not be able to stay and have dinner with them and asked if they would be interested in meeting him for breakfast.
"We said "yes sir," Tran said with a laugh. "We got to spend about an hour and a half eating breakfast with Secretary Work in his office in the Pentagon. It was really great because during that hour and a half, we got to tell him everything that we were working on and get some feedback from him on problems that he is seeing. There were several follow-ups because of that and that kind of helped our work as well and get us exposure to other facets of the [Department of Defense]."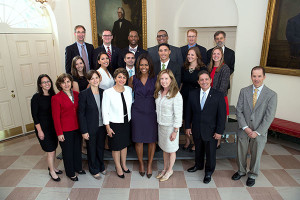 Tran and Young, along with the other award recipients also got the opportunity to visit the East Wing of the White House to meet First Lady Michelle Obama.
"It was really a five to ten minute visit with her," said Tran. "She's a very busy lady. But she took the time to shake everybody's hand and say thank you, ask a few of us what we do and take a photograph with us. It was really neat to get recognized for doing this work, especially at that level."
Things have not slowed down for Tran. Ever since the system has been deployed they have been doing upgrades. They added other detection capabilities due to requests from soldiers and Special Forces.
"It's not even the same system that it was back in 2012," said Tran. "It just keeps snowballing. We have expanded beyond the Army now and are also working with the Marine Corps and Navy. It's huge, it's really caught fire."
Tran has now completed three deployments working directly with the soldiers on the front line. He went to Afghanistan and Iraq in 2011 and back to Afghanistan in 2014. Tran is in constant communications with soldiers using the system.
"Actually every day we get feedback," said Tran. "We get requests from other soldiers who are deployed around the world who are doing different missions that want this type of technology."
In October, Tran was recognized with one more honor – this one from The University of Toledo Alumni Association. Tran was presented the 2014 Edward H. Schmidt Outstanding Young Alum Award given to a UT graduate who is 35 years old (or younger) in recognition of outstanding achievement in his or her field of endeavor, while providing leadership and noteworthy service to the Alumni Association, university or community. Tran was welcomed back to campus during this year's Homecoming Gala.

He received a standing ovation from the sellout crowd in the Student Union Auditorium. (To view the on Tran shown during the Gala, click here.)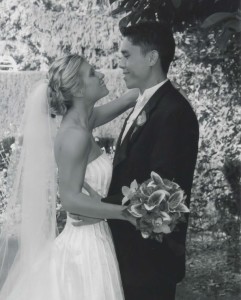 Tran shared in the questionnaire used to create this video that his favorite UT memory was meeting his wife in 2004.
"Who knew we'd be returning 10 years later as a married couple to celebrate this prestigious award at our alma mater," he wrote.
And who knew he'd return as a hero?