by Patty Gelb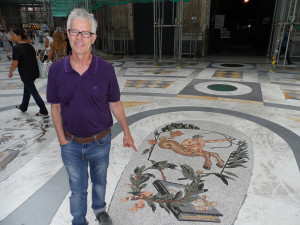 For those of us dealing with the frigid February temperatures gripping most of the U.S., the thought of packing it all up and moving to Paris might seem like a dream. Toledo native William Snyder (JD, '78), made that dream a reality and now gives back to his universities which helped shape his path.
Born in Northwest Ohio, Snyder is a third generation Toledoan. His father worked for Owens-Illinois and the family, which included his mother and four siblings, were transferred over the years to Detroit and then Chicago. They returned to Toledo during the middle of Snyder's high school career.
"I attended my last two years of high school at Sylvania High School which did not have a North and South back then," Snyder said.
He was on the debate team and a national merit scholar.
Following high school, Snyder attended Northwestern University in Evanston. It was during his junior year that he got his first taste of global life.
"I applied for an international study abroad scholarship under the Richter Program and was one of three students selected," said Snyder. "My accepted thesis for independent study involved a comparison of British and American school systems, which brought me for six months to London. It was an entrepreneurial and international experience and opened my mind to how different things can be outside of the U.S."
He lived in a room near Hyde Park across the street from Imperial College. His room had a coin-operated gas heater and had to insert a two-shilling coin, equal to 24 pence or about 37 cents in today's dollar, to warm the room for a couple hours. He ate most meals in pubs and made friends from England, Ireland and Scotland. The comparative analysis of the two education systems ignited his interest in further international studies.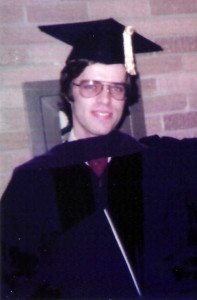 He finished his undergraduate degree (BA, honors, Philosophy and Sociology) at Northwestern and returned to Toledo, where his parents were still living, to pursue a law degree program at the University of Toledo, College of Law.
It was during his time at UT that he developed a keen interest in international law under the tutelage of Professor Richard Edwards.
"When Bill Snyder was here, our preeminent international law scholar was Richard Edwards who was a renowned global expert on the international monetary system," said Daniel J. Steinbock, dean of the UT College of Law. "We've always had several members of the faculty with significant international law experience at the college of law. For the last 15 years we have had a certificate of concentration in international law which was of course before Mr. Snyder's time here. But even before that, with our faculty members, one could get a good grounding in international law."
Snyder took as many international law courses as were offered, primarily with Professor Edwards.
"Professor Edwards has since retired, but he was a model for me and classmates — hats off to him for really putting Toledo on the map in the international law arena," recalls Snyder. "Professor Edwards was a renowned scholar in both private and public international law, including the international monetary fund and international currency exchanges. He published extensively, and he was very much my mentor. We met often after hours and even at his home to discuss technical questions and thinking out of the box in international law practice."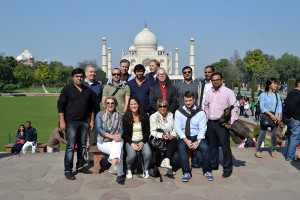 While working on his law degree at UT, Snyder was presented with another opportunity that helped shape his future career. Edwards encouraged Snyder to do summer programs at The Hague Academy of International Law in the Netherlands. He spent the next two summers in the Netherlands studying and getting more global exposure.
While Snyder was at UT, he did not have much time for other extracurricular campus activities because he was putting himself through law school. He waited tables at Steak & Ale and had various part-time jobs until in his second year when he landed a clerkship with local law firm Spengler Nathanson.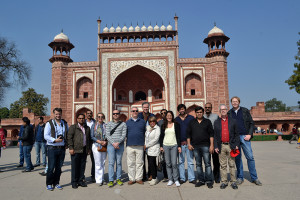 Following graduation with his J.D. from the College of Law, he passed the Ohio Bar and continued working at Spengler Nathanson. It was during this time that he considered pursuing international law further by getting his LL.M. The LL.M. (Master of Laws) is an internationally recognized postgraduate law degree. Law students and professionals frequently pursue the LL.M. to gain expertise in a specialized field of law, for example in the area of tax law or international law.
"I considered staying at Spengler Nathanson and pursuing my career in Toledo," said Snyder. "After all, my parents were there, and I loved the commercial work I was doing at the firm. But my heart was telling me to specialize in international law, and explore new opportunities. In The Hague, I met another American who spoke highly of an LL.M program in Brussels. I applied and was accepted. So I left Toledo to pursue a diploma in International European and Comparative Law at the University of Brussels."
Snyder recalls his time at the University of Brussels as a particularly exciting time to study European law. What is today the European Union was then called the Common Market and was very much in unformed ground. Customs duties had been eliminated between the nine member states, but individual countries were unwilling to surrender political and financial rights. The European Commission (the administrative branch of the Common Market at that time) sought greater powers to harmonize various norms and issue regulations, as opposed to using treaties that required unanimity of the member states.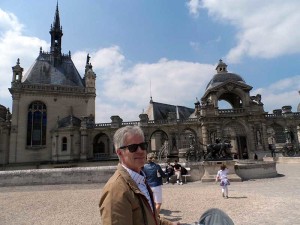 "As an American, I always felt that I had an innate understanding of where the European Union could go and develop," said Snyder. "Because obviously in the U.S. we have a multi-layered system, with federal, state and even local laws coexisting. So there is a constant conflict of laws that even a first-year law student has to understand and put into practice. That simply wasn't the case in Europe at the time. . . I always viewed this as an opportunity to apply that understanding to the developing situation in Brussels and Europe."
The LL.M class that he attended was relatively small, just 35 students. Yet his classmates were from all over the world with approximately 20 countries represented. It was a very inspiring time for Snyder, exposing him to a very international student body.
The students, all law grads with some professional experience, spent a lot of time together. They organized evenings where they would get together at each other's apartments to taste local specialties from native lands, including the Philippines, Ghana, Sri Lanka, Finland, Korea and even Belgium.
"It was a very enriching time," said Snyder. "I have stayed in contact with many classmates over the years. It is such a blessing to have lawyer friends from other cultures. I think it gives a deeper meaning to life, and serves well on a professional level as well."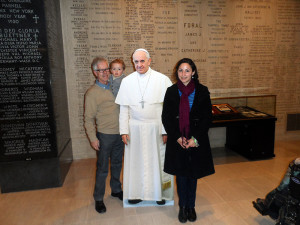 Snyder graduated magna cum laude from the University of Brussels with his LL.M. and originally thought he would go back to the U.S. He had also passed the Illinois Bar and considered joining a law firm in Chicago to practice international law. Instead his path continued in Europe when he received encouragement from several of his professors at the University of Brussels to apply for a traineeship with the European Union. He was accepted for the traineeship, then found himself courted by law firms in Brussels where he worked for a couple years. He then took the opportunity to work in Paris. His fields of expertise included trade, antitrust and transborder transactions.
After six years with law firms in Paris, he decided to move in-house, and was hired as general counsel for Borg Warner Chemicals Europe, moving to Amsterdam. The following year Borg Warner was acquired by General Electric, and he began an 18 year career as general counsel of various GE businesses in EMEA (Europe Middle East & Africa). He was one of the first international lawyers on their European staff at the time. He began with GE Plastics and then in 1990, an exciting opportunity with GE Lighting was presented to him.
GE had recently acquired two major lighting companies in Europe, one in the UK called Thorn EMI and another in Hungary called Tungsram. Snyder was hired as European General Counsel, which included managing the transition of the different cultures that existed within Thorn and Tungsram.
"It was a daunting challenge . . . Thorn was a UK company but they had factories throughout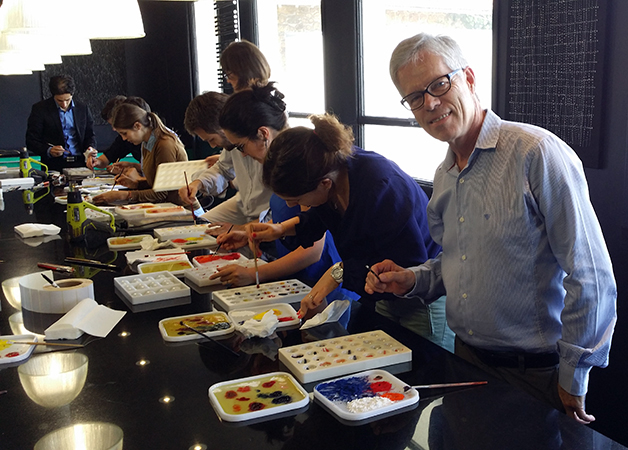 Europe, Germany and Italy including the UK. Tungsram was the largest employer in Hungary, emerging from decades behind the Iron Curtain, with dozens of factories all over the country. This was a key project for GE, and personally for Jack Welch, who visited frequently. I was involved in ongoing negotiations with the Hungarian government, which culminated in significant tax holidays for significant new investments from a number of GE businesses."
Snyder worked based in London with GE Lighting until 2000 when he transitioned to GE Capital moving back to Paris. At GE Capital he was General Counsel in the consumer finance division. While he enjoyed his work at GE, he grew to long for a return to private practice.
"GE moves people around. The length of time that I spent with both Capital and Lighting was certainly longer than most managers. They were offering me other positions within GE but the positions were, in my view, more compliance oriented and involved a higher percentage of time training other employees as opposed to the practice of law."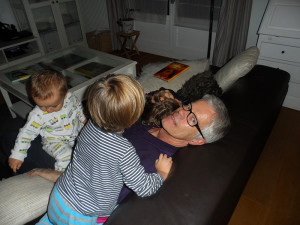 Snyder ended up making the transition back into private practice. He joined the law firm Pech de LaClause, Bathmanabane & Partners in 2009. His practice in international law was covering both legal issues in France and Europe, as well as assisting European investors wishing to expand their businesses in the U.S. In a world of specialists, he considers himself to be an international law generalist.
"In today's world, most lawyers are specialists," Snyder explained. "My current role is very much a continuation of my multinational experience. At GE, my boss, the CEO, needed to make rapid decisions on every front. My job was to know the legal parameters in every field: intellectual property, litigation, labor law, acquisition, divestitures and anything that came up. Letters of intent, press releases, meetings where competitors' executives may be present; the lead lawyer has to be on top of it all. He has to understand all areas of law, and manage other lawyer specialists to then resolve the issue. Today I carry out the same role for multiple business and individual clients."
He has also been instrumental in the firm joining an international network of law firms called E-Iure, collaborating to serve transborder clients. The network currently covers some 25 countries and holds semi-annual conventions. The last convention was in New Delhi in January, and the next will be in Paris in June.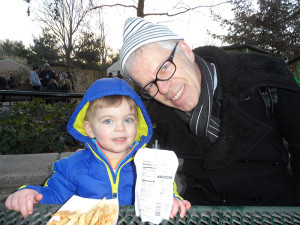 Snyder commutes to his office in central Paris, across the square from the Ministry of Justice, by public transportation. His choices are the metro, a bus or the Velib', the city run bicycle system. He lives in the fourteenth arrondissement which is south Paris and his apartment is a duplex on the top two floors of a 1880s era building. He lives with his wife of four years, Ana, who is Venezuelan, and their nearly two-year-old son Joaquim. He has two other children from a previous marriage. His oldest, Geoff, attended Emory University. He is currently based Paris but moving to Switzerland in July with his company, Baxter. Geoff and his wife Raquel have two children, with a third expected in August. Snyder's daughter Jessica attended Georgetown and works with AARCO in DC. She lives in Maryland with her husband Scott and their three children. Snyder was in DC for Christmas and New Year's, relishing his time with his grandchildren.
He gets back to the U.S. about three to four times a year. He was last in Toledo in May, 2014 for the wedding of his niece, Monica Solt Horton, which coincided with her law school graduation from UT. Monica's brother Rob Solt IV, is also a UT law grad and married in 2014.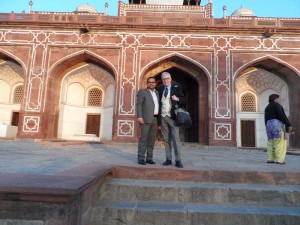 Snyder now enjoys his time in private practice where he feels he can control more of his own day, also having a bit more time to get involved in other activities. Besides time with his family and traveling, those activities include giving back to his alma maters, Northwestern and UT. He is the regional director, Europe for the Northwestern Alumni Association and sits on the Board of Directors of The University of Toledo's Alumni Association.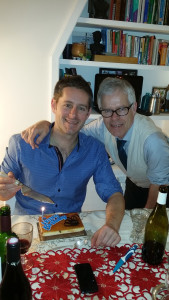 "It gives a lot of satisfaction to do something for two schools who have very much helped me along my path and to be involved in specific activities that can help assist students and alumni," Snyder added.
An unexpected opportunity to assist UT recently arose. After placing first in the U.S. Intercollegiate Offshore Regatta competition, the UT Sailing Club was invited to represent the U.S. in the 46th EDHEC Sailing Cup in La Rochelle, France in April and May, 2015. The UT Sailing Club raised their own funds to travel and compete in this event which is the largest European sporting event for students and largest student sailing race.
Snyder has volunteered to help organize an event that will be held in La Rochelle on May 2, the last day of the competition, for all European UT alumni and the UT students competing in the race.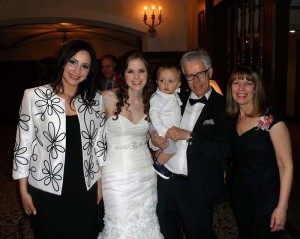 "Great alumni like Bill Snyder allow us to connect with our alumni abroad," said Amanda Kessler, associate director of the UT Alumni Association. "We are so grateful for Bill's expertise and we look forward to connecting to UT alums from all over Europe."
Snyder feels the same way about being involved with the university.
"For students to be aware of what is available on an international scale and for alumni to keep in touch with other alumni from their school for networking and career enhancement, it is very satisfying," he said.
Toledo native Bill Snyder has truly crafted an international life for himself. When asked if he loved living in Paris he shared his view of his current location.
"A lot of American's have a love story with Paris," he said. "I've enjoyed everywhere I've lived –Amsterdam, London, Brussels, and Toledo. Certainly people generally hold Paris in high esteem for being one of the most beautiful cities in the world, and I think that it is. But I guess after being here for so many years you kind of get used to it, and like anything else, you appreciate the positive and minimize the negative. Still, it's a location everyone visits when they can, so I have a steady stream of visiting family and friends. That is fantastic."