By Patty Gelb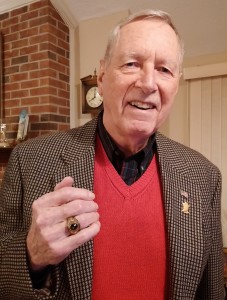 Cue "Mission Impossible" theme music … da, da, da-da, da, da
This story seems like something out of "Mission Impossible." The circumstances around the mystery make it almost impossible to believe that it had such a happy ending.
Donald Koepfer attended The University of Toledo receiving his bachelors from the College of Business and Innovation in 1959. Koepfer was a member of the Theta Chi fraternity and proudly wore his fraternity ring while attending school.
Following his graduation, Koepfer joined the U.S. Army thus beginning a new adventure for the young man. Little did he know it at the time it would also be the beginning of a 56-year adventure for his class ring.
"I went directly from graduation from The University of Toledo into the Army at Fort Benning, Georgia," said Koepfer. "I drove down there and I don't know exactly when [the ring] disappeared."
More than five decades later, Jacob Larson, a 16-year-old student at Mason County Central High School in Scottville, Michigan saw a sparkle of gold in the dirt while walking to school. When he reached down and picked it up, he found himself holding a 1959 UT Theta Chi class ring.
The young man tried finding the owner and when he couldn't find anything out about the ring, he turned it into the Scottville Police Department. Fortunately for Koepfer, the Police Department as well as the Downtown Development Authority are both housed in City Hall. Heather DeVries, the director of the Downtown Development Authority was able to listen to Larson's story about the ring as he was speaking to Sergeant Jason Williams of the Scottsville police department.
"I was curious about the ring after hearing how the young man had stumbled upon it on his walk to school," said DeVries. "After looking at the ring I thought it would be easy to find the owner with all of the personal information it contained – university name, graduation year, initials, fraternity emblem.  I studied history and historic preservation in college and have a background in research, so this situation grabbed my attention. I thought it would be a fun puzzle to figure out."
DeVries asked Sergeant Williams if she could try to locate the ring's owner and was quickly given permission to take over the case.
DeVries searched Craigslist missing ads, local papers, even doing Google searches for postings about the missing ring, all to no avail. She then reached out to the fraternity but did not receive a response. She finally went on to contact The University of Toledo directly. After working her way through the automated phone system to Student Services, she was directed to the UT Alumni Relations department.
"I didn't have much faith in contacting the University," said DeVries. "It was right before winter break and I thought everyone would be preoccupied.  Everything changed once I got on the phone with Sally Berglund from the Alumni Association. She really took the ball and ran with it!"
Berglund took all of the information that DeVries had and by the end of the day narrowed it down to a handful of candidates.
"I starting going through the yearbooks from that year and wrote down names, addresses and everyone with those initials," said Berglund "There were a few in the yearbook listed in the student section, but there was only one that graduated in 1959."
Berglund wanted to make sure that they had the right person so she asked the UT Foundation's IT department to do a search on the class of 1959 and they confirmed that there was only one person with those initials who graduated that year. When she had everything confirmed, she reached out to DeVries with the contact information for Koepfer, the owner of the missing ring.
"I was so excited to have a name and number confirmed, I called him as soon as I got the email," said DeVries. "I spoke with Don later that night and he confirmed the fraternity he was in as well as some other details. I wanted the police department to handle any personal information to verify his identity, so I let him know that Sergeant Williams would be in touch with him."
Koepfer was amazed when he got the phone call that his class ring was found. He now lives in Georgia and had never been to Scottville, Michigan.
"I was quite surprised and glad to hear about it," said Koepfer. "We never really did get in that neighborhood. It is my understanding that Scottville is some 280 miles from Toledo. So it was quite amazing, really."
Thanks to the great work of DeVries and Berglund, the ring has now found its way back to its owner 56 years after it was lost.
"I was just doing my job," said Berglund. "For that young man to find it and turn it in, that young gentlemen is the real hero in this story. When Heather called that day, I was just doing what we do here in the alumni office."
DeVries shared similar sentiments.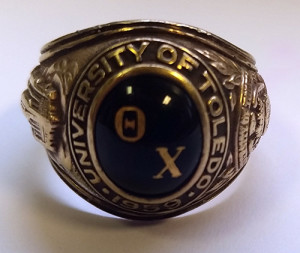 "I'm very happy for Don that the ring found its way back to him," DeVries said. "This is a special story because everyone put forth their best effort to get the ring back.  At any point the search could have ended. Jacob Larson could have not turned it in. I could have sat at my desk and not gotten involved. Sally Berglund could have been busy or uninterested and not devoted her time to this.  Any of these scenarios could have easily happened. Instead a group of unrelated people all tried to do the right thing and put a little effort into the situation they were given.  The result has been one last great adventure for Don's ring."
The most pleased person in this whole story is Koepfer, who got his class ring back after all of these years.
"I am wearing it today," he said. "I am just totally surprised that it is still in excellent condition after all of those years."
If only inanimate objects could talk — what a story this class ring would tell us.