By Patty Gelb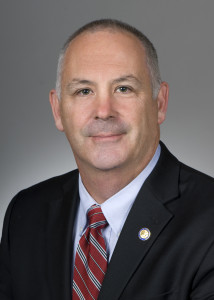 Man from a small town, football star, board certified physician, community leader, dedicated mission worker — all of these titles fit Steve Huffman (Psychology, '87, Biology, '88, M.D., '92). He was a leader at The University of Toledo in the classroom and football field. He has completed many medical mission trips to serve the underserved. He is a practicing emergency room physician. But his most recent title, State Representative, just came in November when he was elected and began representing the 80th District in the Ohio House of Representatives in January. The 80th District encompasses Miami County and portions of Darke County in the southwestern portion of the state.
What motivates a man, with an already full and hectic schedule, to take on the role of State Representative?
Huffman is a man whose family and community are very important to him. He grew up in a large family and is now head of a large family of his own. His goal in his most recent appointment is to make Ohio a better place to live for his children and a better place to practice medicine. His main focus in Columbus will be education, jobs and, with his medical background, healthcare for Ohioans.
"I am concerned about what Ohio is going to be like for my five children," said Huffman. "I felt if I could make it better for them it would be better for everyone."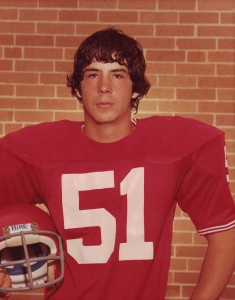 A lifelong Ohioan, Huffman was born in Troy, Ohio. His parents attended Ohio Northern University together. Following college, his mother Anne, who was from Youngstown, Ohio, became a pharmacist. His late father Robert, who was from Dayton, became an attorney. The couple married and settled in West Milton, Ohio.
The Huffman household was a large and happy household with Steve and his four siblings, Beth, Mary Kate, Bob and Sam. He was very involved in activities at school including student council, working on the yearbook and a variety of sports. He was named all-league in basketball and baseball his senior year but his true love was football. He signed up to play football in the third grade and excelled as a linebacker throughout his junior and high school years.
"Growing up in a rural setting, with a very close family, you did everything and grew up in a town where you knew everyone else," he said.
His family was very involved in the practice of law. His sister is a judge and attorney in Dayton and both of his brothers are attorneys in Troy. At one point his father, sister, wife and two brothers all practiced law together. Huffman chose a different path.
"I come from a family of attorneys," said Huffman. "[The law] was just something we grew up with and I think I looked at medicine, when I was young, as a different kind of challenge."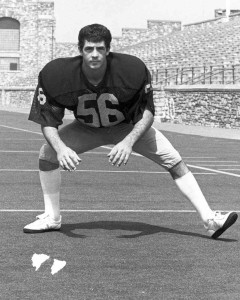 When Huffman was graduating high school, he knew he wanted two things. He wanted to go to college as a pre-med major, and he wanted to play Division I football. He sent out 26 letters to Division I schools. The University of Toledo was one of them.
The stars aligned for both UT and Huffman at the annual Ohio North-South game during his senior year in high school. His coach was invited to be one of coaches for the all-star game and he was able to take one of his players. He took Huffman.
UT coaches found out that he was chosen to play in that contest and were able to see Huffman play. At the time, they were looking for one more linebacker to complete their goal of three for that recruiting season. Things moved quickly following the all-star game.
Huffman visited Toledo on Sunday, verbally committed to UT on Monday and signed on Wednesday, just two days before the national signing date. He remembered meeting Dan Simrell, head coach of the UT Rockets for the first time.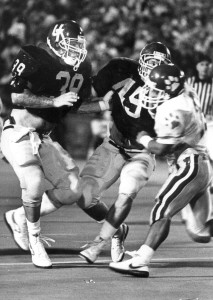 "It was Monday morning and I had toured around and met the other players," he said. "We were sitting in his office, in what was back then Centennial Hall, with my mom and dad. He reached into his desk, pulled out a piece of paper and said, "'this is your grant-in-aid. I want you to come to Toledo and we will pay for your college for four years.'"
His mother's immediate reaction was to tell Coach Simrell that her son needed some time to think about it and that they would get back to him. Huffman took the time to think about it during the drive home. He had dreams of playing for Notre Dame but felt that UT would give him the best opportunity to get to play Division I football. He committed to UT later that day.
"It was a great campus, great atmosphere and great academics," he said. "I think I was lucky to find that and a place to play football at the same place."
Huffman had a great and busy college experience, both on and off the field. He focused heavily on his pre-med classes and as a dedicated Catholic, regularly attended Mass. As a linebacker for the Rockets, he had frequent practices, games and meetings.
During his time as a Rocket, Huffman lettered in '85, '86 and '87 and was captain of the team in '87. He was first team, all Mid-American Conference in '86 and second team, all MAC in '87.
Huffman excelled on the field and his coach still holds a high place in his life.
"I think the world of Coach Simrell," he said. "He gave me a great opportunity to develop as a leader, person and football player. My parents certainly gave me a great foundation, but Coach Simrell continued to foster my ability to be a leader on and off the field. He was such an impressive man."
Huffman's success on the field included leading the team in tackles in '86 at 155 and in '87 with 166. Simrell spoke very highly of his drive.
"Being a successful college player is being committed to preparation every day, all year round, on the practice field, in the weight room, and in the classroom," said Simrell. "Steve was committed. Steve was as tough as they come. I knew I could count on Steve when the lights came on. I trusted Steve to give everything he had in any situation for our team and for our program. Steve's preparation, toughness, commitment and trust is why his teammates elected him captain."
Another award that Huffman received during his time at UT truly shows his character. He was awarded the Jim Nicholson Award in '87. This award honors the player contributing the most toward the success of the team and is voted on by the players. He was bestowed this honor by his fellow teammates.
Huffman said it was a very humbling moment for him.
"I never thought I deserved it in the sense that football is a team sport," he said. "There are aspects in being a team that is more important. But, I was truly honored."
Huffman had an impact on his team. He also had an impact on his coach.
"I am proud to have recruited and coached Steve," said Simrell. "As a former Rocket letterman-captain, I am proud to stand beside Steve. Almost 30 years later I am proud to be Steve's friend."
Following his undergraduate degrees, Huffman went to medical school at what was the Medical College of Ohio, now the University of Toledo's College of Medicine and Life Sciences. He felt he got a great medical education with the tutelage of highly qualified instructors. His undergrad was incredibly busy but medical school took the academic side to a whole new level.
"It was very intense," said Huffman. "Academically very intensive and high level. [There were] very dedicated professors who truly cared about the students."
Huffman met another important person in his life during his time at UT. He met his future wife, Kathryn Maher (B.A., '89, J.D., '92). Kathryn was from Toledo and she grew up in the Old West End. After meeting in class, and dating through college, they were married during the last year of school for both of them.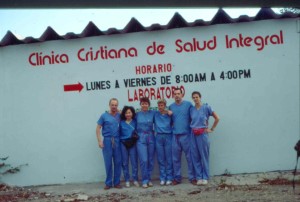 Following graduation, the newlyweds moved back to the county where Huffman grew up. He began his family practice residency at St. Elizabeth in Dayton. He had some desire to pursue family medicine but an experience during his time in medical school made him choose to pursue emergency medicine which had a more flexible schedule. During his third year of medical school, he went on a medical mission to the Dominican Republic. His fourth year he went to Jamaica with the Sisters of Mercy. These experiences helped build a lifelong passion for mission work and he wanted to work in an area of medicine that allowed him the opportunity to pursue his passion.
"I have a very supporting wife," he shared.
When Huffman completed his family practice residency, the young couple decided to take a year off and pursue mission work. Huffman took a job on a cruise ship for a month then began a six-month medical mission for the Sisters of Mercy in St. Lucia.
"My baby, my oldest, was four-months-old when we got on the cruise ship," he said. "She lived overseas for a year with us."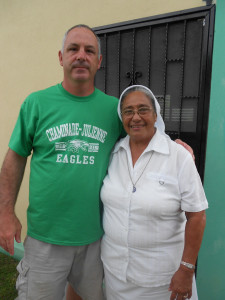 Following the six months in St. Lucia they went to the outback of Australia for six weeks. By that time, the young couple was expecting their second child so they moved back to the Dayton area. Huffman joined a group called Premier Physician Services and practiced emergency medicine. This gave him the opportunity to keep working in medicine and continue to pursue mission work.
"They gave me the opportunity over the last 15 years to take a week off, or sometimes up to two months, to continue to practice missionary work," he said. "I am a dedicated Catholic and do mission work to serve the underserved."
It was about this time that Huffman was recognized by his alma mater for his dedication to medicine and mission work. He was awarded the Outstanding Young Alum by the UT Alumni Association in '96. He was honored but humbled to receive the recognition.
"I was very appreciative," he shared. "I just think there are so many great alumni from Toledo that are more deserving but just stay out of the limelight and I certainly don't relish it."
He is so passionate about his mission work that he, with three other people, wrote a book called "Caring for the World: A Guidebook to Global Health Opportunities." This book offers physicians specific information, experiences and tips on how physicians can go overseas and improve the lives of people throughout the world.
Huffman even got the whole family involved in mission work. He and his wife took all five of their children to Belize to a clinic for almost two months. When they got home, their children's school was looking for a service opportunity and approached Huffman to help organize a mission. This summer will be the ninth time that Huffman is leading his children's high school on a service project to that country.
"I absolutely love taking these high school kids," said Huffman. "Some of the kids we take have never seen anything like what we do in a third world country. It is life changing for the kids. I always tell the kid's parents, I am going to change your kid's lives. I can think of a number of them who have returned several times and others who have dedicated their lives to service in other areas of the world."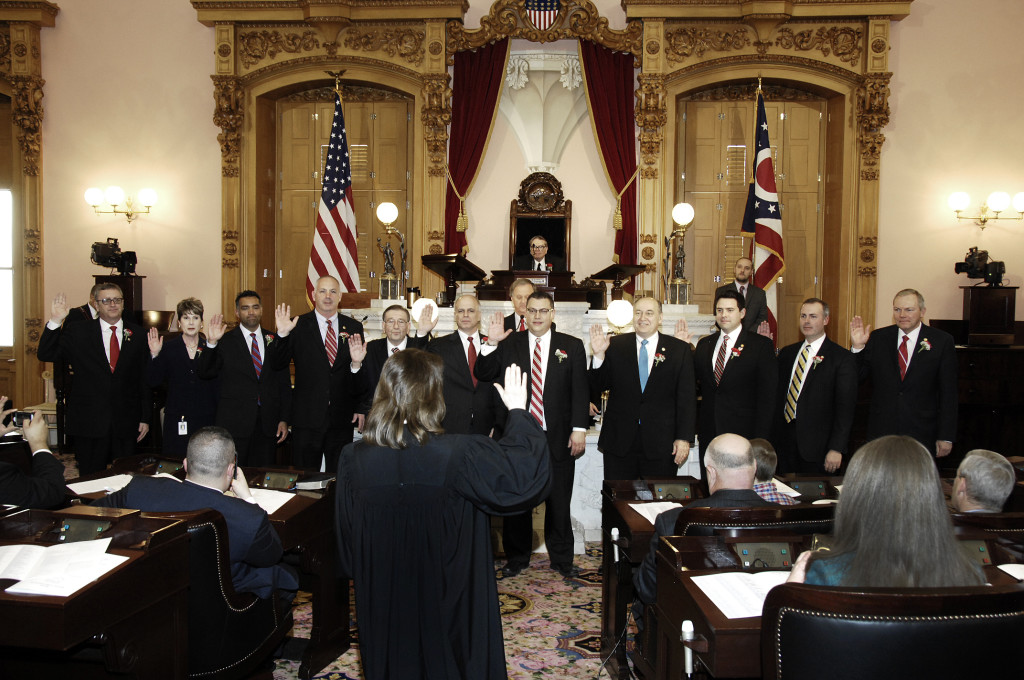 In 2012, he had his own life changing experience. He ran for and was elected the Miami County coroner.
"I never thought I would be the one that went into politics," Huffman said. "Being a coroner in Ohio, outside of the big cities, is really a part-time job. I was basically serving the funeral homes and law enforcement. My goals were to bring good service to them and be fiscally responsible, I never thought it would be the launching pin to become a state representative."
Huffman was exposed to the political arena from a young age. He was part of the local Republican Party. His father was an elected prosecutor for many years and ran for Congress in 1981 in a special election following the death of a local congressman. He lost the primary by a couple hundred votes, but the experience exposed a young Huffman to the political world.
Huffman recalled an experience in 1980 when his father was a delegate for Ronald Reagan's presidential election. A 15-year-old Huffman was a member of Youth for Reagan and accompanied his father to Detroit. Huffman ended up standing 15 feet away from Reagan as he delivered his acceptance speech.
While he served as the Miami County coroner for three years, Huffman lowered the costs associated with the office while filling the duties by providing compassionate care for families.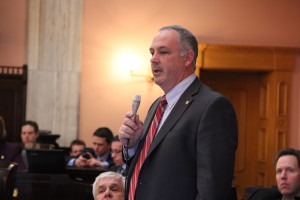 In a casual conversation with the Republican Party chairman, Huffman asked what preparation would be needed if he considered running for state representative when Representative Richard Adams' term ended. They decided to sit down soon and discuss it having several years to plan.
"Then, the week before Thanksgiving, my party chair called me back," said Huffman. "He said that Representative Adams decided to retire and not seek his possible last term and if you are still interested, you are the man and our local party will back you. After other discussions with my family and other people, I decided to throw my hat in the ring."
Huffman began campaigning, attending Rotary meetings and Chamber of Commerce meetings and getting out to meet people. He had name recognition because he was a sitting elected official, but also because his father was the county prosecutor. He won the general election by the largest margin of any contested race of all Ohio State Representatives. He was with his family and supporters in the county seat of Troy when he was informed that he won the election.
"I was very humbled," he shared. "I was very appreciative of everybody that assisted me because I could not have done it alone. But I also felt a great responsibility to represent my district and my county in Columbus."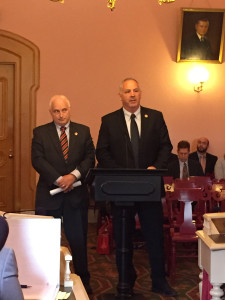 Huffman now serves on the following committees: Education, State Government and is the vice chair of the Health and Aging Committee. He was one of 29 freshmen elected to the State Representatives and one of two freshmen who were chosen to receive a vice chair.
"You put a preference for what committees you are interested in," he said. "Being a physician, the Health and Aging committee was an easy decision. Because of my five children, I feel education is what got my wife and me where we are at today."
His experiences throughout his life led him to his current position and he is excited to work toward his goals of helping make quality education affordable and to make Ohio a better place to practice medicine. He was proud of his achievement while taking his oath of office but said that he knew "there was a lot of work to do in some very uncharted waters."
Recently Huffman met with an assemblage from UT that included Interim President Nagi Naganathan; Frank Calzonetti, Chief of Staff to the President and Vice President for Government Relations; Diane Miller, Associate Vice President Federal Relations; and several students. Huffman shared his love of UT and pulled up the Rocket fight song, which is saved on his computer, for the whole group to sing together.
"Although Representative Huffman is new to the Statehouse he already is being viewed for his leadership abilities and deep understanding of medical issues," said Calzonetti. "He has already inserted his expertise on public policy by helping lawmakers attack the opiate drug epidemic in Ohio where he gained invaluable perspective as an emergency room physician and county coroner.  He has been very accessible to us in the UT Office of Government Relations and we greatly appreciate his deep loyalty to UT. It's great having such an enthusiastic Rocket in the statehouse."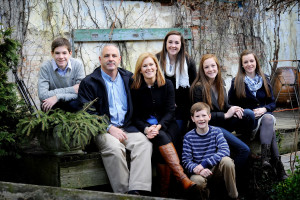 Huffman's schedule continues to be hectic and he is loving every moment of it. He is in Columbus most Tuesdays and Wednesdays for seven months a year. He still practices medicine, trying to manage one or two 12-hour shifts a week in the emergency room. He and his wife have five children – Libbey is pre-med at Xavier University, Ashley, Allison and Will are all in high school and Jack is in seventh grade. The family is often running between activities.
"It's about trying to figure out where everyone is going and how they are getting there," Huffman said. "My four kids are less than three years apart. The year before last we had four in high school, now we have three. The day is basically set on where everyone is going and who's going to what. It's a hectic day, but I wouldn't give it up for anything in the world. It's extremely fun raising kids and it's a challenge."
Huffman still gets back to UT's campus fairly regularly. They try to come to the spring game or Homecoming every year. Kathryn's mother still lives in north Toledo, so they get to visit campus while in town.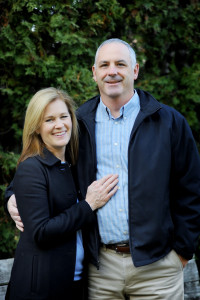 Earlier in April, UT hosted its annual spring game. There was a former player's breakfast before the game and Huffman was in town for the festivities. He felt it was a mini-reunion for those people who were able to be there and he always enjoys visiting campus. UT had a great impact on Huffman's life.
"It was a great opportunity to one, get a great education, and two, grow as a person and to be a leader," he said. "I just had such a wonderful time academically, athletically and socially. I could not imagine a better five years than what I had."
Could a national level political position be in the future for this man, State Representative, emergency room physician, medical mission leader, husband and father of five?
"I've learned that you avoid that question," he said. "But I'll say that I plan to spend these eight years in the Ohio House and if other opportunities come along at a Federal level, I would certainly evaluate those and would consider them."
To learn more about Huffman's book "Caring for the World," please click here.