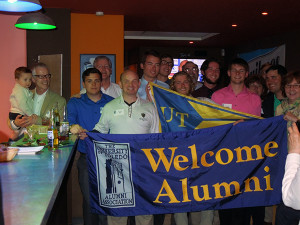 Rocket alumni and friends from throughout Europe and the United States came together in support of UT students on May 2 as the Alumni Association hosted its first-ever European reception at La Boca, in La Rochelle, France.
Coordinated by Alumni Association trustee William Snyder (Law, '78), who lives in France, the event honored the UT Sailing Club which participated in the EDHEC Sailing Cup, the largest intercollegiate offshore regatta in the world, with 23 countries represented.
Alumni from as far away as the Czech Republic and Germany came together to welcome the students to Europe and to congratulate them on beating more than 50 other schools to take home the Paul Hoffman Perpetual Trophy at the Intercollegiate Offshore Regatta in Larchmont, N.Y. in November.