By Patty Gelb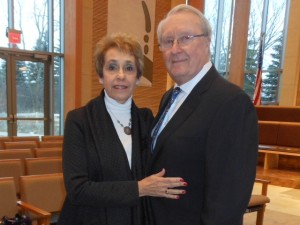 Sheila Odesky (Elementary Education, '64, Master's in Educational Technology, '81) is a volunteer extraordinaire. Over the years she has made an impact across the community in many fields. Her most recent volunteering accomplishment came in January of this year when she was sworn in as the new president of the Toledo-Lucas County Public Library's Board of Trustees.
Not originally from Toledo, she was born and raised in Pittsburgh. She was attending Penn State when at the end of her sophomore year she met a young man named Stanford Odesky (B.S., '59, MBA, '60). Ten months after the couple met, they were married.
"Things are so different now," she said with a smile. "If my daughters told me that they were getting married to someone that they only knew after five visits (she shook her head, smiling). But, we will be having our 52nd anniversary this month."
Following her wedding, Odesky started her senior year at The University of Toledo. The young couple had one car and lived in Kenwood Gardens. She walked from their home to classes and graduated after a year and a half. Everything was new to her in Toledo but her husband was very active at the University and in the community.
"When I went to UT the first time, I had not lived in Toledo before and was just married," she said. "It was very different for me, but I felt I got a great education."
Odesky graduated with her elementary education degree and following graduation became a full-time mother to the couple's two daughters. Years later, when she became an empty nester, she decided to go back to get her master's degree.
"Someone told me about the Educational Technology Instructional Design degree," she said. "I thought it sounded very interesting, so I went and had an interview."
Following the interview she was asked if she would be interested in becoming a graduate assistant. She got the job where they paid her a salary for working in the office and paid for her education.
"What they forgot to tell me when I went to sign up was graduate students, at that time, had to take a full load because they counted the credits and that was how they got the funding," she shared. "I graduated the first time in 1964 and hadn't been to school since then. Except for reading my beach books, I had not really read or studied."
Her first day of class, her professor handed out the book "Zen and the Art of Motorcycle Maintenance." The book was about a man who took apart his motorcycle, then slowly, part by part, rebuilt it. They compared it to Educational Technology and writing training programs.
I will never forget sitting in that first class and getting that book," she said. "It's amazing that I stayed in it after that, but I graduated in a year and a quarter."
Odesky did such impressive work with her thesis she was hired following graduation at the Community Planning Council. Her job was to give her thesis as a presentation to different organizations around town. Her position was part-time and they decided to make it a full-time position. She was not ready to go full-time so accepted a position with the United Way where she coordinated the Volunteer Action Center.
Odesky was then approached by a community member who worked with St. Vincent's Mercy Medical Center to help out at a fundraiser when a photographer cancelled at the last minute. She had taken a few photography classes while at UT and took all of the photographs for her thesis, so she was happy to help out. Following that event she was asked if she would consider applying for the position of grants coordinator.
"With my degree in educational technology and the writing I did, it made sense," Odesky shared. "I got the job and started there in 1985 and retired in 2000. I became the director of grants for St. Vincent's before they became Mercy Health."
Volunteering has always been a major part of Odesky's world. Currently she is on the grant review committee for the Susan G. Komen Foundation's Northwest Ohio chapter. She volunteers weekly at Flower Hospital in the family surgical center. She is a Toledo Museum of Art Ambassador and is on the board of Temple Shomer Emunim, also serving on the committee for the annual Jewish Book Festival. These are just her current volunteer commitments although she has volunteered and given back for many other organizations around town.
Her weekly volunteer work at Flower Hospital came about because she decided she wanted to volunteer at a hospital closer to her home. She had volunteered prior to Flower at St. Vincent's for many years. Odesky gave time working in their gift shop and was co-president of their auxiliary among other positions. One volunteer position that she held at St. Vincent's was a cuddler.
"They had many children that are born from mothers who were on drugs," Odesky said. "I would go on Friday mornings and I could hold and feed these children who were going through detox. These children were in the ICU, usually were preemies, and often they would end up going to foster care. They had no one to care for them. We would go put on scrubs and scrub up like the doctors then would wrap these children up in blankets and hold them."
Although she volunteers across the community, one of her greatest loves has always been the libraries. The library has to publish when they are looking for new board positions because of funding and anyone can apply. Odesky was interested in ways she could give back to the institution. When a position opened up, she applied.
"The first time I applied I didn't get it," she said. "But then about a year or two later another opportunity came open so I applied and I got it."
She has served on the Toledo-Lucas County Public Library board for eight years in various roles before taking the oath as president this year. Odesky was appointed by the Lucas County Commissioners and her term ends January 10, 2020. Volunteering for the library was a natural fit for her. She has always loved books and reading and has such respect for the more than a 175-year-old organization.
"Of all of the different agencies in the community, it is truly one of the most respected and used by everyone," Odesky said. "Children for story hours, seniors, all of the branches all over the community… they just keep working and working to offer more. A few years ago when there were all of the job shortages, we had so many people come in who did not even know how to write a resume and the library was there to help."
The Toledo-Lucas County Public Library's mission is to provide information, education and technology to help the community live, learn and grow. With 18 neighborhood branch locations and the Main Library in downtown Toledo, the library is home to the fifth-largest collection in the state of Ohio.
Exciting growth is in the works for the library. They are planning a ground-breaking in August for a new branch on King Road near Sylvania Ave. This new location will be a state-of-the-art facility for residents in the community. Some innovative plans for the location will be the ability to pick up reserved books after the branch is closed through a lobby lockbox system. The facility will have a drive-thru window which will benefit those who have difficulty getting out of their car, mothers with young children or during inclement weather. The facility will also offer access to a three-dimensional printer. Announcement for bids went out earlier this month. The library board will vote on it in July and ground breaking will be in August.
"Wherever I go, when people find out that I work with the library, I just hear such positive comments," Odesky shared. "Truthfully I can't think of anytime I have heard anything negative. I am so proud to be a part of this organization. It is just a great institution."
Another major part of Odesky's life is her family. She has five grandchildren between her two daughters. One daughter lives locally and the other in Milwaukee.
"The oldest (grandchild) is 21 in August," she shared. "One of the boys will be 19 in June and one just turned 18. The other will be 18 in September and the caboose is 13."
Her middle grandson is a diver and currently third in the state of Wisconsin. He is competing this month and, if he qualifies, will go on to dive in the national championships. The Odesky's are planning a trip to Iowa to watch him compete. They often travel to visit children and grandchildren.
The Odesky's also remain very involved with their alma mater. Stan Odesky is on the board of trustees for The University of Toledo Alumni Association. The couple holds season tickets for women's basketball and attend events through the Golden Alumni Society. The Odesky's also rode in the homecoming parade in 1999 commemorating the 40th anniversary of Stan's graduating class from UT.
Toledo can be grateful that a young Stan Odesky went and stole Sheila for our community all those years ago. We are lucky to have such a dedicated community volunteer and genuinely giving person here in Toledo.