Please Submit Your Class Notes to: Amanda.Schwartz@utoledo.edu
'50's
Shel Glass (Pharm '58) visited UT's Main Campus when he returned to attend his 50th reunion in 2008. Glass was impressed with the Field House, which reminded him of the many times when he would avoid the bad weather by walking from Dowd Hall around to White, running past McKinnon and through the back door of the Field House, staying behind the grandstands and then through the steam tunnel to the second floor. He would then come out the opposite of the lecture hall and then walk up to the pharmacy department on the fourth floor!
'60's
| | |
| --- | --- |
| | Doug Smith (Ed '67, MA '72) has been named interim vice president for institutional advancement at Rose-Hulman Institute of Technology, located in Terre Haute, Ind. Smith will oversee all fundraising and alumni relations activities for the institute. |
| | |
| --- | --- |
| Larry Rochelle (Ed '62, Ed Spec '80) released a new Palmer Morel Mystery, Outlaw, which focuses on President Obama's opening of trade with Cuba. Anti-Castro forces and the CIA try to use Palmer Morel as a patsy in the attempt to stop Obama. Set in Miami and Orlando, the plot uses the Citrus Bowl Parade in Orlando as the scene for the final, explosive climax. | |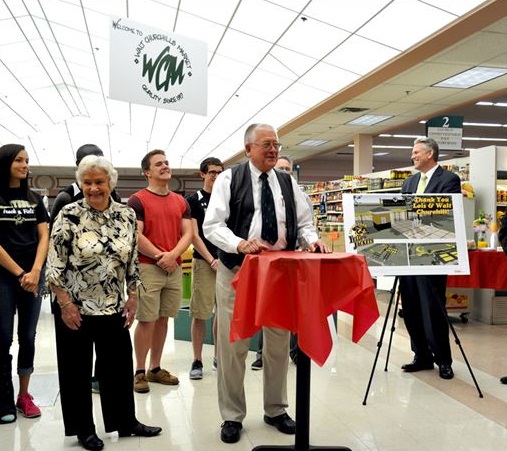 **Walt Churchill (Bus '66)
recently donated $500,000 to upgrade the running track at Perrysburg High School, located in Perrysburg, Ohio. The new track will be named the Walt Churchill Track. Churchill is very active in the Northwest Ohio community, owning two locations of Walt Churchill's Market. Walt is an avid runner, including running the Boston Marathon 22 years in a row and running for the Marine Corps Reserve. He is also one of the founders of the Toledo Roadrunners Club, which started the Glass City Marathon in 1971. Churchill's Half Marathon, named after Walt, is the second oldest race in Ohio and is one of the oldest half marathons in the country. This half marathon will have its 48
th
running this November.
'70's
| | |
| --- | --- |
| Diane Terry (Ed '72, MEd '92) recently visited Genoa Elementary School, located in Genoa, Ohio. Terry attended Genoa schools as a child and taught at the schools as an adult. She was excited to return as a guest author and tell the children true-life tales about undersea creatures from her book, "Sweetlips." | |
| | |
| --- | --- |
| John McGara (MBA '75) is the new general manager of TECT Power in Santa Fe Springs, Calif. McGara will provide site leadership which includes all operating activity. TECT Power also has locations in Cleveland, Ohio, Thomasville, Ga., Utica, N.Y., and Wichita, Kan. | |
'80's
Grant Aungst (Univ Coll '89, MEd '92) was named Brunswick, Ohio's new director of community and economic development. One of his primary responsibilities will be to sell the city of Brunswick to new businesses.
Ann Buchele (Ed '84, MEd '89) is the new vice president of academic affairs and workforce development for Linn-Benton Community College, located in Albany, Ore. Buchele served for 12 years as a faculty member before moving into various administration roles.
Cathleen Nelson (MBA '82) was selected as a new member for the Wood County, Ohio health board. Nelson is retired after serving as an administrator of Mercy St. Vincent Medical Center and president and CEO of United Health partnership, a network of 16 regional hospitals.
Mike Scott (Bus '88) is now the city administrator of Rossford, Ohio. Scott was previously the mayor during his 23-year career with the city. Scott is a founder of the Wood County Port Authority, and helped bring the world headquarters of Owens-Illinois Inc. to the area.
'90's
| | |
| --- | --- |
| | Chris Burmeister (UTCTC '96) was recognized as the 2015 Sidney, Ohio Police Officer of the Year. Burmeister was hired by the city of Sidney as a part-time dispatcher in 1996 and was hired in 1998 as a full-time police officer for the city. |
| | |
| --- | --- |
| Jerry C. Stollings (Law '99) was sworn in as the new juvenile court administrator for Williams County in Ohio. Stollings will lead the juvenile courts family intervention court process and reclaiming futures initiative. | |
James Bechtolt (Univ Coll '99) is currently a Detective Sergeant with the Miami University Police Department and he has just graduated from the School of Police Staff and Command at Northwestern University. Miami University is located in Oxford, Ohio.
Chris Scheel (Univ Coll '97) has been promoted to the position of general manager of Paccar Parts Australia. PACCAR is a global technology leader in the design, manufacture and customer support of premium light-, medium- and heavy-duty trucks under the Kenworth, Peterbilt and DAF nameplates.
Ted Haselman (Ed '97) was appointed to the position of superintendent of the Pike-Delta-York school district. He served as the principal of Swanton Middle School for the past five years.
Angeline Lee (A/S '98, MA '10) is a new staff member in the economic development department of the city of Toledo.
'00's
| | |
| --- | --- |
| | Breanne R. Hall (Bus '04) is the coach of the first women's golf program in Arden, N.C. The Cliffs Clubs, The Cliffs at Walnut Cove Community and the University of North Carolina at Asheville have teamed up to create the university's first women's golf program. The Cliffs at Walnut Cove, a Jack Nicklaus signature golf course, will serve as a primary practice facility for the team. |
Tom Dimit (Law '04) and Theresa Carroll started a food truck serving handcrafted pies. The food truck, Tasteful Trolley, is based in Sylvania, Ohio, but they also take it to festivals and farmers markets.
'10's
| | |
| --- | --- |
| Sari Cattoni (MHHS '10) has been hired as a part of the SwimEx Inc. sales team. Cattoni will be teaching consumers about the advantages of owning a SwimEx and health benefits of aquatic fitness and therapy. She was a college-level swimmer, and has experience with athletic training and aquatic therapy. | |
Faculty, staff & friends
Ryne Krock (current UT student) was named as president and chief executive officer of the LaGrange County Economic Development Corp. Krock will receive his bachelor's degree in political science from UT in 2015.
Erin Swedish (current UT student in psychology) has accepted a post-doctoral fellowship position at Harvard's Dana Garber Cancer Institute, located in Boston, Mass.
Chandrima Bhattacharya (current UT student in psychology) accepted a faculty position at Palm Beach Atlantic University, located in West Palm Beach, Fla. This is a tenure-track assistant professor position in cognitive psychology.
Meredith Claycomb (current UT student in psychology) recently published on her research on posttraumatic stress disorder and rumination. Her research paper was published in the journal, Plos One.
Monica Rohrabaugh (current UT student in psychology) recently received an award for her paper presentation at the American-Psychology and Law Society annual conference held in San Diego, Calif. She was competitively awarded the Outstanding Student Presentation in Novel-Topic Research award for her paper which focused on children's memory for conversation.
Births and Marriages
Doug Giere (A/S '08, Ed '08) and Stephanie Ruhenkamp were married on May 22, 2015 in the St. Michael Catholic Church in Fort Loramie, Ohio. Stephanie is employed by Celina Insurance Group and Doug is employed by Versailles Exempted Village Schools.
| | |
| --- | --- |
| | Joshua Jeffrey Athey (Bus '04) and Lisa Danielle Hix announced their engagement and upcoming marriage on August 15, 2015 in Troy, Ohio. Lisa teaches pre-kindergarten in the Charlotte-Mecklenburg N.C. school system and Joshua is a credit analyst at Wells Fargo Bank. The couple resides in Charlotte, N.C. |
Lauren Jayne Maidon (Bus '12) and Scott Andrew Goedde (Eng '13) are planning a wedding at Christ the King Catholic Church in Nashville, Tenn. on September 19, 2015. Lauren is a certified public accountant and is employed as an auditor for PricewaterhouseCoopers, LLP and Scott is an estimator for Drees Homes. The couples resides in Nashville, Tenn.
Death Notices
Faculty, staff & friends
Dr. David Ager, Raleigh, N.C. at 62. He was a member of the UT faculty in the 1980s.
Robert F. Mitro, Toledo at 79. He volunteered with the Satellites Auxiliary from 2003 to 2010.
James A. Metzger, Perrysburg, Ohio at 83. He joined the MCO staff as a building operator in 1985 and retired in 1995.
Ronald D. Raitt, Toledo at 83. Raitt joined the College of Law as an assistant professor in 1966. He was promoted to associate professor in 1969 and a few years later to professor. He served as assistant dean and director of admissions programs in the College of Law. Raitt published articles on evidence and product liability law and was the co-author of "Evidence, Cases and Problems." He received the University's Outstanding Teacher Award in 1997 and law classes from 1990, 1993, 1995, and 1997 named him Outstanding Teacher in the College. He retired in 2002.
Thomas I. Webb Jr., Toledo at 66. He served on the MCO Board of Trustees from 2001 to 2005. He was a partner in the Toledo law firm of Shumaker, Loop & Kendrick.
**Betty Brockbrader, Toledo at 82.
*Randal Digby, Ida, Mich. at 58.
30's
Dr. Fred Hartman (A/S '37), Worthington, Ohio at 100.
40's
Gloria Ziton (Bus '48), Sherman Oaks, Calif.
Nathan Schwartz (Bus '40), Toledo at 96.
Rev. Howard Barks (Ed '43), at 95.
**Dr. George Spaulding (Bus '42), Mount Pleasant, S.C. at 95.
50's
Dr. Duane Hall (MA '51), Temecula, Calif. at 67.
Dean Bolton (UTCTC '51), Temperance, Mich. at 90.
*Dale Bolton (Eng '50), Mount Penn, Pa. at 91.
*Edward Wilusz (MEd '52), Toledo at 86.
Leland Monroe (Eng '52), Chester, Conn. at 88.
Jack Dotson (Eng '51), Yorba Linda, Calif. at 80.
*Edward Tucholski (Ed '58), Rossford, Ohio at 82.
60's
John Erhard (Ed '69), at 68.
**W. Black (Bus '60), Ashville, Ohio at 78.
*Thomas Belegrin (UTCTC '65), Toledo at 73.
John Mermer (Bus '60), Perrysburg, Ohio at 81.
**Walter Wollenbecker (Bus '68), Astoria, Ore.
Walter Harrah (A/S '62), Louisville, Ky. at 65.
Dr. Peter Reeme (Pharm '65), Cincinnati, Ohio.
70's
Stephanie McKnight (MA '79), Benicia, Calif. at 58.
Eric Arendt (Eng '79, MEng '81), Maryville, Tenn. at 62.
Robert McBride (MS '74), Brighton, Colo. at 61.
**David Emrick (Bus '71), Perrysburg, Ohio at 68.
John May (A/S '77), Toledo at 64.
Terri Weintraub (A/S '72), Tierra Verde, Fla. at 64.
James Keller (A/S '76), Toledo at 67.
David Dussel (A/S '75), at 65.
Richard Clement (Ed '71), Toledo at 68.
Sharon Strong Stolberg (Ed '71), Little River, S.C. at 83.
Temora Barnes Harris (MEd '77), Toledo at 90.
**Dr. Paul Wieber (PhD '73), Silver Springs, Md. at 78.
80's
Margaret Crouch (UTCTC '87), Toledo at 85.
Mary Menendez (A/S '88, MA '90), Perrysburg, Ohio at 54.
Kenneth Bishop (Ed Spec '80), Sarasota, Fla. at 79.
Marcia Krisher (MA '80), Toledo at 68.
90's
Mary Skeldon (Univ Coll '95), Toledo at 63.
00's
Dr. Abraham Traub (RES '06), Longmeadow, Mass. at 55.
Visalakshi Veerappan (Law '05), Hudson, Ohio at 34.
*Annual Alumni Association Member
**Lifetime Alumni Association Member