Following a serious illness in 2014, Rocket cornerback has a new hunger for winning.
By Sasha Mandros, UT Athletic Communications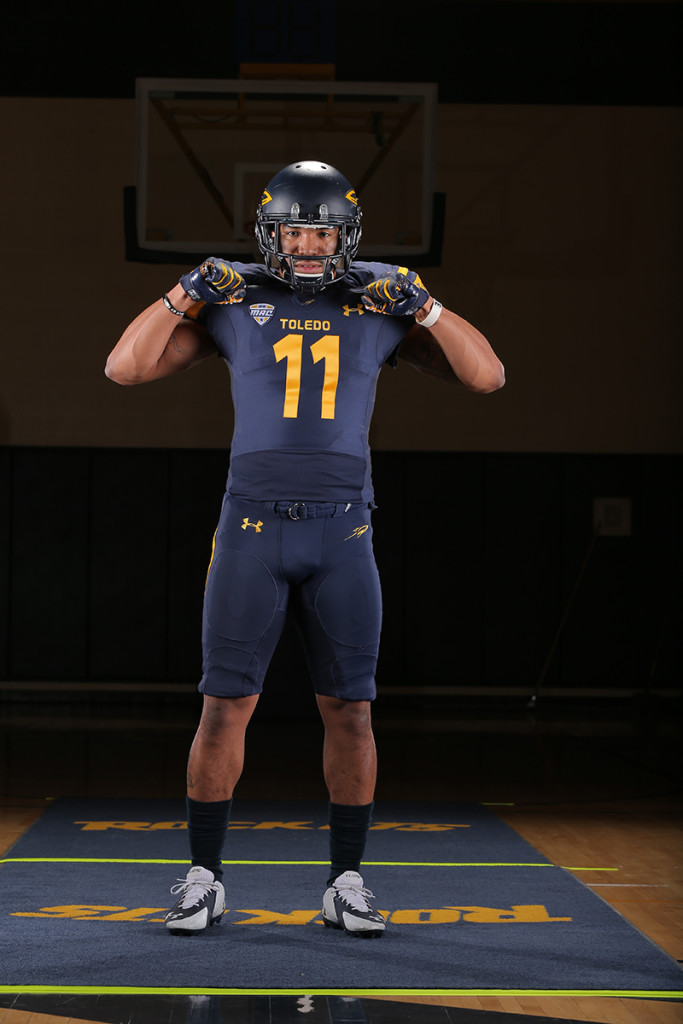 It's not difficult to find a football player who has endured a season-stunting injury at some point in his career; it's the nature of a violent game. However, Cheatham Norrils' story is different. While most players can pinpoint the exact moment in which they sprained an ankle or tore their ACL, Norrils still cannot say for certain what caused him to miss the entire 2014 season.
Norrils, a senior cornerback for the Rockets, suffered a still-undiagnosed illness that not only kept him off the football field, but had the Toledo native fighting for his life. A year later, he is fighting for a starting spot in the Rockets' lineup. The illness is behind him now, but the memory still motivates him every day.
The trouble began in July of 2014 with what Norrils thought were routine cramps following an off-season workout. A migraine headache soon followed. Days later, he could barely move.
"I know my body so I knew something was off," Norrils said. "I felt anything but normal; I was extremely drowsy and weak."
Norrils told to his mother, Willa Norrils, that something was very wrong. He was having hot and cold sweats, and could barely function. She immediately took her son to the hospital. Tests were inconclusive so he was sent home to rest.
But Norrils' condition worsened, and this time he went straight to the emergency room. "He had a fever of 103 degrees and began to cough up blood," Mrs. Norrils said.
Doctors were stumped by Norrils' condition and simply focused on keeping him alive. He was assessed by pulmonologists, hematologists, internists and infectious disease specialists—none of whom could pinpoint a diagnosis.
"It was scary when they couldn't tell me what was viscously attacking my body," said Norrils. "Thinking back to what I went through in that hospital bed, I would not wish that on my worst enemy. It was awful."
After days of tests, the doctors tentatively concluded that Norrils had contracted a viral infection. Unfortunately, they had no treatment. "It was terrifying when they stated that we just had to let the virus run its course," his mother said.
During his stay in the hospital, Norrils was on so many medications that his memory of that time is vague. He doesn't recall many of the visitors to his hospital room. One of those visitors was head coach Matt Campbell, who came to see Norrils every day he was in the hospital.
"It was extremely hard to watch him go through that, especially during the few days when his condition was so severe," Campbell said. "All I wanted was to make this go away for him, but the only thing I could do was to tell him that it would get better and that he could get through it."
After nearly two weeks in the hospital, Norrils' doctors began treating him for viral meningitis and pneumonia, and his condition stabilized. Now 22-pounds lighter, Norrils was finally discharged. Unfortunately within days he was back in the hospital to treat blood clots in his lungs and legs.
When he was released for good, Norrils convalesced at his parents' house for nearly a month. "I was on blood thinners for a while and still very weak," Norrils said. "I couldn't do anything without my parents' help. I'm grateful beyond words for them."
Finally in September, Norrils' condition improved enough for his doctors to clear him for physical activity. His recovery process was slow, starting out with exercises only using body weight. It wasn't until the end of the spring that he started to feel like himself again.
"I didn't quite feel 100 percent during spring practice," Norrils explained. "But it was at this point that I knew 100 percent was possible for me to attain. Before the spring, I never thought that I would get back to where I was before my illness."
This fall, Norrils is competing with last year's starter, Christian Dukes, as well as Juwan Haynes, for a starting spot at cornerback. The intense competition in the Rockets' defensive backfield doesn't discourage Norrils; in fact, it excites and motivates him. He is determined to make his final season one to remember. He plans to enter the Glass Bowl on Sept. 3 a new and improved version of himself. He dyed his hair blonde, and after three seasons wearing No. 11, he changed his jersey to No. 1—his father, Eddie Norrils', old number.
"I feel like I'm better than where I was before I got sick. That's why I'm so excited for this season," Norrils said. "Not only am I extremely grateful for the opportunity to play again, but I feel like I'm at my peak. I've prepared very hard for this season, physically and mentally. I can't wait to finally be on the field again."