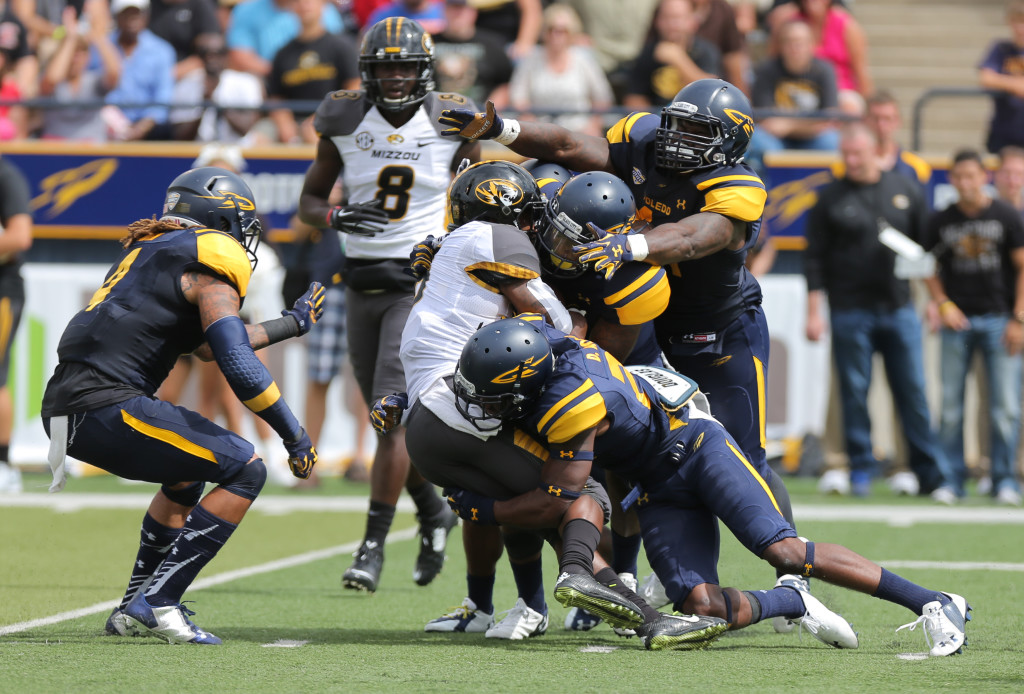 If how you finish a season makes any difference, then the Toledo Rockets should be ready to roll in 2015.
The Rockets ended their 2014 campaign with three consecutive victories, including a 63-44 win over Arkansas State in the GoDaddy Bowl. The Rockets finished with a 9-4 record, their third nine-win season in the past five years.
"The crowning moment for the 2014 season was the bowl victory, but I think it also made a statement about where we are headed in 2015," said Matt Campbell. But Campbell cautioned, "The momentum from that victory only carries over if you put in the work in the off-season."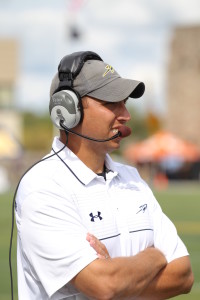 Regular observers of the Mid-American Conference are certainly high on Toledo's prospects this season. The media gathered at Detroit's Ford Field at MAC Football Media Day picked the Rockets to win the MAC's West Division and the MAC Championship Game.
"Our goal is to be playing for the MAC Championship in December," said Campbell, now entering his fourth season as Toledo's head coach. "But we have to focus on the process in order to achieve that."
Added senior defensive end Trent Voss, "Being picked first is a reminder of what our team expects to do. We are just going to have to show it on the field."
Toledo certainly has the potential to match or exceed last year's success. The Rockets return 15 starters and 47 letterwinners from last season's squad, with All-MAC performers on both sides of the ball.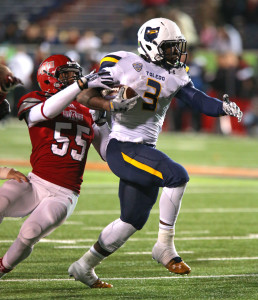 The offense is led by junior running back Kareem Hunt, a first-team All-MAC selection who rushed for 1,631 yards, including 271 markers and five TDs in an MVP-performance in the GoDaddy Bowl. Hunt is backed a stable of talented runners, included sophomore Terry Swanson (732 yards in 2014) and junior Damion Jones-Moore (460 yards).
Senior Phillip Ely and junior Logan Woodside battled during training camp for the starting quarterback spot. No matter who calls the signals, they will be throwing to a pair of All-MAC receivers, senior Alonzo Russell (51 receptions, eight TDs) and junior Corey Jones (68 receptions, five TDs).
Toledo's biggest challenge on offense will be replacing five starters on the offensive line, but Campbell feels that increased size and strength up front will more than make up for any lack of experience.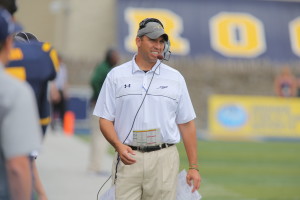 The Rockets could have their best defensive unit in quite some time. The Rockets are two-deep at just about every position, with eight starters returning. The defensive line looks particularly strong, with senior defensive end Trent Voss (GoDaddy Bowl Defensive MVP) and two All-MAC defensive tackles, senior Orion Jones and junior Treyvon Hester, leading the way. Toledo is also loaded with veterans at linebacker and in the secondary, which was beaten up by injuries last season. Most encouraging is the return of senior cornerback Cheatham Norrils, a one-time All-MAC player who missed the 2014 season due to illness.
The kicking game also has some questions, with the loss of All-MAC kicker Jeremiah Detmer. Sophomore Sam Vucelich and freshman Jamerson Vest were competing for that spot in training camp.