Capotosto Leads the Rockets in the Right Direction in 2015-16 
By Brian DeBenedictis, associate director of athletic communication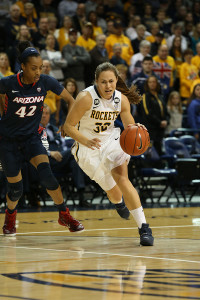 Luminary, manager, pacesetter. These three adjectives thoroughly describe senior Ana Capotosto. But perhaps most important of all, the fifth-year Rocket is the physical and emotional leader for the Toledo women's basketball team.
She understands the importance of leadership and it is a role she does not take lightly.
"Leadership is something I take great pride in," said Capotosto, who graduated with a degree in childhood education last month. "It's very important for me to not only lead by example, but also vocally. I need to make sure everyone is on the same page at all times, and that we're trying to accomplish the same goals."
Before the start of this season, Capotosto was named a team captain for a second straight year in a vote of her teammates. The Saugatuck, Mich., native was humbled to once again be selected the squad's ringleader.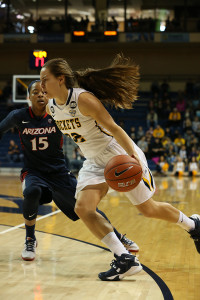 "I was extremely honored to be named a captain for a second-consecutive season by my teammates," Capotosto said. "It meant a lot to know that my teammates respect me, and appreciated the job I did as a captain last year."
Capotosto learned quite a bit about herself as a captain last year, and subsequently focused on some of the things she needed to refine for this season.
"I thought I did just okay as the captain last year, but there were a lot of things I needed to improve on," said Capotosto, who became engaged to Brad Gehres on April 18, 2014. "I was very happy and humbled to get another chance to build off of last year and continue to grow in that role."
Capotosto is continually evolving in her role as a leader each day and understands the demands that come with it.
"Being a leader is not always easy," said Capotosto, who spent the past semester teaching second grade at nearby Old Orchard Elementary school. "It's hard to step out of your comfort zone and help keep people in line during the grind of a long season. It's also difficult to teach them to always make good decisions."
Head Coach Tricia Cullop is appreciative of Capotosto's effort as the Rockets' leader.
"Ana has done a great job at being our team's selfless leader," Cullop said. "She not only leads by example, but also vocally. Our players look up to Ana because she does things the right way. I'm so impressed with her growing maturity over her times at UT."
Classmate and fellow captain Brenae Harris echoed Coach Cullop's comments.
"Ana is a person with strong character and values and a big heart," Harris said. "She also makes great decisions and is somebody that I enjoy playing with."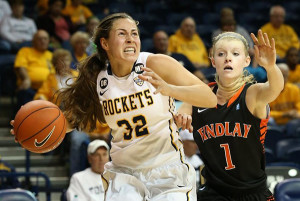 So far in 2015-16, Capotosto is backing up her strong leadership qualities with excellent play on the court. The three-point specialist is having an All-MAC caliber campaign and currently ranks in the Top 20 in the league in three-point field goal percentage, three-point field goals made, overall rebounding and scoring.
With conference play now in full swing, Capotosto knows her role as a leader is ultra-important. She also understands that challenges that await her and her teammates over the next two months.
"Our team understands the importance of conference play," Capotosto said. "We need to be at our best at all times, especially myself being a leader and captain. All the schools know each other so well. There is very little margin for error."
With Capotosto leading the way and with the support of a group of talented teammates, that just might be the right recipe to help Toledo secure a second MAC regular-season championship in the last four years.
"I know we have a lot of talent on this team," said Capotosto, "and my goal is to help steer it in the direction of a MAC title."
Nathan Boothe's Emergence as Top-Flight Center Keying Rockets' Success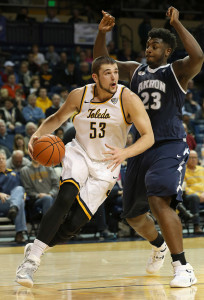 Nathan Boothe's transformation as a basketball player began the minute he committed to the University of Toledo late in the summer of 2011.
The Rockets' senior center tipped the scales at nearly 280 pounds prior to his senior year at Warren Township High School in Gurnee, Ill. But Head Coach Tod Kowalczyk still saw the potential Boothe possessed.
"I really liked his hands and the way he passed the ball," said Kowalczyk about watching Boothe play on the AAU circuit. "He was on a very good team and was surrounded by good players. You could see that he knew how to play the game and that he had the tools to be a solid post player."
Once Boothe made his college commitment, his AAU coach, former Chicago Bull Dickey Simpkins, told him that if he worked to get in better shape he would have an opportunity to play right away. That's when the big man committed himself to a new lifestyle.
"I had gradually put on weight all through high school with some bad eating habits," Boothe said. "When I saw the chance I had at Toledo, I started to run a lot, I reduced the size of the portions I ate and I pretty much eliminated fast food from my diet."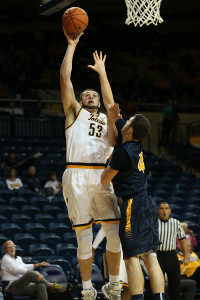 That change, as well as a lot of time spent in the weight room, has helped Boothe become one of top players at the mid-major level as he earned a spot recently on CollegeInsiders.com's mid-season Mid-Major All-American Team. He ranks as one of the MAC's top two scorers along with junior Jonathan Williams and also became the first Rocket ever to register a triple-double earlier this season.
"Nathan has always been a good player for us, but he took another step last summer in developing his game," Kowalczyk said. "He worked hard on his post moves and foot work, and that's led to his success this season."
In the offseason, Boothe and assistant coach Jason Kalsow watched a lot of video of successful big men, like former Wisconsin All-American Frank Kaminsky.
"We were able to add a few different things to Nathan's offensive game," Kalsow. "We watched other big guys who were the focal points of their team's offense because we knew he would play a big role for us this season."
Boothe's success on the court is nothing new to a family filled with athletes. His father was a standout baseball player at Northern Illinois and he has three uncles who played college football. His brother David was an offensive guard on Hope College's football team and his sister Sarah played basketball at Stanford.
After giving both baseball and football a try as a youngster, Boothe decided to follow in Sarah's footsteps.
"I played football when I was younger because of my size, but I got rocked quite a few times so I stopped," Boothe reminisced. "I didn't have the patience to play baseball so that put an end to that. Since I was so tall, I decided basketball was my best option."
Once Boothe decided to focus on the hardwood, he was able to observe the way his older sister played. He certainly was fortunate to have that chance because Sarah was named Illinois Ms. Basketball in 2008.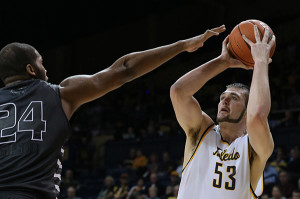 "Sarah's game is similar to mine, and I was able to pick up a few tips along the way from watching her play," Boothe said. "She was a good passer and could stretch the floor with her outside shot like I do. That was one of the key attributes that helped her get to the next level."
Which is what the Rockets' lone senior hopes to do once his collegiate career winds down. Boothe would like to play professionally, but for now he is just concentrating on providing the necessary leadership for UT to make a run at a Mid-American Conference Championship.
"I've tried to show our young guys the work ethic it takes to be successful at the collegiate level," said Boothe, who is serving as a mentor to the team's seven freshmen. "When I was a freshman, I learned a lot from (former three-time All-MAC honoree) Rian Pearson. He would always bring me in the gym to get extra reps and make sure I stayed in shape. I've tried to do that with our freshmen as well, because all that hard work makes a big difference in becoming a better player."
That's a lesson Boothe became familiar with even before becoming a Rocket, and one that each of his teammates would be wise to follow.