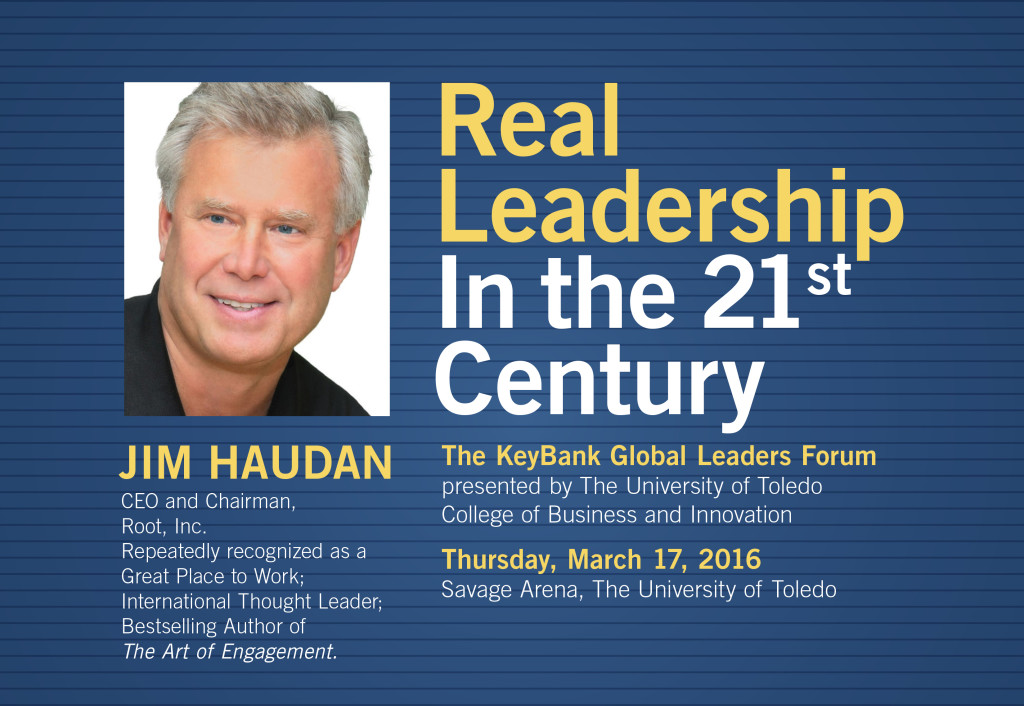 Real Leadership in the 21st Century is the theme of the 2016 KeyBank Global Leaders Forum, presented by The University of Toledo College of Business and Innovation (COBI), which will be held on Thursday, March 17, at Savage Arena on the main campus of The University of Toledo. The morning-long program is free, but seating is limited and registration is required.
The keynote speaker will be global engagement authority Jim Haudan (Ed, '78, MBA, '85), CEO of Root, Inc., which is located in Sylvania, Ohio and has been recognized nationally as a Great Place to Work, who will discuss "The Power of Engagement." Haudan is also the author of the bestselling book, The Art of Engagement: Bridging the Gap Between People and Possibilities.
Also presenting at the event will be Jim Hoffman (Bus, '71, MBA, '72), President, KeyBank; Dr. Sharon Gaber, President, The University of Toledo; Dr. Clint Longenecker (Bus, '77, MBA, '78), UT Distinguished University Professor; and Marc Lautenbach, President and CEO, Pitney Bowes, Inc.
"The KeyBank Global Leaders Forum provides a wonderful opportunity for our regional business owners and leaders to hear from difference-making leaders such as Jim Haudan, Marc Lautenbach, Dr. Longenecker and President Gaber," Hoffman said. "It is part of our vision at KeyBank to help our community, and our businesses, thrive."
Hoffman's enthusiasm is shared by College of Business and Innovation Dean, Gary Insch.
"The University of Toledo College of Business and Innovation is extremely pleased to again partner with KeyBank to present another Global Leaders Forum," Insch said. "Holding the event in UT's Savage Arena assures that hundreds of area professionals, as well as many UT students, will have an outstanding opportunity to learn, network and benefit from the presentations and discussions at this unique event. "
Longenecker has presented to business leaders around the world.
"As leaders are attempting to deal with the challenges of this turbulent economic environment, this event is a great way to discover new ideas for becoming a better leader and creating competitive advantage with people," Longenecker said. "We invite them to come, be ready to learn and be in a better position to make 2016 a great year."
KeyBank and COBI presented the first Global Leaders Forum in 2008, which featured former Secretary of the U.S. Treasury Department John Snow, and the second event in 2013. The Global Leadership Forum was created to provide an environment for regional business leaders to talk about contemporary issues, discuss cutting-edge leadership practices and explore trends.
Convenient parking is available, and a continental breakfast will be served. To register for this free forum, go to utoledo.edu/business/keybankforum.