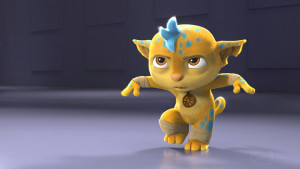 He's here: Watch the first animated short featuring Bink.
The debut is from Eric Miller Animation Studios, a company started in 2014 by Eric Miller (Univ Coll '05).
"We're super-excited to release the first 30-second short of Bink," Miller said during a call from his Los Angeles home.
More shorts with the captivating seafaring creature with yellow fur, blue spots that match an upright comb, and big brown eyes will follow.
"We needed an animated short to show potential clients, so I wanted to create a main character that's cute and likable," he said. "The shorts are character-driven and comedy-driven."
Miller, who left DreamWorks Animation two years ago and started his own company, was the subject of a UT Alumni e-Magazine story in April. Read the story here.
Sign up to receive updates at milleranimation.com/bink.