First-year coach Jason Candle has veteran team focused, united in its quest for a championship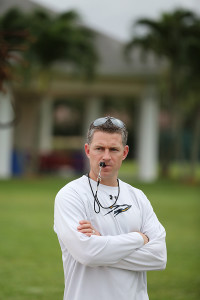 The more things change, the more they stay the same. At least that's what fans of the Toledo Rockets are hoping this year.
The Rockets have a new head coach, an almost completely new coaching staff and many new faces in key positions on the field, especially on defense. But first-year head coach Jason Candle is confident that the 2016 brand of Rockets will live up to the proud legacy of the program—with an eye on achieving something that has narrowly eluded UT in the past decade.
"We have a solid foundation, so our challenge is to build from that foundation," said Candle. "We are going to be diligent to continue the success we've had here. At the same time, I know what the expectation is here. We haven't won a MAC Championship since 2004. I know that's what the people of Toledo are starving for, and so are our players and coaches. That's always going to be our primary goal."
Toledo was 10-2 in 2015, its sixth consecutive winning season, including a 16-12 triumph over No. 18 Arkansas and a 32-17 victory over No. 24 Temple in the Marmot Boca Raton Bowl. The Rockets did lose some key players from last year's squad but plenty of talent remains. On offense, the Rockets return a pair of All-MAC running backs (senior Kareem Hunt and junior Terry Swanson), All-MAC wide receiver and return man Corey Jones, four starters from the offensive line and junior Logan Woodside, the starting quarterback from 2014. The losses were greater on defense, but 19 letterwinners return, including senior All-MAC safety DeJuan Rogers, two-time All-MAC senior defensive tackle Treyvon Hester and junior linebacker Ja'Wuan Woodley, the 2015 Marmot Boca Raton Defensive MVP.
Toledo was picked to finish in second place in the MAC's West Division by the league's media. But Candle said that pre-season predictions and previous success will have no bearing on the outcome of the 2016 season.
"We're a new team," said Candle, who enters his first full season as UT's head coach after seven seasons as an assistant. "Last year was a great season but those 10 wins aren't going to win any football games for us this year. This is a different team with new senior leadership, new players, new coaches—a new brand of football. Every team takes on its own identity and takes on its own attitude and approach to the game."
Senior running back Kareem Hunt agreed that the team is focused on the season ahead.
"We don't pay attention to the polls," Hunt said. "It doesn't matter to us what people think of our team. We know what we need to do. Once the season starts, the polls don't matter anyway."
Hunt and the Rockets have a challenging schedule ahead of them. UT plays eight schools that made bowl appearances in 2015, including defending MAC champion Bowling Green and MAC West Division foes Northern Illinois and Western Michigan. Those last two games are on the road in November, making them crucial to Toledo's title chances.