By Sasha Mandros, Athletic Communications graduate assistant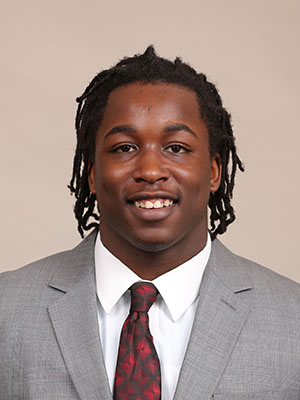 In many ways, Kareem Hunt's senior year in college is a matter of unfinished business.
Following a junior season in which he rushed for almost 1,000 yards for the second time in his career, Toledo's star running back had the option of entering the NFL Draft last spring. It was tempting. Like almost every other kid from his neighborhood in Willoughby, Ohio, Hunt has always dreamed of playing in the pros.
But after some consideration, Hunt opted to return for his fourth and final year as a Rocket. As he weighed the pros and cons of leaving school early, Hunt came to the conclusion that there were too many things left for him to accomplish at UT.
First and foremost, Hunt wants to get his diploma. A criminal justice major, Hunt is on track to become the first person in his family to earn a college degree. Hunt said his family supported whatever decision he made, but he also knew what it would mean for them to see him walk across the stage of Savage Arena on graduation day.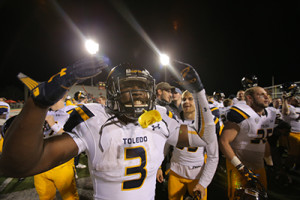 "My mom and my grandma have been on my side no matter what path I was leaning toward," said Hunt. "I know that whatever I accomplish with football will make them proud. But I can tell how important a degree is to them. No one in my family has earned a college degree and all they've ever wanted was to provide a better life for me than they had themselves. I want to take full advantage of their sacrifices that have brought me to UT and of the opportunity that this team has given me.
"And personally, I really want that degree to fall back on because I have no idea if things will work out for me in football for one reason or another."
As for football, Hunt's decision to remain at UT is motivated by the same goal shared by his teammates, not to mention all of Rocket Nation—a Mid-American Conference Championship.
"The goal of our team has not changed once since the first day I arrived at Toledo…to win a MAC Championship," said Hunt. "Some reporters roll their eyes because we've been saying the same thing for four years, but it truly is that important to us.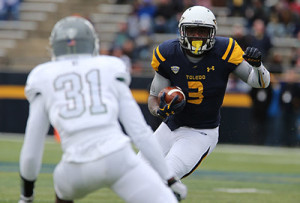 "I can't leave now if I have one more opportunity to help my brothers achieve this. When I weighed my options, all I had to do was just picture me and my team finally winning that trophy. If we win that title this season, it will be for all the alumni who shared our same goal in the past 12 years. I know those alums have our backs and Rocket Nation is with us every step of the way."
Of course, by playing another year in a Rocket uniform, Hunt has the opportunity to clear up some other unfinished business by etching his name into the Toledo record book. Going into this season, Hunt has rushed for 3,470 yards—just 1,380 yards away from surpassing leader and 10-year NFL veteran Chester Taylor, who gained 4,849 yards from 1998-2001. Hunt has set some individual goals for himself this season, but only because he knows reaching them will give his team a better chance at winning.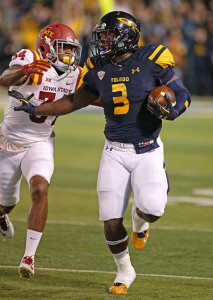 "I want at least 1,500 rushing yards this season, and I want to improve on my career-best season touchdowns of 16 from two years ago," said Hunt, who rushed for a career-high 1,631 yards as a sophomore. "And I'm definitely trying to reach at least 100 yards per game. I broke my streak last year (12 straight 100-yard games) and I was really disappointed when I let that happen. But those records aren't important to me unless reaching them leads our team to a MAC Championship."
Hunt would actually be a lot closer to Taylor's school rushing record if it wasn't for injuries. He missed three games and major parts of two others in 2014. Last year he missed three games and often played with nagging ailments when he was in the lineup. Injuries notwithstanding, Hunt sees a common denominator in how well he has performed over the past three seasons.
"I played my best ball when the entire team was involved in producing the best plays, rather than me trying to create a touchdown play every time I got the ball," said Hunt. "My stats looked the way they did because my team provided me with all of those opportunities to make big plays."
Despite the records and accolades, Hunt feels like he has only scratched the surface of his potential. And he knows a big reason he returned for one more season as Rocket is to be able to say he gave it everything he could to help the Rockets bring a title back to Toledo.
"I've only got one more shot at it," said Hunt. "I haven't played my best ball yet in this Toledo uniform."