Toledo senior overcomes a difficult childhood and family tragedy to become one of the nation's best tight ends
By Paul Helgren, University of Toledo Associate Athletic Director for Communications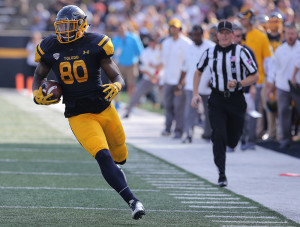 Something in Michael Roberts just snapped. And it wasn't the first time, either.
He was used to the teasing from the other kids. That was nothing new. A chunky kid with speech problems, Michael was a regular target for cruel taunts at Union Elementary School in Cleveland. But this one boy, Robert, was another story. He knew how to push Michael's rage button. Robert had been held back, so he was older and bigger than the other third graders in Ms. Mitchell's classroom. And while Michael may have a frequent target for Robert's abuse, he was by no means a passive one. And this time Robert had definitely crossed the line.
"He said something about my mother. I think he said my mother was fat," said Michael, now a senior tight end for the Toledo Rockets. "I kind of lost it. It was a pretty bad fight, actually."
Michael picked up a plastic chair and tossed it at Robert, striking him and igniting a bloody fight that spilled into the hallway. It took three teachers to separate them. It was Michael's third fight at Union that school year and his last. He was expelled. By the time he was in fifth grade, Michael would be kicked out of four different elementary schools. Eventually he was placed in the Education Alternative School, a school for behaviorally challenged youngsters. Troubles of various kinds, much of it not of his own making, seemed to follow him throughout his childhood.
Those difficult times are in the rearview mirror for Michael Roberts these days. One of the most popular players on the Toledo football team, Michael is a criminal justice major who expects to graduate in December. On the football field, he's having a terrific senior season. At 6-foot-5, 270 pounds, he's considered one of the best tight ends in the country and has aspirations to play in the NFL. With a bowl game remaining, he has caught 43 passes this season, the most ever by any receiver in UT history in a single season. He's twice caught three TDs, in Toledo's 42-35 win over Bowling Green and again in the regular-season finale at Western Michigan.
So while Michael's story may have a happy ending, it certainly did not start out that way. Even his biggest supporters could not have imagined the heights he would reach.
"There was never any doubt in my mind that Michael would be a success in life," said his mother, Maria Young. "But did I think he would be where he is today? I have to be honest and say I didn't. He's just an amazing young man. He amazes me every day."
Difficult Childhood on East Side of Cleveland
It's only two hours from Cleveland to Toledo, but it's a full life's journey from Michael's humble origins to his life in the spotlight today. Expulsions from school were only one of many challenges he faced growing up. He was raised in a rough neighborhood on the east side of Cleveland. His father, whom he never really knew growing up, was sent to prison for robbery and assault when Michael was 12 years old. A speech impediment and attention deficit issues made learning difficult. And a pair of tragic deaths during his senior year of high school nearly derailed his plans to attend college on a football scholarship.
"I grew up around a lot of poisonous people that didn't have my best interests, or their own actually, at heart," said Michael. "At the time, I was blinded by just wanting to have fun and be around my friends and people that I saw every day.
"I'm a very different person than I used to be. I feel like I'm adapting into the person I would like to be. I've matured as a student, a player and a person. I think what helped me as I got older was realizing some of things that my mom sacrificed for me. I didn't have a lot growing up, so I've always been appreciative of the little things."
Maria Young was a struggling inner-city single mother, but she was relentless in her pursuit of a better life for Michael and her other son, Freeman. She sought help for Michael's speech problems at the Cleveland Speech and Hearing Center. She pursued solutions for his attention deficit problems. And despite the anger and violence Michael displayed as a youth, she never lost faith in him. She felt strongly that he was a good kid with great potential. She just needed to get him into a more positive environment.
The process was a slow one, but she never gave up hope. Michael's string of school expulsions ended in fifth grade when he settled into the Education Alternative School (EAS) in nearby Willoughby. There, Michael got help for his speech problem, a language-processing issue which he eventually conquered. He also received a confirmed diagnosis for ADHD, treatment of which greatly aided his learning capability. But at the time he wanted no part of EAS. None of his friends were there and there were no real challenges for his bright but undeveloped young mind.
"It was a school for kids with behavioral problems, basically," he said. "The focus was on how you behave and how to help someone suffering from a behavior problem. They did their best but it wasn't an academic environment. No one was stretching you to be a better student. They were trying to help you be a better person. But it wasn't challenging. I breezed my way through it."
In eighth grade, his final semester of middle school, Michael was at last allowed to re-enter a "regular" school with all his friends, back at Union Elementary School, the very same school that kicked him out of five years earlier. Michael was happy with the move but it confirmed for his mother that she needed to get him into a school outside of their area. "I knew I didn't want him to attend our neighborhood school, but I wasn't sure what to do" said Maria.
Basketball and the Big Break
That's when Michael's first big break came along. Maria was looking for a healthy activity for Michael, so she signed him up to play basketball at a local rec center. An AAU coach eyed his now 6-foot-2 frame and natural athleticism. One thing led to another.
"Lo and behold, a recruiter came to my house sometime after that and asked if Michael would like to play basketball at Benedictine," said Maria. "It was the answer we were looking for."
Michael agreed that attending Benedictine changed his life.
"So many things really helped me become who I am but I think the biggest thing that helped my life was being forced to go into a Catholic school," he said. "Learning proper etiquette, how to do certain things, how to be respectful and have a proper tone with others, I think that was really the biggest thing in my life.  My life changed when I went to Benedictine."
Michael made friends at Benedictine and developed into a basketball (and later football) star. But it took him a long time to adjust to the structure and academic rigor of a parochial school.
"I was forced to come to this all-boys school that I had no clue about, so I kind of rebelled at first," said Michael. "I didn't do well academically. Not wanting to be there played a very big role in my unhappiness in my first two years. I really didn't turn that attitude around until I got my first college scholarship offer to play football at the University of Louisville. It made me think, I can actually go somewhere and do something, be someone instead of just falling in line and becoming the usual statistic where I'm from."
Armed with fresh motivation, Michael's life began to change. He made dramatic improvements in the classroom and became a leader on the basketball and football teams. In his senior season, he accepted a scholarship offer to play football at Ohio University. For the first time in his life, everything seemed to be going his way.
Then tragedy struck. Twice.
A Season of Loss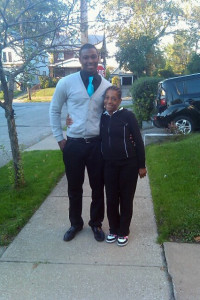 Deborah Young was more than just Michael's grandmother. She was his childhood best friend and confidant, but she also knew how to light a fire under him when he needed it. Michael was her first grandson and she loved him dearly. He loved her every bit as much.
It was October of Michael's senior season at Benedictine. The Bengals had just defeated their rival, Cleveland Central Catholic. Michael, who caught two touchdown passes, was celebrating with his teammates when he noticed his mother walking onto the field. "She had never been on the field before so I knew something was up," Michael said.
Maria knew that Michael had plans to join up with his friends after the game, so she wanted him to know right away that his grandmother had been hospitalized. Her situation was looking grim. "I went straight to the hospital with my uniform and pads and everything still on," said Michael. "I cried and cried when I saw her."
Deborah Young had been diagnosed with cancer that began in her liver and spread quickly. On December 21, a little more than two months after her diagnosis, she was gone. Michael was devastated.
"My Grandma was the rock of our family," he said. "She held the family together. I was her first grandson. We had an unbelievable connection. She was like my best friend. We used to talk for hours on the phone. She was the reason I started playing football because she loved watching it. She was a huge Browns fan. She made us all watch the Browns every Sunday, which was usually a loss but she didn't care.
"I was in the hospital every day when she was sick. My grades suffered. The people at Benedictine helped me as best they could, but I was mentally exhausted."
In the months following his grandmother's death, Michael began to lose his motivation. Without his beloved grandma to urge him on, he lost interest in school. He didn't feel the same joy playing sports, either. He wasn't even sure anymore if he would go to college. Right about then he was hit with the second blow in less than five months.
The news came from an unlikely source. "Lake Erie Correctional Institution" lit up on Michael's caller ID. It was his father, Michael Roberts, Sr., calling from prison. Michael didn't take the call. Or the dozens that followed. Finally, annoyed, he picked up and received the heart-wrenching news.  One of Michael's younger brothers, Cameron, had been killed by a single gunshot wound to the stomach. The death was later ruled accidental.
"It's something you don't come to grips with at first. It was very unbelievable when I first heard it," said Michael. "Then you are just kind of replaying the moments that you had together. You never expect to have to bury your younger brother. That was the last time I actually cried until the BYU game."
The loss of two loved ones in such a short period of time was almost too much for Michael to handle. He felt like giving up. Two days after his brother's funeral, Michael informed his mother he wasn't going to college. She would have none of it.
"Look how far you've come, everything you've accomplished. You can't throw it away now," she said. "Grandma is up in heaven cussing you out right now." That talk set things straight. Michael was going to college.
As painful as that period in his life was, Michael now finds positive meaning in the experience.
"I use my brother and my grandmother as inspiration in all things I do," he said. "I'll never get a chance to say hello or goodbye to them, so I just use their spirit. I've been through a lot of personal battles so I use that to build my strength. I've done my grieving.  I try to use my grief to positively affect my life.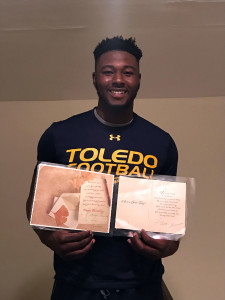 "There are a lot of reminders of them that I keep close to me. From my brother's funeral, I have a shirt that his mother made with Cam's face on it that says 'I am my brother's keeper.' It's the last thing I have of my brother's so I still wear it with pride. From my grandma, I have six birthday cards that I keep. I had them laminated. I bring the last two cards she gave me in travel bag for every game, home and away, and read them before every game and put them in my locker.
"Losing my grandmother was the hardest thing I've been through. But I feel like I can use that. If I've been through something like that, what's another sprint in practice? I hate running at practice. But I use that. I tell myself, I can finish this sprint. I've been through worse. Might as well put my head down and grind through what's in front of me."
A Change of Heart and Michael's "Other" Families
Michael needed another dose of that positive attitude a few months later. A little more than week before he was to depart for college, he got the word from his high school coach. The NCAA Clearinghouse ruled him academically ineligible to play football as a freshman. If he went to Ohio University, or any Division I college for that matter, he would have to pay his own way. He wasn't sure what to do now, but he felt he needed to change his course. He picked up the phone and called then-Toledo head coach Matt Campbell.
Toledo was a close second choice of colleges for Michael, but he was attracted Ohio's rural setting. It was about as different from the east side of Cleveland as you could get. After he choose Ohio, Michael called Campbell to tell him the news. Campbell was gracious and told him if he changed his mind he would always have a home in Toledo.  "So I called him a week before school started and asked him if I could still come to Toledo," said Michael. "He said yes, definitely."
Michael was happy with his choice of schools, but he still had a tough road ahead of him. Being academically ineligible meant he couldn't practice with the team until January. He also had to pay his own way for school, which meant working two and sometimes three jobs to make ends meet. But one thing that helped Michael through that transition period was support from an unlikely source.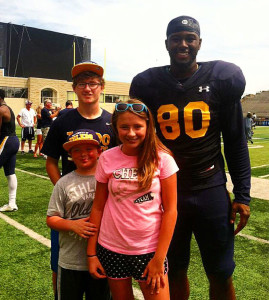 The Kobylinskis are an ordinary suburban family from Brecksville, halfway between Cleveland and Akron. Mark Kobylinski is a teacher and assistant football coach at Benedictine. He and his wife Nichole, and their three children, have basically adopted Michael.
"I'm very close with the whole family," said Michael. "I call Mrs. Kobylinski 'mom.' I call Mr. Kobylinski "coach." Every time I go home, I make sure I stop by and say hello to the 'brothers and sisters" from my other family."
The relationship began when the Kobylinskis' youngest son, Brayden, began attending Benedictine boys' basketball games with his family. His favorite player by far was Michael Roberts.
"Brayden thought Michael was a superhero," said Nicole. "He was four years old at the time. When it came for his turn for show and tell at preschool, he said he wanted to bring Mike Roberts. He was upset when we told him you can't bring a person to show and tell. So I called the teacher and she suggested having Michael come and visit with the kids for a morning. He did, and all the kids loved him."
The Kobylinskis told Michael they would do whatever they could to help him, and they did. Mark helped him navigate some of the details of last-second enrollment at Toledo. The whole family helped him pack up for his move to his dorm at UT. They even held a last-minute graduation party for him at their home.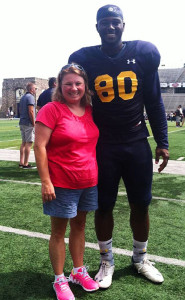 "At that point we decided to see him through to the end," said Nicole. "We didn't care if he played football or not. We just wanted to see him go to college. From there the relationship took off. We just love him. My kids look upon him like a big brother. We come to as many UT games as we can, and we listen or watch on the Internet if we can't make it. I text him throughout the game and right afterward just so he can see the messages later and know we were watching the game."
Nicole was a little worried at first about what Michael's mother might think of an unknown white family playing such a big role in her son's life. Maria was concerned at first, but that quickly changed when she met the Kobylinskis.
"At first I admit I was a little jealous but they have been absolutely amazing from day one," said Maria. "They are an inspiration. I love them. I couldn't ask for a better influence for my son. I really appreciate everything they've done for him and I want them to know that. They are always there for him."
Said Nicole, "Unfortunately, some people see us and think it's like that movie, 'The Blind Side.' It's not like that at all. We don't have any money. My husband is a Catholic school teacher. And Michael has a mom who loves him and has been a really good mother under very difficult circumstances at times. We're all good friends now. I talk with Maria often. I tell her, 'Thanks for sharing Michael.' He's like a gift from God. We're just here for him."
In addition to adding the Kobylinskis into his extended "family," Michael has also been able to reunite with an actual blood relative—his father. Michael Roberts, Sr., who was released from prison in 2014. He has since moved to Virginia, got married, and began working as a short-order chef. He is basically starting his life over.
"He's doing very well for himself, actually," said Michael of his father. "I visited him and his new family for the first time last summer (in 2015). He and his wife, Amber, have three kids. They just had a baby girl. They are a very nice family. I even went to church with them. It made me feel like they are the kind of family I wish I had growing up.
"I'd say we've become the closest that we've ever been. He's talked about coming to a football game. He says he's coming to my graduation. He's definitely making the effort. I'm very proud of how he has transitioned into becoming an adult."
"This is Your Time"
With so many challenges facing Michael, it's somewhat ironic that the last thing to fall into place for him at college was what got him there in the first place – playing football. For most of his college football career, he wasn't exactly setting the world on fire. After sitting out his grayshirt year, Michael played sparingly as a freshman in 2013. In 2014, he appeared in nine games and had just four receptions, though two were for touchdowns. Finally, in 2015, he began to break through. Splitting time at tight end with Alex Zmolik, Michael caught 21 passes for 234 yards and four touchdowns. Good numbers, but nothing like the eye-popping stats he has been putting up this season. For Michael, it's been a long time coming.
"I won't lie, it hasn't always been easy," said Michael. "Lots of times I would call my mom because I wasn't playing, or no balls were coming my way. But I can pretty much get through anything. It really comes down to how you view things. I've used everything that's happened to me in positive light. If I didn't, I might have self-destructed by now."
Those words have special meaning for Maria. No one is enjoying his success this year more than she is. After all, she never had any doubt he would be a success.
"I'm so loving it," she said. "I kept telling him his time would come. So this year with all the success he's having, I told him, this, right here, right now. This is your time."
Has anyone ever deserved it more?