Please submit your class note to: Amanda.Schwartz@utoledo.edu
'70's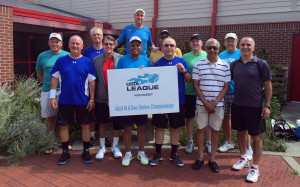 James "Skip" Aston (Bus '73), Tony Donofrio (Bus '80), Kevin Brooks (A/S '92), Srini Hejeebu (RES '96), Supriya Chakravarty (RES '06)
, along with Jack Eid, Dan McCloskey, Ed Nahhas, Gus Safadi, Dave Strup, Frank Viviano, and Max Forster are all members of a tennis team at Shadow Valley Tennis and Fitness Club, located in Maumee, Ohio. They are state champions, Midwest champions, named Team of the Year in the USTA NWO Region, and made it to the nationals, located in Palm Springs, Calif., where they lost to Hawaii, the eventual champions. The team's record for the year was an impressive 17-2.
*Don King (Eng '79) embarked on an adventure to climb Mt. Kilimanjaro, the highest mountain in Africa. King and three friends had a firsthand view of the residing snow and glaciers at 19,400 feet. They also investigated the high levels of fluoride in the water and soil, and enjoyed meeting the people of Africa, converting a couple to become Rocket fans.
'80's
Michael A. Buczkowski (Bus '83) was announced as chief marketing officer in the division of continuing education at the UCLA Extension, located in Los Angeles, Calif. Buczkowski was the founder, owner and CEO of Digit Integration in Chicago, an agency known for the hyper-connected "always-on" social world, fusing big data modeling with a technology platform to publish, listen, monitor and measure. UCLA Extension has over 90,000 enrollments annually. Courses are evenings and weekends in Westwood and Downtown Los Angeles, also offering online degrees.
*Glenn Plumby (MBA '85) was elected to serve on the board of directors for the National Association of Convenience Stores (NACS). Plumby is the senior vice president of operations at Enon, Ohio-based Speedway LLC. NACS serves the convenience and fuel retailing industry by providing industry knowledge, connections and advocacy to ensure the competitive viability of its members' businesses.
'90's
Karen Adinolfi (A/S '92) has been named as vice president of the board of directors for the Akron Area Chapter of the Society for Human Resource Management. Adinolfi is a partner at the law firm of Roetzel & Andress LPA and focuses her practice on labor and employment litigation, regulatory compliance, and union matters.
*Gino Torio (Eng '98, MEng '06) attended freshman orientation with his daughter, Ashlen, over the summer. They discussed that she was a third generation Rocket and between all of the family members combined, held 16 degrees from UT. Gino's father, Dick Torio (Bus '54), is in the hall of fame at UT for wrestling. His mother, Barb Torio (Med '96), sister Mary Torio (Ed '90), brother Richard Coady Torio (Bus '90), sister Sheila Torio (Ed '91, Med '04, Ed Spec '15), brother Anthony Torio (Ed '96, A/S '00, MA '02), sister Angela Torio (Ed '02), and sister Theresa Torio (Ed '03, MHSHS '10, Ed Spec '12) all hold degrees from the University and are proud Toledo graduates.
'00's
| | |
| --- | --- |
| | Dr. Joshua M. Paiz (A/S '09, MA '11) has published his co-edited volume on second language writing with Beijing Foreign language Teaching and Research Press. This book was co-edited with Drs. Tony Silva from Purdue University, Junju Wang and Cong Zhang from Shandong University. |
| | |
| --- | --- |
| Louise M. Schlatter (Eng '99) received The American Institute of Architects Ohio (AIA Ohio) Mentor Award. The award is given to an architect, who through dedication to the profession, has committed themselves to assisting and advancing knowledge and skills of those entering the profession. | |
'10's
Kyle Kubik (Ed '12) is the new principal of pre-kindergarten to grade four at Monroe Catholic Elementary Schools. He will oversee education at the St. Michael and St. John campuses, located in Monroe, Mich.
Births and Marriages
| | |
| --- | --- |
| | Katie Young (MED '14) and Chad Estep wed on September 24 at Hotel Monaco in Chicago. Katie is completing her last year as a resident physician in internal medicine at Loyola University Medical Center in Chicago and plans to pursue a fellowship in pulmonary critical care. Chad recently completed his PhD in neuroscience at Northwestern University in Chicago. |
| | |
| --- | --- |
| Scott Braddock (Eng '05, MEng '08) and Summer Reinke were married on October 15 at the Club at Hillbrook in Chagrin Falls, Ohio in an outdoor ceremony. Scott is employed as an FEA Engineer for Tenneco in Milan, Ohio and Summer works as an artist. | |
Death Notices
Faculty, staff & friends
Daryl Blanchard, Toledo at 82. He joined the faculty as an assistant professor in 1969. He became a full professor in 1978 and coordinated the Architectural Technology Program at the former Community and Technical College. He taught in the Engineering Technology Department until 2014.
Dr. Ray A. Brinker, Marshfield, Wis. at 84. He joined the MCO faculty in 1984 and was professor of radiology with a joint appointment in surgery when he retired in 2006. For a time, Brinker also served as chair of radiology.
William "Bill" Candelore, Clermont, Fla. at 88. He was a former instructor in the ROTC Program.
Marlene J. Corey, Toledo at 80. She worked at MCO from 1992 until her retirement as director of worker's compensation in 1998.
Dr. Frank O. Horton III (MED '73), Toledo at 69. In 1976, he was named a clinical associate professor in the MCO Department of Medicine.
Sandra L. (Rice) Tegtmeier, Northwood, Ohio at 63. She was a former employee of MCO and UT Medical Center.
Dr. John Chrysochoos, Toledo at 82. A physical chemist, he joined the UT faculty as an assistant professor in 1967. The native of the Greek island Ikaria was promoted to associate professor in 1971 and professor in 1976. Chrysochoos served as department chair in 1993 and 1994; he retired in 2003. The avid UT sports fan wrote eight books, including "Longevity," "In Reason We Trust," "Elusive Dreams," and "Ikaria – Paradise in Peril."
**Dr. Andrew Delbecq (Bus '58), Almeda, Calif. at 80. He was a lecturer at UT in 1959 and 1960. After receiving master's and doctoral degrees, he returned to Toledo as an assistant professor of general business in 1962 and was an associate professor or organization behavior when he left UT in 1967.
Churton Budd (A/S '91, UTCTC '93), Toledo at 52. He worked at MCO and UTMC from 1987 to 2015. Over the years, he was a laboratory technician, paramedic, emergency nurse, and systems analyst in clinical informatics. Budd worked on the scene of disasters, including Hurricane Andrew in Florida and New York City after 9-11.
Lucielle F. "Luci" Gorski, Perrysburg, Ohio at 86. She was a member of Women & Philanthropy at UT. Gorski was on the grants committee for the volunteer organization that promotes the University through grants and UT initiatives.
Fred Lewis Schierloh, Temperance, Mich. at 72. He was a former UT employee.
Ellen M. Clarke, Toledo. She was a former MCO employee.
James "Jim" Dyko (A/S '69) Toledo at 69. He was an associate lecturer in the Judith Herb College of Education from 1998 to 2013. Dyko also coordinated the sign language program.
50's
**Joanne Juergens (Ed '50), Fort Wayne, Ind. at 87.
Charles Rymers (Ed '50, Med '53), Elmore, Ohio at 88.
Linda Wilgus Taylor (Ed '51), at 87.
John Huffer (Law '57), Port Clinton, Ohio at 84.
60's
Occie Burt (Ed '65), Cincinnati, Ohio at 79.
Gerald Hendricks (Med '65), Bryan, Ohio at 98.
70's
Peggy Coleman (Ed '73, Med '77), Toledo at 76.
Mary Haefner (Ed '71), Toledo at 98.
James Wesolowski (UTCTC '74), Toledo at 63.
Edward Sobczak (UTCTC '72), Lake Oswego, Ore. at 92.
80's
Dr. Lee Bowlus (MED '80), San Diego, Calif. at 61.
Carol Walker (A/S '83), Toledo at 62.
Berry Whitehead (Univ COll '85), Melbourne, Fla. at 93.
90's
Dr. Bonita Buckley (PhD '90), Toledo at 89.
Betty Liller (Ed '90, Med '97), Grove City, Ohio at 67.
00's
Dr. Susan Meisner (Pharm '01, PharmD '03), Brownstown Township, Mich. at 46.
*Annual Alumni Association Member
**Lifetime Alumni Association Member