COBI recognizes outstanding alumni from each department
within the college
by Bob Mackowiak
The University of Toledo College of Business and Innovation held its first Departmental Alumni Recognition event on Thursday, April 13 to honor five outstanding alumni who represent the departments within the college. Recognized during the ceremony were: Accounting – Adele Jasion; Finance – Darren Munn; IOTM – Otto Steele; Management – Christine Menard; and Marketing and International Business – Russell Ely.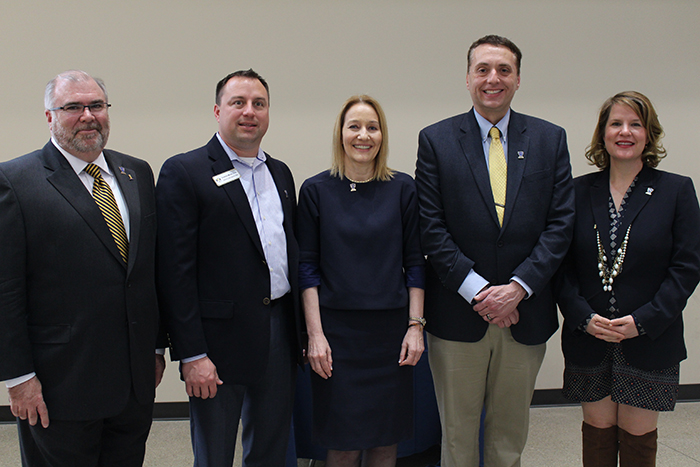 "Each of these individuals is a tremendous representative of our college," said COBI Dean Gary Insch, "We established this new award to thank them for their commitment to the UT College of Business and Innovation to congratulate each of them on their professional success…all built upon what they learned here at COBI."
The chair from each represented department introduced a recipient, who then spoke about his or her favorite memories of UT and personal business success.
The ceremony was held in the atrium of the Savage & Associates Business Complex.
The inaugural recipients were:
Adele Jasion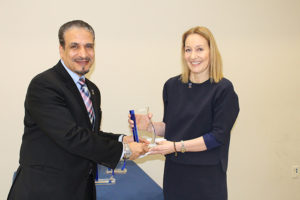 Adele Jasion is a proud graduate of The University of Toledo with a BBA in accounting and systems. While at UT, Jasion was active in Beta Alpha Psi, Beta Gamma Sigma and the Delta Delta Delta sororities. She also was a student Pacemaker award recipient.
Jasion is a founding partner of Gilmore Jasion Mahler, LTD. With more than 100 professionals, the public accounting firm is one of the area's largest. Jasion specializes in auditing and risk advisory consulting services. Prior to the establishment of GJM in 1996, she started her public accounting career at Ernst & Young. Jasion works with clients in the public and private sectors in a variety of industries, including manufacturing and distribution, construction, health care, nonprofit and service industries. She also is in charge of overseeing the firm's system of quality control and is a quality reviewer in the practice monitoring program of the American Institute of Certified Public Accountants.
Jasion is a member of the American Institute of Certified Public Accountants, the Ohio Society of Certified Public Accountants, the Institute of Internal Auditors, and the Institute of Management Accountants. She is a past president of the Toledo Chapters of the OSCPA and IMA. In addition to holding a CPA certificate, she has certification in Risk Management Assurance and is a Chartered Global Management Accountant.
Jasion is committed to supporting the local community. She has been active on many local boards and is a past "20 Under 40" recipient. Currently, she is involved on the boards of the Toledo-Lucas County Convention and Visitor's Bureau, the Library Legacy Foundation, the Stranahan Theatre and the Toledo Urban Federal Credit Union, along with the Metroparks Audit Committee. Jasion is also a survivor of a rare cancer known as PMP and is actively involved in the PMP Pals support group for patients with this cancer. She travels around the country on behalf of the organization to help raise awareness and educate those affected.
"This recognition is an incredible honor for me," Jasion said. "I am truly humbled and appreciative of the acknowledgement of my professional, community and personal achievements. I remain connected to the UT College of Business because I know the students there today will succeed with the same type of support, encouragement and motivation that I received during my days as a UT College of Business student."
Darren Munn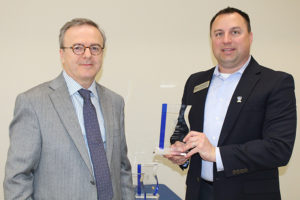 Darren Munn is chief executive officer and chief investment officer of Camelot Portfolios, LLC and its sister companies: Munn Wealth Management, Camelot Funds and Camelot Advisors. Munn founded what would become Munn Wealth Management when he started his practice in 1998, and created Camelot Portfolios in 2008, as fellow advisors sought out his investment management expertise. He is the lead portfolio manager for two mutual funds started and advised by Camelot Funds: Camelot Premium Return Fund and Excalibur Small Cap Income Fund.
Munn graduated summa cum laude from the UT College of Business in 1999 with a major in finance and a minor in business law. He earned the Chartered Financial Analyst designation in 2002.
Munn's passion is to have a positive impact on the lives of others, especially in the areas of financial stewardship, professional development of young people, and helping those in need. He serves dozens of ministries and organizations with gifts of time, talent, and treasure.
Munn's greatest area of impact is his family. He and his wife Erin have nine children and one grandchild, and he is happy playing with, teaching, training and mentoring them. Darren and Erin love to travel together and hope to visit one new country and one new state each year.
Otto Steele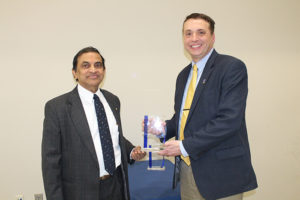 Otto Steele is a global components supply chain optimization leader who works at Owens Corning, where he helps enable the supply chain to provide exceptional customer experiences while utilizing world-class capabilities.
Steele has a passion for inspiring the careers of students at The University of Toledo. Over the past 10 years, he has mentored past and current COBI students through speaking engagements, offering career services and recruiting for Owens Corning. Through his recruitment efforts, he has helped start the careers of many University of Toledo COBI supply chain students.
Steele has worked at Owens Corning for the past 13 years in all areas of supply chain. Through the years, he has been involved in sales and operations planning, material planning, warehousing, sourcing, production scheduling, customer operations, inventory management and multiple Enterprise Resource Planning deployments.
He is a strong advocate for education and personal development. He has been an active member of the Toledo American Production and Inventory Control Society chapter for more than 20 years; has led the APICS' Certification in Production and Inventory Management review courses; and has instructed part-time at The University of Toledo.
Steele holds a bachelor's degree in business in operations management and information systems from The University of Toledo. He is both CPIM and CPM certified, and he is the professional chair of the University of Toledo's Supply Chain Advisory Board.
Christine Menard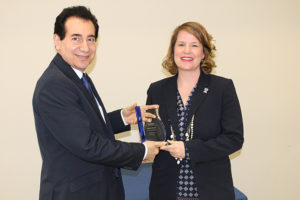 Christine Menard has almost 15 years of human resources experience, including over a decade in the financial industry (primarily global asset management, institutional and real estate investment). Prior to joining Oppenheimer Funds in 2013, Menard spent most of her career at UBS Global Asset Management. She began as an HR manager in New York and Connecticut, serving the global real estate investment business, and then as director of HR Performance, Reward & Analytics in London, England, where she led a global team of HR officers to deliver the division's performance management, talent, compensation and promotion cycle. She also has worked in recruitment and HR management at GE Commercial Finance in California, for the Northwestern Mutual Financial Network and for Danaher Corp.
At Oppenheimer Funds, Menard began in Colorado as a human resources relationship manager for the Transfer Agent and Global Operations, where she drove and aligned business initiatives with HR strategy among various HR functions (learning and development, talent acquisition, compensation, HR operations, etc.). She now serves Technology and Global Operations through Organizational Development & Learning. In this role, she advises and serves in areas such as leadership, transformation, talent and performance management.
As vice president on the TIED (Talent, Inclusion, Engagement, Diversity) board of directors, Menard focuses on diversity and inclusion business challenges and solutions that have a positive impact on employees, markets, customers and shareholders. TIED is a global diversity leadership roundtable that engages organizations with a Colorado presence in collaborative dialogue about diversity, inclusion, employee engagement, business resource groups, recruitment, retention, and career/leadership development initiatives. She is also an active volunteer with the Blind Institute of Technology, which prepares the visually impaired and the employers who hire them for success in the workplace.
Menard was recognized in 2015 as an HR disrupter and was given the opportunity to challenge more than 300 HR professionals to "put the 'human' back in HR." She has received her senior professional in HR certification and holds a bachelor's degree and an MBA from The University of Toledo in human resource management and organizational development with a minor in marketing.
Russell Ely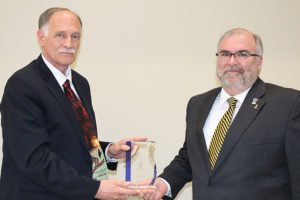 Russell Ely directs business development for Palmer Conservation Consulting, an energy conservation consultancy, where he has worked for five years. Prior to that, Ely was an analyst at Libbey Owens Ford (now NSG/Pilkington); K-12 marketing manager at Siemens; and branch manager at Johnson Controls, Toledo.
Ely obtained a certification in Leadership in Energy and Environmental Design, Accredited Professional from the U.S. Green Building Council and is a Certified Measurement and Verification Professional from the Association of Energy Engineers.
While at UT, he was a vice president of student government; freshman camp director at the University YMCA; vice president of the Interfraternal Council; and active with Sigma Phi Epsilon.
Ely served as the College of Business alumni affiliate president in the late 1980s; served on the UT Alumni Association Board in the 1990s, including as president in 1996 and 1997; and hosted UT's first international alumni event, celebrating the Sailing Club's successful competition in the International Collegiate Sailing Regatta, La Rochelle, France, 2015.
His UT volunteer work includes being a mentor with the UT Chapter of the National Science Foundation's I-Core Program and serving on the UT Foundation development committee. In his profession, he has volunteered with the U.S. Green Building Council, Toledo chapter, as a founding member; Energy Services Coalition (national board); the Society of Automotive Engineers, Detroit section vice-chair; Automotive Marketing Research Council (national board member); and Sales and Marketing Executives, Detroit. In the community, he has volunteered with the Toledo Area Chamber of Commerce, the Family Outreach Community United Services and the Boy Scouts of America.