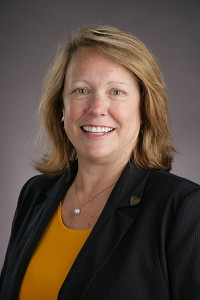 State of the University strong
I appreciated the opportunity to address more than 600 faculty, staff, students and community members at my first State of the University address on April 5. Over the past 22 months, we've made significant progress together here at Rocket Nation.
Chief among our accomplishments was making progress on our five fundamental goals: to raise the University's national reputation; increase our enrollment, our externally funded research and our fundraising; and ensure a UT degree remains affordable.
To help address a multimillion-dollar budget shortfall, I'm pleased to report we've realized $50 million in savings through spending reductions, new revenue and cost avoidance. And, thanks to our Advancement division, fundraising has increased 69 percent year-to-date–a nine-year high that totals more than $17.2 million.
Additionally, alumni-giving has more than doubled, an indication that you understand our considerable need to create more student scholarships and endowed professorships, while also funding research, updating our facilities and supporting other crucial initiatives. Thank you!
I also applaud the tremendous accomplishments of our faculty and physician researchers; last month we formally recognized top reserchers who, along with other faculty, have brought in more than $225 million in sponsored research over the past five years. This year, new competitive research awards already are 45 percent higher than the prior year, and research opportunities for undergraduate students are expanding, fostering student success.
Both our College of Law and the Judith Herb College of Education recently climbed several slots in national rankings, while our master's in nursing ranks No. 11 in the U.S. and our surgical residency program ranks No. 14.
Along with myriad achievements, however, there also are significant challenges in the future for the University, in part because of an additional two-year tuition freeze proposed by the state, along with the governor's suggestion that Ohio public universities also be required to cover textbook costs totaling more than $300, which would cost UT $14 million annually.
While numerous cost-saving measures already have been implemented to help address our fiscal challenges, further action can be expected. I am proud that the University continues to be a careful steward of our resources as we will look for innovative ways to reduce expenditures.
New announcements include UT receiving a stable outlook from Moody's and Standard & Poor's, indicating a solid foundation. Also, fiscal year-to-date UT has increased its news coverage in local and national media by 30 percent, totaling 23,000 mentions.
Moving forward, we will mandate Title IX and ethics training for staff and faculty beginning in July, and we are creating an ad-hoc task force on sexual assault awareness and prevention to further ensure our students' safety.
In summary, the state of the University is strong, yet we envision UT becoming even stronger! With our comprehensive program and degree offerings; exceptional faculty, physicians and staff; better-prepared students; improved rankings; increased research and fundraising; and improved engagement with our community, alumni and donors, I see no reason why your alma mater cannot be a nationally ranked, comprehensive, public research university that becomes the postsecondary institution that anchors the northern part of the state.
I am extremely proud to be UT's 17th president, and I hope you share my passion and excitement for the momentum we are building together. Please help to spread the good news about our continued progress, and my sincere thanks for your ongoing support.
Go Rockets!
Dr. Sharon L. Gaber
President, The University of Toledo
Editor's note: President Gaber's State of the University address may be viewed at https://youtu.be/G9GrwsyIEuk.