Please submit your class note to: Amanda.Schwartz@utoledo.edu
'60s
D.J. Donaldson (UTCTC '62), released his novel, "Assassination
at Bayou Sauvage," a murder mystery set in New Orleans.
'70s
Dennis Acuna (Bus '79, MBA '81) received the 2016 Doctoral Student Service Award from the Association for Information Systems. The Student Service Award was established in 2014 to recognize doctoral students who have provided service within the research, teaching, practice and study of information systems worldwide.
**Dr. James W. Fenton (Bus '70, MBA '73) was hired as the Florida Southern College dean of the Barney Barnett School of Business and Free Enterprise. Florida Southern is located in Lakeland.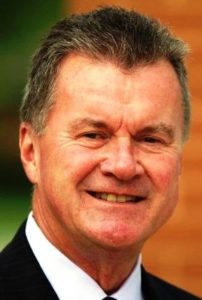 Nathan Weaks (MBA '79) joined the Henry County Bank and its holding company, Comunibanc Corp., as a member of the board of directors. Weaks is the president of the Automatic Feed Co., located in Napoleon, Ohio.
Paul D. Kanneman (A/S '78, A/S '78) joined Simmons Bank as executive vice president and chief information officer. In his role, Kanneman's duties include management of information technology infrastructure, physical and information security, data analytics, business applications, and information technology project management.
'80s
*Joseph Lupinski (Eng '89) became the chief operating officer of Detroit Manufacturing Systems. The company manufactures and assembles injection-molded interior trim components.
| | |
| --- | --- |
| | Dr. Craig Kolins (MEd '89, PhD '99) joined Mt. Hood Community College, located in Gresham, Ore., as the chief of staff. Kolins will be the president's principal liaison and function as a bridge between the administration, students and faculty. |
Dr. Joseph A. Moore (A/S '82, MS '86, MED '87) has joined the Citizens Memorial Hospital's Heart Institute Clinic, located in Bolivar, Mo. Moore is board-certified in interventional cardiology, cardiovascular disease and internal medicine.
Daniel V. Stark (Eng '80) was named the 2017 Toledo Area Engineer of the Year by the Toledo Society of Professional Engineers. The award is given annually to a member of the engineering community in recognition of the accomplishments and achievements that he or she has made to the engineering profession and the community. Stark is a senior preconstruction and operations leader for the Rudolph Libbe Group GEM Process Solutions team.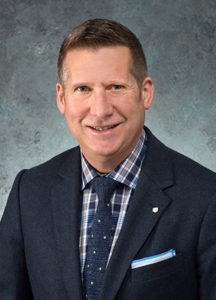 David Jacobs (A/S '88, A/S '88) was welcomed as the new editor of the Pahrump Valley Times in Pahrump, Nev. Jacobs previously worked in Tonopah, Nev., as a reporter for the Tonopah Times-Bonanza.
'90s
**Dr. Samir R. Patel (MED '95) was appointed to the board of directors of AntriaBio Inc., a biopharmaceutical growth company specializing in the development of innovative drug therapies for patients with diabetes and metabolic diseases. AntriaBio is headquartered in Louisville, Colo.
| | |
| --- | --- |
| | Dr. Barbara (Kooiker) Bushman (PhD '95) served as editor and authored five chapters of the second edition of the "American College of Sports Medicine's Complete Guide to Fitness & Health." The book includes the most current exercise and nutrition guidelines along with assessments, exercises, activities and programs for varying ages, special conditions and fitness goals. |
James P. Sigafoose (Bus '96) was hired as director of finance and corporate secretary of Fairfield Homes Inc., located in Lancaster, Ohio. Sigafoose will oversee the accounting and finance functions for the company's development, construction and property management businesses.
Rob B. Griffey (Bus '94) joined Hallmark Home Mortgage as the Midwest regional manager in the Fort Wayne, Ind., office. Hallmark was established in 2007 and has 20 locations throughout Indiana, Ohio and Colorado.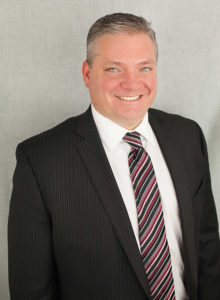 *Shandra Niswander (MA '97) was promoted to director of development at Arlington Thrive, an organization in Arlington County, Va., that provides same-day, emergency financial assistance to county residents who experience sudden financial crisis.
'00s
Christine Linder (Eng '04) was recognized by the Manufacturing Institute with a Women in Manufacturing STEP (Science, Technology, Engineering and Production) Ahead Award for 2017. The STEP Ahead Awards program recognizes women who have demonstrated excellence and leadership in their careers and represent all levels of manufacturing from the factory floor to senior executive leadership. Linder is a manufacturing services manager at the Cooper Tire manufacturing facility in Texarkana, Ark.
'10s
| | |
| --- | --- |
| | Dr. Karen Miller (PhD '14) became Cuyahoga Community College's provost and chief academic officer. The college is located in Cleveland. |
Births and Marriages
Joel Wise (Law '06) and Dr. Rebecca Justin announced their engagement and plan to be married on Aug. 26. The ceremony will take place at the Huntington Club at Spartan Stadium on the campus of Michigan State University in East Lansing. Joel is employed by the U.S. Government in Detroit, and Rebecca is employed by Michigan State University's Sparrow Hospital in East Lansing.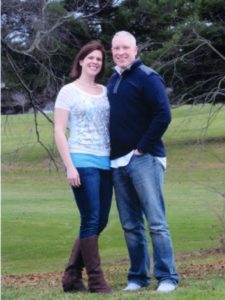 Sara Vandevelde (NSM '14) and Ian Doom were joined in marriage on Oct. 22, 2016, at St. John the Baptist Catholic Church, located in Monroe, Mich. Sara is the quality systems lead analyst at Fresenius Medical Care in Oregon, Ohio, and Ian is a customer service representative at HSN in Toledo.
Lauren E. Hisey (LLSS '14) and Michael J. Reining were married at Baker Street Train Station in Fort Wayne, Ind., on Aug. 6, 2016. Lauren is a research project lead at the Parkview Research Center, and Michael is a financial service professional at West Point Financial Group.
Allison Elizabeth D'Anniballe (NRS '12) and Jacob Ryan Held (NRS '12) are engaged and have planned an Aug. 12 wedding. Allison is employed as a registered nurse at University Hospital Rainbow Babies Children's Hospital in Cleveland, and Jacob is employed as a registered nurse at University Hospital Cleveland Medical Center's Harrington Heart and Vascular Institute.
Kaitlin Miller (NURS '12) and Alex Hanus announced their engagement and have planned a wedding on Sept. 16. Kaitlin is a registered nurse with Mercy Health in Toledo, and Alex is employed with Kerns-Liebres in Holland, Ohio.
Capt. Michael C. Noel (A/S '10) and Katey Adams are engaged and planning a Sept. 23 wedding at St. Francis Barracks in St. Augustine, Fla. Keith served in the Army for eight years and is currently a battalion communications officer stationed at Fort Bragg, N.C., and Katey is a kindergarten teacher in North Carolina.
Death Notices
Faculty, staff & friends
Charles A. Balciulis, Chicago, Ill., 87. He was a former head baseball coach, assistant football coach and instructor of physical education at UT.
Richard H. Carl Jr., Toledo, 54. He was a member of the UT Police Department from 1990 to 2007.
Ronald R. "Ron" Boerst, Toledo, 95. He was a former Satellites Auxiliary member.
Janet M. Cornwell, Toledo, 71. She joined the UT staff as a custodian in 1992 and retired in 2010.
Vera Cramer, Toledo, 94. She was a former food service employee at the University.
Gloria Poplawsky Dean, Rocky River, Ohio, 90. She joined the UT faculty as an instructor in 1968 and worked her way up to professor. She served as chair of the department for five years before retiring in 1988. Her UT service included the Community and Technical College's Operations Council as well as Faculty Senate.
Dr. Harlan E. "Gene" Wysong, Nokomis, Fla., 86. He joined the UT faculty as an associate professor in 1969 and was named full professor in 1974. Wysong served as department chair from 1984 until his retirement in 1986.
**Thomas H. Durnford (A/S '68), Sylvania, Ohio, 90. He was the director of publications and graphics from 1965 until his retirement in 1989. Durnford also taught a graphics class for the Communications Department from 1994 to 2002. He designed the brown-and-cream UT signs that were placed in front of University Hall and at the corner of Parkside Drive and Nebraska Avenue at the Scott Park Campus in 1984. Durnford also provided a sketch for the ceremonial mace that was created in honor of the University's 100th anniversary in 1972.
Ruth S. Flaskamp, Toledo, 89. She was an instructor who taught education classes from 1997 to 2002.
Johnnie L. Hunt, Toledo, 84. She was a custodian at UT for 17 years until her retirement in 1999.
Patricia A. (Eichenlaub) Kurek, Oak Harbor, Ohio, 89. She was a former UT employee.
Lloyd E. Rawlins, Tipton, Mich., 71. He was an environmental engineer in Energy Management from 1985 until his retirement in 2010.
Herbert Robinson Sr., Toledo, 75. He was a manager in Housekeeping at MCO from 1979 to 1996.
Janet R. (Beach) Yeager, Toledo, 63. She was a nurse in Hematology and Oncology at UT Medical Center from 2001 until her retirement in 2008.
Patricia L. (Smith) Orosz, Toledo, 82. She was a manager in Housekeeping at UT for more than 20 years.
**David Bennett, att. 1951, Perrysburg, Ohio, 87.
*V. Carole Samberg Clark, att. 1959, Colorado Springs, Colo., 89.
'40s
Richard Oliver (Eng '48), Austin, Texas, 94.
**Olive Ruettinger (Ed '48), Palmetto, Fla., 90.
Dr. John Sawyer (A/S '47), 89.
'50s
Ramon DePaul (Pharm '58), Orlando, Fla., 82
Daniel Jamieson (Bus '52), Leland, Mich., 88.
James Magoun (Bus '57), Perrysburg, Ohio, 85.
Thomas Hughes (Eng '57), Lambertville, Mich., 82.
**Carolyn Churchill Colwell (Ed '56), Sylvania, Ohio, 84.
Harold Crawford (Bus '56), Walnut Creek, Ohio, 89.
Beatrice Roth (Pharm '54), Grandview Heights, Ohio, 85.
**Bruce Demers (Bus '51), 66.
Thomas Taylor (Bus '57), 83.
Patricia Tuma (Ed '56), Elmore, Ohio, 82.
Shirley Rotterdam (Ed '54), Toledo, 85.
'60s
Jack Hoenig (Eng '68), Toledo, 72.
Clyde Hoops (MBA '67), Waskom, Texas, 79.
**David Shapiro (Eng '64), Holland, Ohio, 75.
Joe Padilla (Eng '63, Ed Spec '87), Bradenton, Fla., 82.
Charles Paffrath (Bus '69, MBA '71), Swanton, Ohio, 45.
Alice Myitray (A/S '66), Medina, Ohio, 71.
Verda Buck (Ed '67, MEd '73), Temperance, Mich., 89.
'70s
Carl Lohman (Eng '76), 63.
Sharon Friedman (UTCTC '78), West Bloomfield, Mich., 71.
**Bruce Demers (Bus '71), Toledo, 66.
Sandra Capatosta (Ed '74), Jacksonville, Fla., 64.
**Barbara Karp (A/S '75), 84.
**Joan Oswald (UTCTC '78), Amissville, Va., 60.
Mary Hart (MEd '78), Gibsonburg, Ohio, 74.
Steven Ludlow (Univ Coll '78, MBA '82), 67.
Rita Kelley (UTCTC '76), Toledo, 61.
Gregory Bair (Ed '77, MEd '81), Grove City, Ohio, 64.
'80s
James Coldwell (Univ Coll '80), Holland, Ohio, 78.
Hugh Taylor (Law '86), Waterloo, Ind., 68.
**Lawrence Wolfram (Bus '82, MBA '84), Celina, Ohio, 67.
Dr. Eric Koepfler (A/S '80, A/S '80), Myrtle Beach, S.C., 61.
Arthur D. Hamilton (UTCTC '80, Eng '83), Rockford, Mich., 57.
G. Allan Fillman (MA '89), Paulding, Ohio, 62.
James Marquard (Bus '88), Lakewood, Ohio, 51.
Robin Shellhammer (UTCTC '80), Oregon, Ohio, 60.
Patricia Frost (UTCTC '89, Univ Coll '91), Toledo, 64.
'90s
Joanne Speegle (UTCTC '96, Univ Coll '99), Toledo, 81.
Pamela Mengel (UTCTC '93), Perrysburg, Ohio, 66.
Margaret McLoughlin (Univ Coll '91), Monclova, Ohio, 48.
Keith Beck (MEd '93), Bloomdale, Ohio, 59.
Patricia Murphy (UTCTC '96), Santa Fe, N.M., 65.
Lloyd Rawlins (UTCTC '90), Tecumseh, Mich., 71.
Jeffrey Lowden (A/S '95), Sylvania, Ohio, 49.
'00s
Hugh Friedman (HSHS '09), Toledo, 73.
Korri Lake (A/S '03), Monument, Colo., 38.
Kenneth Cunning (A/S '03), Toledo, 53.
*Annual Alumni Association Member
**Lifetime Alumni Association Member