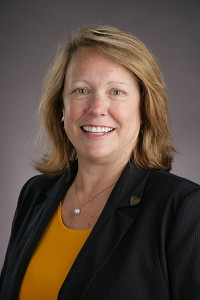 New programs support financial stewardship, accountability, transparency
"Innovative" is a word used to describe many activities at The University of Toledo. Pioneering research. New academic offerings. Cutting-edge clinical treatments.
More recently, I believe we also can use "innovative" to describe UT's financial accountability … not only to Ohio taxpayers, but also to anyone who invests in our mission, including our alumni, donors, faculty and staff.
Long gone are the days when public research universities could solely rely—and thrive–on state funding and philanthropy. With state and federal legislators proposing continued cutbacks to higher education, including postsecondary research, more so than ever before we must look for innovative ways to curtail spending while generating new sources of revenue.
For that reason, in recent months the University has launched a host of new programs that accentuate fiscal stewardship, accountability and transparency, while being innovative in higher education. One example is the Voluntary Separation Incentive Program, which 118 faculty and staff members took advantage of last month, saving our operating budget approximately $4.8 million in the fiscal year beginning July 1, 2017, and nearly $8.4 million during the next year.
Additionally, UT will implement a new parking program this fall that will increase the cost of parking permits for faculty and staff for the first time in at least 10 years. Because parking-related costs are not subsidized by the state, this revenue is crucial in maintaining UT's aging parking structures and surface lots.
A new winter break schedule also is being implemented, primarily on Main Campus. Beginning this December, UT is shutting down most University operations from December 25 through January 1—a time when most departments are slow. This will reduce costs by an estimated $250,000 through decreased utility and maintenance expenditures, while we still maintain crucial functions, such as hospital operations at The University of Toledo Medical Center, approved research activities and public safety.
Another measure we have taken is offering a summer leave program again, which encourages employees to take approved time off without pay, producing $80,000 in savings. Further, a new cell phone stipend policy that takes effect in July also will help to reduce UT's expenses—by an estimated savings of $150,000, while aligning with best practices at other universities.
I want to emphasize that while we continue to ensure state-allocated money and our donors' contributions are used prudently, these new programs would not be possible without the support of our faculty, clinicians and staff. I want to publicly thank them for their ongoing contributions and individual sacrifices in order to put our students' best interests first. Indeed, here at Rocket Nation student success and keeping a UT degree affordable remain our top priorities.
Thank you for all of your assistance and ongoing support. Go Rockets!
Sincerely,
Sharon L. Gaber, Ph.D.
President