Rocket wide receiver finds volunteering as natural as catching a football
By Paul Helgren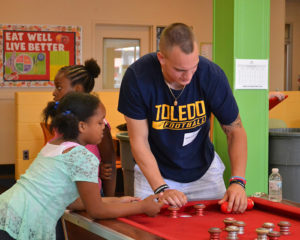 Cody Thompson always knew he wanted to help people. He just wasn't sure where to begin.
Luckily for the senior wide receiver, opportunities for volunteer work are plentiful when you're a Toledo Rocket football player.
"The coaches really encourage us to get involved," said Thompson. "(Director of player personnel) Nate Cole posts a community service opportunity every week that anyone can sign up for. It can be anything from going to the Boys and Girls Club or Toledo Children's Hospital, or reading at an elementary school, or packing meals at Ronald McDonald House. It makes it a lot easier if you want to help out but don't know where to start."
Thompson points to one event in the summer following his freshman season at UT that sparked his interest in volunteer work. That is the first time he experienced "Victory Day," an annual event in which the UT football team hosts students with special needs, allowing them to experience what it's like to be a Rocket football player. After that experience, Thompson decided to sign up for any volunteer opportunity that was available, especially those involving children.
"My favorite event is Victory Day," said Thompson. "It's amazing to be out there with some of the kids who have disabilities or who are struggling in life. On that day they get to be the star for an hour, or if it's the five minutes they score a touchdown with us. The smile on their face is worth more than anything. It takes almost no effort on our part other than being there and being supportive during the time that they are there.
"Some of those kids are fighting through some things I could never imagine. Being able to take their mind off their problems and make them feel like they are on top of the world for an hour is something that anybody can do. It's very rewarding.
"Doing something so small can be monumental to someone else."
Like most student-athletes, Thompson has a busy schedule, juggling the commitment to his sport with class work. Nevertheless, he is usually able to find a few hours each week to volunteer, especially in the off-season.
"It can be challenging at times, but I'm really organized when it comes to my schedule," said Thompson, an Academic All-MAC honoree who will graduate in December with a degree in marketing and a GPA above a 3.6. "I always want to know what's going on, what I need to do next. That way I can know when to fit in studying, whether it's early in the morning or late at night, or in between practice. I'm not a video-gamer or anything like that, so I don't waste too much of my time."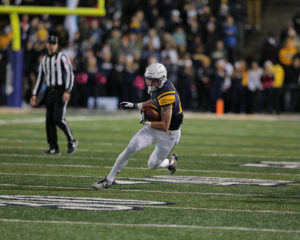 Thompson has certainly made the most of his time on the football field. Last season, he caught 64 passes, 11 of them for touchdowns, and broke the school record with 1,269 receiving yards. A first-team All-MAC selection as a junior, this season Thompson has been named to the official watch list for the Biletnikoff Award, given annually to the nation's top receiver. For his work off the field, he has been recognized as a leading candidate for two national service awards, the Wuerffel Trophy and the Allstate Good Works Team. He is also a solid candidate for Academic All-America recognition, as well as the Campbell Trophy, presented annually to the college football player with the best combination of academics, community service, and on-field performance.
After he graduates in December, Thompson will begin preparing himself for the workouts that hopefully catch the eye of NFL scouts. He hasn't decided yet when he will begin work on his MBA, but that could be begin in January, as well. But whatever he is doing, Thompson knows what he will be doing with his extra time.
"No matter what I do next, I'm going to continue to volunteer to help others in whatever community I'm in. Maybe it's just a family or one kid or a hundred people, it doesn't matter. Helping one person is enough to go out of your way.
"I know if I was in their shoes, I would appreciate it."
no images were found