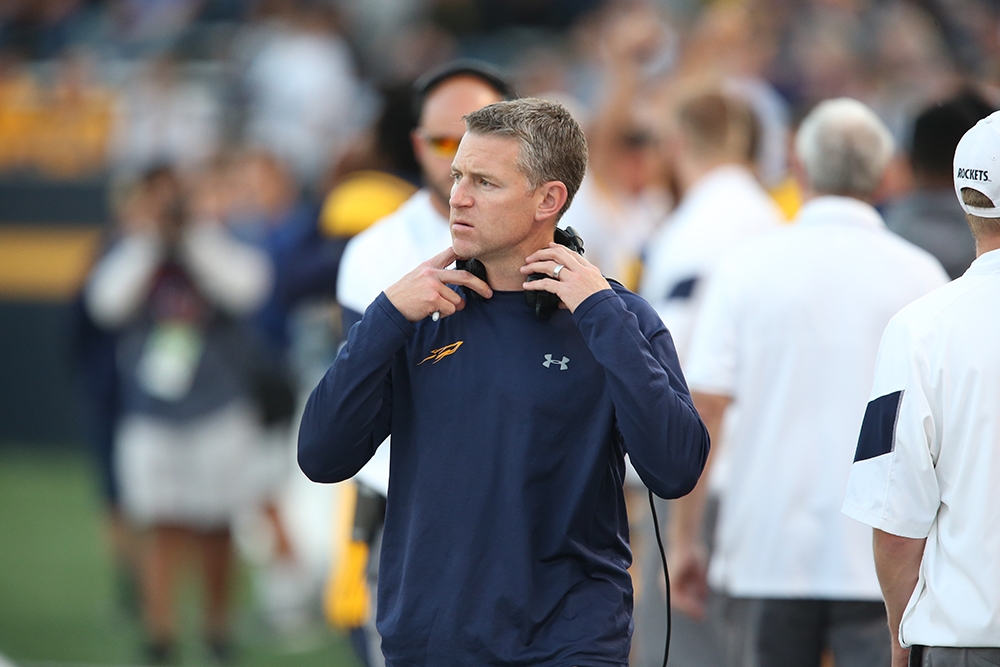 Coming off a nine-win season and with five All-MAC players back in the fold, the Toledo Rockets have high expectations for 2017. Head coach Jason Candle wouldn't have it any other way.
"Each year presents new challenges. Every team is different but there is still one primary goal in mind ­—win a conference championship," said Candle. "A lot of work has to be put in to get to that point. It's a day-to-day approach. We are developing a lot of good senior leaders, and we have the core of our coaching staff back from last year, so I think we're headed in the right direction to accomplish the goal we've set for ourselves.
"The expectations are always there—with our fans, with the media, with ourselves. I'm fine with that. Our players are fine with that. It's our job as coaches to keep our players focused on the process of the day-to-day work it takes to reach our goals. If we do that, we'll be successful."
The Rockets were 9-4 in Candle's debut as head coach, earning a berth into the Raycom Media Camellia Bowl. They came up one game short of their ultimate goal, a trip to the MAC Championship Game, leaving additional incentive for 2017.
A MAC title is at the top of Toledo's goals this season, and once again the Rockets should be serious contenders for the crown. Both the MAC's media and head coaches picked Toledo to win the MAC West title.
UT returns one of the nation's most explosive offenses. Led by senior quarterback Logan Woodside, Toledo averaged 38.0 points per game and led the Mid-American Conference in total offense with a school-record 517.8 yards per game in 2016. Woodside paced the nation with 45 touchdown passes and was named a Heisman contender by the Heisman Trophy Trust. Two of his favorite targets are back—Cody Thompson (64 receptions, 11 TDs, 19.8 ypc) and Jon'Vea Johnson (40/10/19.3)—as is 2015 second-team All- MAC running back Terry Swanson. On defense, the Rockets return seven starters, including All-MAC linebacker Ja'Wuan Woodley.
"We're very excited about this season," said Candle. "We have a great group of senior leaders, and plenty of talent on both sides of the ball. We will have some growing up to do in some key positions, but certainly the talent is there for us to compete for a championship. It'll be fun to watch and fun to go to work and see what this team looks like."