Basketball is introduced to kids at an early age in the hoop-crazed state of Indiana, and for Toledo junior guard Jaelan Sanford it was no different.
"My dad put a ball in my hands when I was about 3 years old and I have loved playing the game ever since," Sanford said. "I played for my dad all the way through high school, and he's the main reason why I'm where I'm at now."
Where Sanford is now is one of the top guards in the Mid-American Conference. He is among the league leaders in scoring and assists following two seasons of learning how to be a successful point guard at the collegiate level.
That development took some time for the Evansville, Ind. native though. Sanford arrived on UT's campus following a prep career that saw him rank among the best prep performers in the Hoosier state. He was a first-team all-state selection and even earned a spot on the Indiana Basketball Coaches Supreme 15 squad for the top players in Indiana regardless of school size. He said it was an easy choice for him to become a Rocket.
"Coming to Toledo just felt right to me after I saw Savage Arena and met the coaches on my recruiting visit," said Sanford, who is majoring in business management. "I'm very glad I came here, because I love the way we play and the way our coaches treat us like family."
When Sanford arrived on campus as a freshman, he knew he would be challenged and was prepared for it.
"The physicality and speed of the college game was a lot different from what I saw in high school," Sanford said. "I spent a lot of time in the weight room preparing for that and tried to study other point guards on film."
As a result of his hard work, Sanford developed into one of the team's top defenders as a freshman while learning the intricacies of the Rockets' offensive playbook.
"We run a lot of set plays, and I wanted to make sure Jaelan was ready to run our offense so we played him a lot at the off-guard," Head Coach Tod Kowalczyk said. "He did a very good job as a freshman and really developed into one of our best defenders."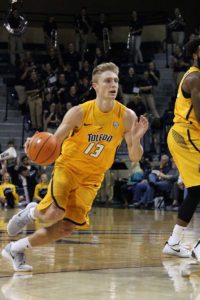 Sanford's hard work as a freshman began to pay dividends last year when he assumed the reins of the Rockets' offense and saw his scoring average rise to 13.6 points per game. In addition, his 2.0 assist/turnover ratio ranked fourth in conference action.
"I really thought Jaelan emerged as one of the top guards in the league last year and deserved to be on the all-conference team," Kowalczyk said. "He really developed into one of our leaders on and off the court over the summer, and I expect big things from him."
Sanford was more than ready to take on an increased leadership role this season with the departure of four seniors from last year's squad.
"I knew I was going to be more of a leader this season, and I learned a lot from Zach Garber and Jordan Lauf about what it takes to be a good leader," Sanford said. "I think we built some good chemistry on our team over the summer, and that's going to really help us have a great season."
Sanford provided Rocket fans a glimpse of the type of special season that he and his teammates hope to provide them in UT's season-opening win over Saint Joseph's. He scored a career-high 31 points and dished out a career-best eight assists in an exciting 98-87 victory. Just the type of performance his father, Bryan, was hoping for when he put a ball into his son's hands for the first time.