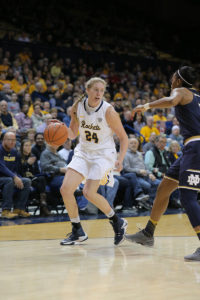 By Brian DeBenedictis
A basketball player who is a "triple threat" is normally defined as someone who can shoot, pass and defend. The University of Toledo senior Michaela Rasmussen is a different kind of triple threat. She is an elite performer on the court, in the classroom and in the community.
A 2017-18 team captain, Rasmussen has posted a perfect 4.0 GPA in biology with a minor in chemistry and Spanish. She has aspirations to become a doctor.
"Right now my interest is surgery," said Rasmussen, a two-time Academic All-MAC honoree. "I'm throwing around the idea of general surgery or possibly something more specialized."
On the court, Rasmussen has started 22 games over the past three-plus seasons wearing the Midnight Blue & Gold. For her career, she is averaging 2.6 points and 2.2 rebounds in 12.1 minutes per contest and played a role in UT's 2017 Mid-American Conference championship.
A versatile player who can play in the post or on the perimeter, Rasmussen has scored in double figures on three occasions as a Rocket, including a career-best 19 points against Atlantic Coast Conference member Virginia in the first round of the 2014 FIU Thanksgiving Classic.
Even with Rasmussen's accomplishments in the classroom and on the court, it is in the community where she shines the most. Rasmussen volunteers regularly with the Sunshine Therapeutic Riding Program in nearby Maumee, which offers therapeutic horseback riding for individuals of all ages with developmental disabilities.
"I became involved in the Sunshine Riding Program almost immediately after I arrived at UT and have volunteered there for the past three-plus years," Rasmussen said. "I try to get there as often as my schedule allows, because I absolutely love it."
Rasmussen's passion for helping those with special needs or disabilities hits close to home. Her 25 year-old brother Nathan was diagnosed with cerebral palsy at an early age. He suffers from poor muscle function and can say very few words. Rasmussen began accompanying him to his therapeutic horseback riding sessions four years ago in Minnesota and saw the joy riding horses brought him.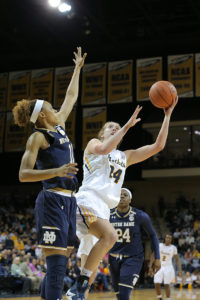 "It's great to see how much Nathan enjoys the therapeutic horseback riding sessions," Rasmussen said. "He really loves the program. Every time he goes riding, his face lights up. This is something he and I do together whenever I'm home. I spend as much time as I can with him. It definitely brings us closer together."
Two years after going with Nathan to his sessions in Minnesota, Rasmussen decided to organize a Special Olympics Unified Basketball Tournament at her high school, Holy Family Catholic. Her goal was to raise additional funds for Special Olympics and to provide an additional tournament for the teams in the conference. After the event was finished, her high school teammates said the way the teams competed and cheered each other on at the same time was extremely impactful, and they were very inspired by it.
"The event was a huge success," said Rasmussen. "It was a one-day, bracketed tournament that every school in our league took part in. Along with that, I organized a "Polar Plunge" into quite a few of the lakes around the Minneapolis area as another way to raise funds for Special Olympics."
Despite having a rigorous academic and athletic schedule since arriving in Toledo, Rasmussen has been extremely active in the community volunteering for many organizations. Not only does she take part in UT's team-organized community service events, Rasmussen also participates in as many other events as possible. Along with the Sunshine Therapeutic Horseback Riding Program, Rasmussen has volunteered for Toledo Sister Cities International Festival as a Spanish translator, served as a companion walker for the Sunshine Walk, and handed out water at the Susan G. Komen Race for the Cure in downtown Toledo.
She has also coached basketball to middle school age children at the Padua Center and Our Lady of Perpetual Help Camp, as well as volunteered at Habitat for Humanity, ALS Walk, Make-a-Wish, and the Glass City Marathon.
Rasmussen's service has not gone unnoticed.
Last year, Rasmussen was chosen for the Women's Basketball Coaches Association (WBCA) Allstate Good Works Team, becoming the first player in program history to be named to this prestigious squad.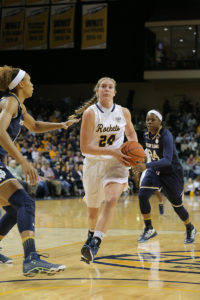 The WBCA Good Works Team honors college basketball student-athletes that have dedicated themselves to improving the lives of others through giving back to their communities. Rasmussen was one of five Division I players chosen along with five student-athletes from NCAA Divisions II, III and NAIA. She and the Allstate WCBA Good Works Team were recognized during the 2017 NCAA Women's Final Four® in Dallas.
"The fact that I was even nominated for this award was a huge honor," Rasmussen said. "I could not have been more excited when I found out the news. Being able to have that experience of going to the "Final Four" and meeting so many individuals who share the same values and love for basketball was awesome."
Head Coach Tricia Cullop knows how special Rasmussen is to UT, her program and the Toledo community.
"Winning a national award like that says a lot about what a great and giving person Michaela is," Cullop said. "Despite having an extremely difficult academic schedule and her tireless dedication and time commitment to basketball, she always finds time to give back to the community and to help others. We're extremely pleased to have such a high caliber person in our program."
And that is the best definition of a true triple threat.