Alumna Shamila Chaudhary links her UT interdisciplinary studies to policy expertise
By Laurie B. Davis
As an undergraduate student, Shamila Chaudhary (A/S '99) developed a strong curiosity about the world and the desire to have a positive impact on it. Enrolled in The University of Toledo's Honors program, now the Jesup Scott Honors College, she was one of a collective of diverse students learning how to explore issues from many interdisciplinary perspectives. From American fiction and poetry to political science and philosophy, a spectrum of disciplines lit up Chaudhary's thoughts and shaped her analytical skills.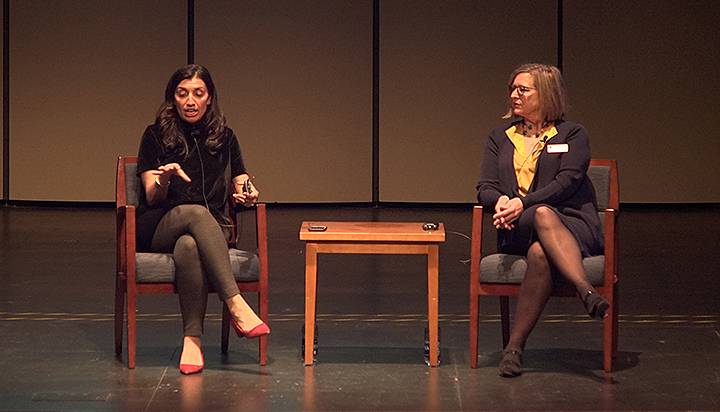 Shamila Chaudhary answers an audience member's question. Dr. Heidi Appel, at right, Dean of the Jesup Scott Honors College, served as the moderator.
It provided a foundation that prepared her for multiple roles she would play in the United States government. Chaudhary, a foreign policy expert in U.S. counterterrorism and national security issues, was an English Literature and Women's Studies major at UT. She returned to campus this month as a speaker in the Jesup Scott Honors College Distinguished Lecture series. Like so many other authors and poets who inspire Chaudhary, American poet Walt Whitman provided inspiration through his famous "Leaves of Grass" for her presentation, "The Meaning of America, at Home and Abroad."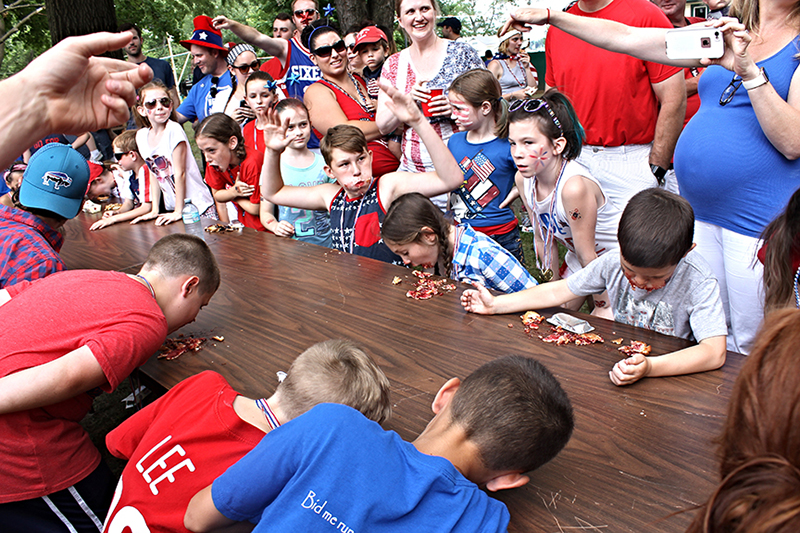 Children participate in a pie-eating contest in Ben Salem, Penn. on the Fourth of July. Photo Credit: Shamila Chaudhary
"It's really through these works of fiction and poetry, and talking about them with the professors, and thinking about them outside of the box of just American literature, that got me curious about the rest of the world," says Chaudhary. "I'd be reading these stories about early Americans coming from Europe to the United States and the transitions and challenges they were going through, and it reminded me a lot of my own family's immigrant experience and that lots of other communities have gone through this — but they came from this Old World. Oh wait, what's the Old World, what was that about, and why did these people have to leave?
"Once I started asking questions like that, I wanted to understand what policies, laws and systems were in place that triggered this kind of migration. All of that came from reading literature. And that philosophy of looking at things through different perspectives was really inculcated in us in the Honors program," she says.
Foreign policy, post-9/11
She became interested in many subjects and studied political science and sociology, and she looked at socio-economic issues through the lens of women's studies. "All of that led me down this path of wanting to do work that had actual, practical impact on the world. I wanted to go somewhere where I could have a larger impact and could learn things quickly, absorb things, and have a lot of access to resources and information, and Washington, D.C. was the place for that."
Chaudhary says she had to catch up on the requirements to study international affairs for her graduate degree, such as studying a foreign language and economics. She earned an MA in International Affairs from the American University's School of International Service. She then entered a job market that was flush with new voices who wanted to be heard in Washington's political arena.
When Chaudhary was still in graduate school, the 9/11 attacks occurred. That national tragedy, which changed the American psyche about safety and security, also opened up opportunities for an entire generation of foreign affairs professionals, like Chaudhary. She says the majority of opportunities were in national security, counterterrorism and homeland security because those were the biggest issues the U.S. government was facing at the time.
"I kind of got sucked up in that world, and I think it was a really powerful learning experience because it was a time of great turmoil for the world in trying to understand who these terrorists and non-state actors were. What was their goal, and why did they do this? A lot had to do with unpacking history. When you work in foreign policy it's not just about what happened today or yesterday, it's actually about what happened, often cases, 50 years ago. It showed me that I have so much more to learn. It's a constant education."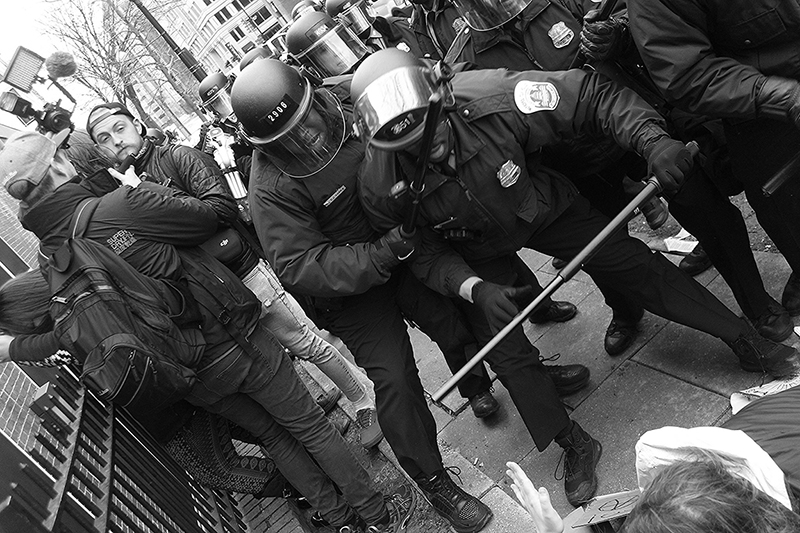 Riot police deal with protesters in Washington D.C. during the inauguration of Donald J. Trump. Photo Credit: Shamila Chaudhary
Balancing humility and ambition
Chaudhary joined the U.S. Department of State in 2004 and worked on policy issues in Indonesia under the George W. Bush administration. She immersed herself in all affairs related to South Asia and her native Pakistan for a position on the Pakistan desk, a role she held from 2007-2009. She became part of the State Department's policy planning staff, advising the late Ambassador Richard Holbrooke on Afghanistan and Pakistan, as well as working with Secretary of State Hillary Clinton.
"I was fortunate enough to be invited to a briefing with her during her first week of work," says Chaudhary of Clinton. "Some of my bosses had invited me. I didn't say anything. I'm the most junior person there. At the end of the meeting, she asked me if I had anything to say. This is like a do-or-die moment. I need to say something, or it's over. I actually had some views, and I wanted to say something. What I said was a little bit opposite of what my bosses said." Clinton responded: "'Good, I'm glad you said that. It's really important for us to have debate, to have dialogue and to disagree.' The next day I got a job offer from her office."
Chaudhary stuck with policy planning and took time to build relationships with the people she met in the Department of State as well as those in the White House. "Having some humility about your goals and your ambitions, even if they're large, is a beneficial quality to have in that kind of environment. This is something I was taught at UT, with Dr. [David] Hoch, Dr. Tom Barden, who was head of the English Department at the time, and my other professors who encouraged us to focus on the content and not on the competition. I think that never left me. I took great care of the substance of my work in Washington. I immersed myself in working on Pakistan and South Asia, and looking at security issues, and people noticed that."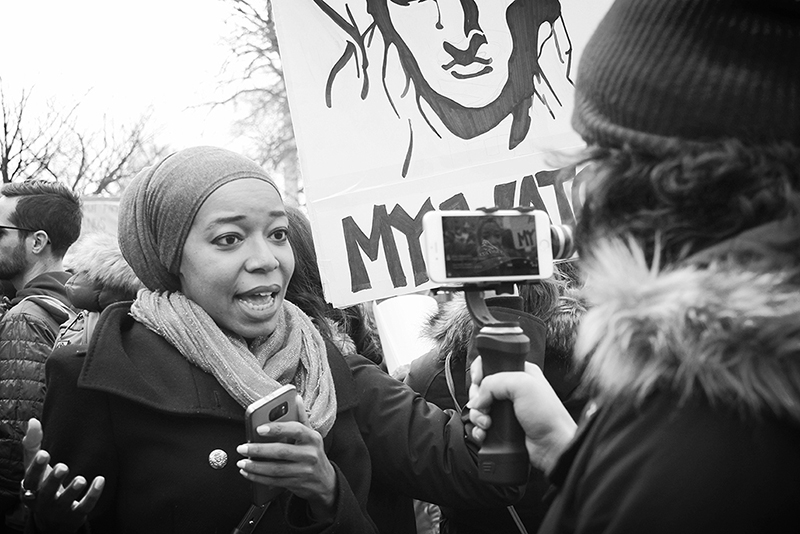 A woman protests outside of the White House after the Trump Administration issued the 'Muslim ban.' Photo Credit: Shamila Chaudhary
Her opinions and analysis of international issues gained respect, and other opportunities arrived. Chaudhary was invited to serve in the White House as Director for Pakistan and Afghanistan on the National Security Council. "You don't plan for that," says Chaudhary. "I told someone yesterday how I didn't think I was that ambitious. I hadn't come out of the closet yet, and then the White House just pulled it all out of me. I was like, what happened?"
Departure for a new dialogue
Over the 12 years Chaudhary served in government during both the Bush and Obama administrations, a great deal happened in America's affairs abroad. U.S and NATO forces invaded Afghanistan to fight the Taliban; the United States went to war in Iraq; the U.S. military carried out drone strikes in multiple countries in which terrorists were hidden; and 10 years after the Twin Towers fell in New York City, U.S. Special Forces killed Al-Qaeda's leader Osama bin Laden. During most of those years of conflict, Chaudhary had helped to decide policy in the geographical regions on which she focused.
She left government work behind in 2011. She says it was "really hard to leave," but she pushed herself. "That's the only life I knew professionally. Working in policy and representing the government has its own prestige and benefits, but you're also not speaking with your own voice. Learning the government perspective and conveying that is a skill unto itself. That's what diplomacy is," she says. "But I reached a certain point where I didn't know what I thought anymore. I didn't know where that stuff stopped and I began," she says. She wanted to do her own brainstorming and try to write for a different audience. "I'm a writer; I was an English major. I think there's something powerful in that, and that would allow me to communicate with people differently."
Chaudhary currently works as senior advisor to dean Vali Nasr at the Johns Hopkins University School of Advanced International Studies, where she's launching a new initiative to view policy issues and international affairs through the visual arts, culture and music. "That's another way of reaching people and having an impact and shaping opinions. I want to explore that part of my brain more." She also is a Senior South Asia Fellow at New America, a Washington D.C.-based think tank. When she's not advising others or answering a media inquiry, Chaudhary is raising her two children and creating her own art as a published photographer and writing her blog. "I want to use that space for exploration and dialogue and not to make definitive statements," she says.
In her photography, Chaudhary documents political history in the making, family traditions, childhood moments, peaceful moments, nature, playful and personal moments: moments that have come and gone but are preserved in images. Her documentary photography captures places teeming with activity, people in protest or celebrating victory, and urban landscapes absent of their residents.
"I didn't intend to take pictures of my children but it's just something that naturally happens. I'm working on this concept of childhood and adulthood and how they're connected and disconnected. We have children all around us. Some of us raise them, some are aunts and uncles, some of us don't have any interaction with kids. When you're around them, they seem so foreign to you, or some people just talk down to them." Chaudhary's mother once told her that children have their own world view. "I wanted to capture this through photography. I don't know where that's going, but I need time to explore it more."
The blog writing and the photography fill Chaudhary's All Things Foreign website, where she tosses out insights, ruminations and political analysis for visitors. She also co-authored with Joe Newman the photography book "UnPresidented: The Inauguration of Donald J. Trump and the People's Response." She's still living in the heart of the action in Washington D.C., but her mind is now refocused.
"I've been working on these difficult issues for a long time in policy and conflict, very serious issues, in which people did lose their lives in these conflicts that the U.S. was engaged in. I had a very non-human focus on the work. I wasn't there to protect human rights, I was there to protect U.S. interests. Now I think that once I had children, I started to humanize everything, because I saw vulnerability everywhere. Now I'm looking at every issue I've ever worked on through a different perspective."