Defending MAC Champions Look Ahead to Challenge of Repeat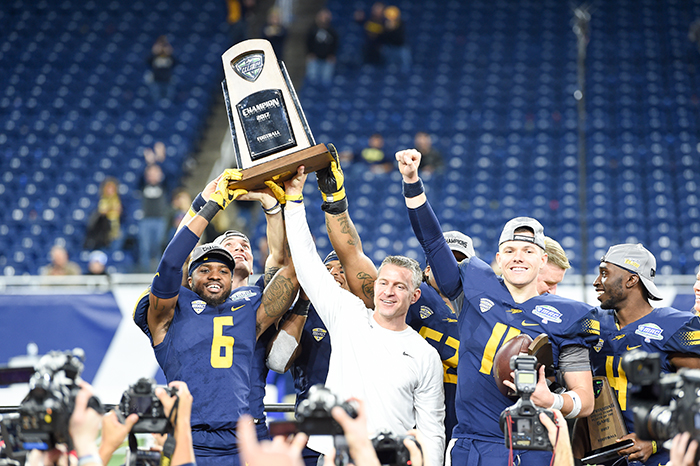 For the first time in 13 years, the University of Toledo enters a new football season preparing to defend the Mid-American Conference Championship.
But third-year Head Coach Jason Candle and his team will neither look back nor look ahead to what could be on the horizon in December. The focus is on what is in front of them right now.
"It's a long process to even have a chance to play for a championship, and we are certainly a long way away from that right now," said Candle, the 2017 MAC Coach of the Year. "But I'm pleased with how we are doing to this point. We are doing a good job of honing in on the details that lead to success. Our guys are coming together as a team. At this point, that's all you can really ask for."
The Rockets were 11-3 in Candle's second season as head coach, defeating Akron in the MAC title game and then advancing to the Dollar General Bowl vs. Appalachian State. Toledo did lose some key players on both sides of the ball but returns 14 starters, plus two other starters who missed most of 2017 due to injury. Two-time All-MAC quarterback Logan Woodside is gone, but UT's new signal-caller will have three All-MAC wide receivers to target, as well as other experienced receivers, two veteran running backs and a solid core on the offensive line.
Seniors Cody Thompson and Jon'Vea Johnson, along with junior Diontae Johnson, compose one of the finest receiving corps in the country. All three have earned All-MAC honors and have caught at least 10 touchdown passes in a season, marking the first time in the history of the NCAA that a team returns three all-league wide receivers with at least 10 TD receptions.
On defense, the Rockets return eight players with starting experience, including safeties Kahlil Robinson (67 tackles, four interceptions) and Josh Teachey (56 tackles).
Despite Toledo's winning credentials, Candle is taking nothing for granted. As far as he is concerned, 2018 will be business as usual for his program.
"The challenges remain the same as we approach this year," said Candle. "You can't get caught up in the great seniors we had on last year's team. They're gone, they're not coming back and we're well aware of that. We've planned for this for a long time. You don't project your program or your team a year out. You project it as you recruit, you project it as you develop scheme and how you are going to develop players years in advance. The possible shortcomings we might have felt our team would have moving into this year were identified a long time ago. So now the fun part is to get the moving pieces in the right place to keep all the arrows in your program headed in the right direction."
Head Coach Jason Candle provides an overview of the Rockets as they head into the 2018 season.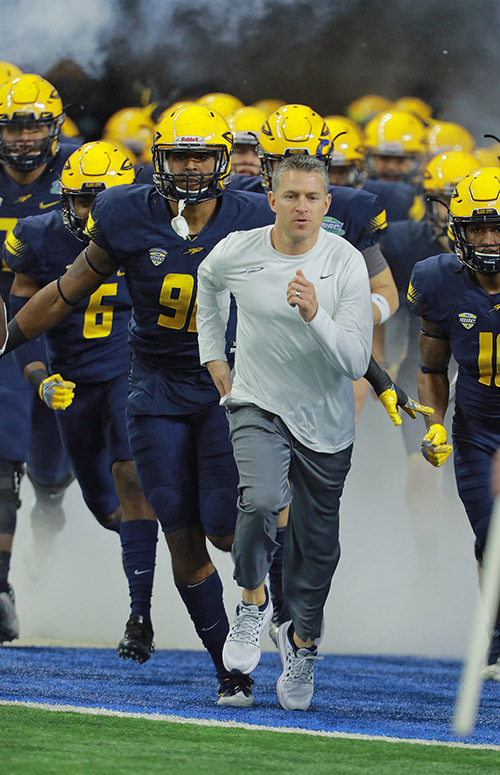 Quarterback
All eyes are on the quarterback position, as the Rockets must replace 2017 MAC Player of the Year Logan Woodside, who set just about every Toledo passing record in the books.
The leading candidates for the position are junior Mitchell Guadagni and sophomore Eli Peters. Guadagni saw limited action as Woodside's backup last year. Peters has yet to see collegiate action. Candle and his staff are continuing to evaluate their progress before deciding who will lead the team this fall.
"The No. 1 characteristic I'm looking for in a quarterback is the ability to make the other 10 guys around him better," said Candle. "Whichever player we feel gives us the chance to do that will be our guy."
Running Back
Toledo's tradition of dangerous running backs looks to be in good hands.
Following up on the recent exploits of former Rockets Kareem Hunt and Terry Swanson are sophomore Shakif Seymour and junior Art Thompkins. Seymour rushed for 702 yards and 12 touchdowns as a redshirt freshman in 2017, while Thompkins added 629 yards and two scores. At 5'-11", 225 pounds, Seymour is a power back with the velocity to hit the hole. Thompkins is a speedster who has the ability to take it to the house at any time.
Sophomore Nevone McCrimmon and redshirt freshman Nicholas Sims will have a chance to shine this fall, as well. Sophomore Ronnie Jones also is in the mix following his move from safety during spring ball. Bryant Koback, a redshirt freshman transfer from Kentucky, could be a factor.
"The standard of running back play here has been set very high for the last five or six years, and even a couple decades before that," said Candle. "So, these guys know what that means and what the expectations are."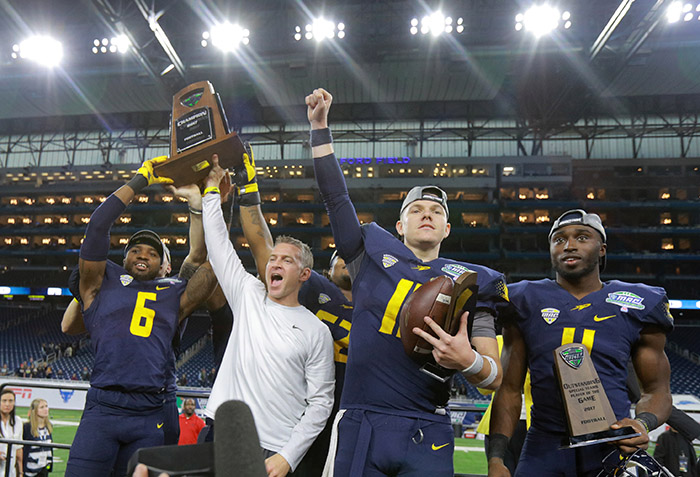 Wide Receivers/Tight Ends
Toledo's new starting quarterback will have the luxury of throwing to an explosive receiving corps. Three All-MAC receivers return for UT.
"We have three tremendous playmakers back in Cody Thompson, Diontae Johnson and Jon'Vea Johnson," said Candle. "But there are also four or five other guys who are waiting in the wings to show what they've got. Danzel McKinley-Lewis, Desmond Phillips, Andrew Davis, Bryce Mitchell, Nick Kovacs, Neru N'Shaka are all guys who could play a big role for us. It's a highly competitive group; reps are at a premium. They are pushing each other, which will ultimately benefit us."
Senior Cody Thompson is back for his fifth season following a leg injury that cut short his 2017 campaign. He was averaging 126.3 yards per game and 18.7 yards per catch going into the EMU game on Oct. 7 last year in which he suffered a leg injury on UT's first series. The impact his return could have on the Rockets cannot be overstated.
"Anytime you're trying to build a championship program," said Candle, "the best players have to set the standard. They need to show how everyone should communicate with one another, how they should approach practice, how they should approach team meetings, how they should act off the field. Cody is a perfect example of that. He was voted as a team captain for the second time, he has a 3.7-plus GPA and has done countless things to help out in our community. The great thing is, you can say all of those things and he's an All-American level player, too. He embodies everything we want in our program."
Junior Diontae Johnson, who sat out the 2016 season with an injury, stepped up and had a huge sophomore campaign last year. He caught 74 passes and scored 13 touchdowns, setting the school record previously held by Thompson with 1,278 receiving yards. Johnson was versatile too, earning first-team All-MAC honors at wide receiver and punt returner, as well as second-team honors at kickoff return.
Toledo's third big-play receiver is senior Jon'Vea Johnson. Johnson caught 42 passes for 689 yards in 2017. In 2016, he grabbed 40 passes for 773 yards and 10 TDs, earning second-team All-MAC accolades.
Toledo's receiving corps does not end there. Junior Danzel McKinley-Lewis caught 23 passes for 319 yards last season, while sophomore Desmond Phillips added 12 receptions.
Toledo will have a slightly different look at tight end this year. Junior Jordan Fisher, who caught 20 passes last year, has moved to linebacker, opening the door for sophomores Reggie Gilliam and Drew Rosi, who should both see increased playing time this fall.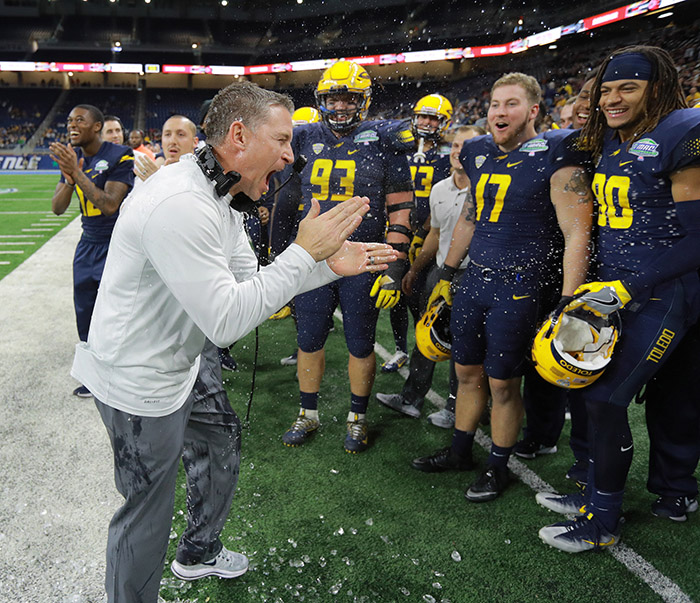 Offensive Line
Toledo's offensive line has been the consistent key to its superlative offensive play over the last few years. Candle expects that to continue in 2018.
Returning players with starting experience include seniors Yazeed Atariwa and Sami Kassem, along with juniors Bryce Harris, Brandon Heidecker and Chandler Cotterman. Atariwa and Heidecker are looking to bounce back following season-ending injuries in 2017.
Junior Cameron Bell, sophomore Luke Doerger and redshirt freshmen Mitch Berg and Kelvin Ateman also will compete for starting spots.
One newcomer who could make an impact is Florida State graduate transfer Brock Ruble, who played in 19 games for the Seminoles, 13 of them as a starter.
"It's about finding the right five who play the best together, as well as a couple of reliable backup guys who can come in whenever they're needed," Candle said.
Secondary
Toledo's secondary returns the most veterans on the defense, including four starters.
Senior cornerback Ka'dar Hollman, senior free safety Josh Teachey, junior strong safety Kahlil Robinson and junior star safety DeDarallo Blue all return to the backfield.
Robinson led the Rockets with four interceptions in 2017 to go with 67 tackles and four breakups. Teachey had 56 tackles and four breakups, Blue had 36 stops and Hollman added 35 tackles and seven breakups.
Other defensive backs with experience who are fighting for starting positions include sophomore cornerback Justin Clark, who had 32 tackles and five breakups in 2017, and sophomore safety Tycen Anderson (30 tackles).
"We are very experienced in the secondary," said Candle.
Defensive Line
The defensive line is a mix of experienced players and newcomers. Both groups will need to step up next fall.
Toledo's most experienced down lineman are defensive tackle Nate Childress, defensive ends Willie Ross and Reggie Howard. Senior defensive end Tuzar Skipper is back for a fifth season of eligibility following a 2017 injury. "We have some players who are ready to take the big stage," said Candle. "We get Tuzar Skipper back from injury last year. He'll be a big plus. Nate Childress has been a very solid player for us at tackle. We're looking for him to take the next step and have a big year for us. And obviously we're excited for the young guys coming up, as well."
Other defensive tackles looking to make their case for playing time are sophomores Tyrone Chambers, Edrick Mathews and David Hood, as well as redshirt freshman Devonte Dunn. At defensive end, juniors Andrew Boczar and Lucas Maynard, redshirt freshman Obi Anunike, and junior college transfers Jake Hudson and Melvin Johnson will all compete for playing time.
Linebackers
The linebackers are led by senior Tyler Taafe, who has started 27 consecutive games over the past two seasons, racking up 118 tackles and 8.5 tackles for loss. Senior Richard Olekanma is the other experienced Rocket linebacker. He played as a reserve last year, picking up 45 tackles.
Other linebackers in the mix are sophomore Tre'Shun Wilson, juniors Connor Lancia, Chris Norwood and Jordan Fisher, who moved from tight end to linebacker during the spring. Junior college transfer Evander Craft is also in the mix.
Special Teams
The Rockets return one of the most prolific placekickers in the country in senior
Jameson Vest
, a first-team All-MAC choice in 2017. Vest connected on a school-record 25-of-30 field-goal attempts and 56-of-58 PATs. He was 5-of-6 from beyond 40 yards, with a long kick of 49 yards, and ranked fifth in the country in field goals made.
Sophomore Bailey Flint returns at punter. Flint averaged 38.0 yards per boot as a freshman. He saved his best for last, averaging 42.5 yards in eight attempts in the season finale at the Dollar General Bowl.
"Jameson has become a very fine placekicker," said Candle. "He works really hard at it. The time he has spent developing his skills is second to none. I think he's brought Bailey Flint along with him. Bailey is now in his second year as our punter. We are expecting a very high level of production from both of those guys."
Toledo is stacked at the return positions, with juniors Diontae Johnson and Danzel McKinley-Lewis, and sophomore Desmond Phillips.
View the 2018 football schedule and buy tickets here.