Please submit your class note to: Amanda.Schwartz@utoledo.edu
'70s
| | |
| --- | --- |
| | John Chalmers (Eng '72) wrote the book, "Answers from the Gut: Improving Health and Longevity," that was published in July. The book provides a roadmap to minimizing health issues with the result being improved health and a longer lifespan. |
'80s
Kristy Folkwein (MBA '89) was recognized by Constellation Research on its 2019 Business Transformation 150, an elite list of executives leading business transformation efforts around the globe. She is the senior vice president and chief information officer for Archer Daniels Midland Company, one of the world's largest agricultural processors and food ingredient providers.
'90s
*Dr. Joel L. Mayerson (A/S '90) was promoted to Medical Director of Perioperative Services at The James Cancer Hospital, the third largest cancer hospital in the United States. In this position, he is responsible for the oversight and supervision of surgical services at the hospital and works in collaboration with nursing leadership, hospital administrative leadership and other leaders to provide operational management, financial management and leadership function within hospital perioperative facilities. Mayerson was selected as president-elect of The Musculoskeletal Tumor Society beginning in October, and will succeed to president in October 2019. He also serves on the Board of Councilors of the American Academy of Orthopaedic Surgeons and is in the presidential line for the Ohio Orthopaedic Society. He received the UT College of Natural Sciences and Mathematics Distinguished Alumni Award in 2011.
| | |
| --- | --- |
| | Christopher Hewitt (Bus '90, Honors '90) was ranked in Chambers USA 2018 as a recognized practitioner in the area of corporate and mergers and acquisitions, in the state of Ohio. Hewitt is employed by Tucker Ellis LLP, a law firm with offices in five states that serves national litigation and intellectual property clients. |
Matthew Brown (Univ Coll '97) was promoted to chief of police for the city of Centerville, Ohio. Brown has been a member of the Centerville Police Department since 1998. His job duties include the supervision, management, direction and coordination of the city's law enforcement, including crime prevention, patrol, security of property and public education.
| | |
| --- | --- |
| Paul Nungester (MBA '94) was named executive vice president, and director of finance and accounting at First Federal Bank in Defiance, Ohio. Nungester will oversee operations in finance and accounting and will play a key role in developing corporate strategy. | |
'00s
| | |
| --- | --- |
| | Justin Brickner (Bus '09) was awarded the "Al Jordan Leadership and Service Award," and became a Certified Credit Union Executive at his graduation from the Credit Union National Association Management School. He was the treasurer for the Class of 2018 and presented the class gift of more than $50,000, which will support future scholarships to attend the school. |
Jim Kieper (MEd '02) is the new principal at Eastwood High School, a public high school located in Troy Township in northwest Ohio. This is the only high school in the Eastwood Local School District, which covers parts of eastern Wood County.
| | |
| --- | --- |
| Rebecca E. Shope (Law '08) delivered the keynote address at Heidelberg University's Opening Convocation on Aug. 23, to celebrate the beginning of the 2018-19 academic year. Shope is a partner in the Toledo office of Shumaker, Loop & Kendrick, LLP, and a member of the labor and employment and litigation practice groups. Additionally, she represents clients in divorce and child custody matters. Shope is co-chair of Shumaker's Diversity Committee and is a member of the Shumaker Women's Leadership Initiative. Shumaker, Loop & Kendrick, LLP is a full-service law firm with five offices in three states. | |
| | |
| --- | --- |
| | Timothy Stover (A/S '06) received a 2018 Accelerator Grant in June from The Arts Commission in Toledo. This program offers financial support for local individual artists or artist collectives advancing creative projects and advancing their careers. Stover is a sculptor and educator. |
'10s
| | |
| --- | --- |
| Amy Pugh (Ed '12) was sworn in as the first full-time, female, road-patrol police officer in Port Clinton, Ohio. Pugh worked at the Ottawa County Sheriff's Office before joining the Port Clinton Police Department. | |
Faculty, staff & friends
Jim Trumm has lived in Yuxi, China, Sousse, Tunisia, San Juan, Puerto Rico and Toledo over the past five years and has helped with relief work in the aftermath of Hurricane Maria. In addition to being a managing editor at consumersadvocate.org, he is an amateur radio operator and holds a Marine Radiotelephone Operator's Permit. His goal is to have a functioning radio shack set up in his San Juan apartment to assist with communications during the 2018 hurricane season.
Births and Marriages
| | |
| --- | --- |
| | Alexandra Elaine Pinkie (Eng '14, Honors '14) and Alexander Steven Mericle (Eng '14) were married on June 2 at the Renaissance Toledo Downtown Hotel. Alexandra is employed with Materialise in Plymouth, Mich., and Alexander works at DTE Energy in Ann Arbor, Mich. |
*Michael Dean Ebert (Eng '17) and Alexis Caitlyn Sarrica were joined in marriage on March 25, 2017. Michael is employed by GEM, Inc. in Walbridge, Ohio, and Alexis is employed as a nanny.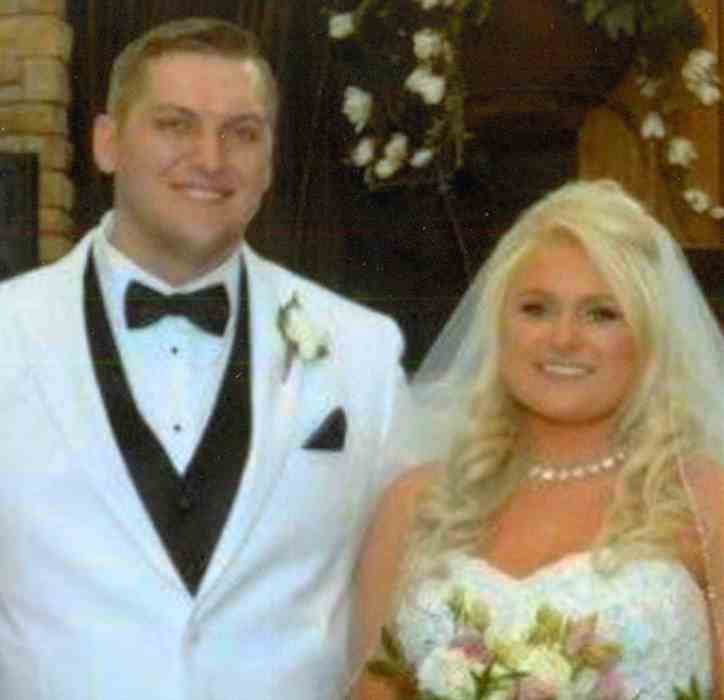 Death Notices
Faculty, staff & friends
**Edward Knecht, Corvallis, Ore., 90.
**Shirley Carpenter, Toledo, 83.
Marilynn K. Fulton (Pharm '57), Toledo, 83. She worked in the MCO/MUO/UTMC Pharmacy from 2000 until her retirement in 2009.
Bobby Graney, Dunedin, Fla., 58. He served as head ball boy for the men's basketball team from 1979 to 2000. He also worked with the football and women's basketball teams. In the late 1980s, Graney increased his duties and began attending every UT men's and women's basketball practice where he would run the scoreboard and the clock. He also helped in the equipment room. In 2000, Graney, who had Down Syndrome, retired with his family to Florida. He was inducted into The University of Toledo Varsity T Hall of Fame in 2000.
William A. "Bill" Jones, Hilliard, Ohio, 75. He was a mechanic at UT from 1990 until his retirement in 2008.
Coletta J. Watchell Lewandowski (UTCTC '88, Univ Coll '90), Melbourne Victoria, Australia, 93. She was a secretary in the Counseling Center for 15 years until her retirement in 1989.
Kathy L. Pawloski, Toledo, 62. She was a secretary in Nursing Services, a technical typist in Food and Nutrition, and a secretary in Family Medicine and Medicine. Pawloski retired in 2015.
Margaret A. Weber, Sylvania, Ohio, 101. In 1961, she joined the University as a part-time teacher and was named adjunct assistant professor in 1965. Weber, who was certified for piano and organ by the Music Teachers National Association, was a notable composer.
Marr'Del Maria Werder, Archbold, Ohio, 76. She taught continuing education classes at the University.
Janice E. Wessendorf, Toledo, 88. She was a former secretary at the University and retired from UT in 1995.
Joanne B. (Roush) Blast, Toledo, 81. She was a tutor at the University from 1996 to 2001.
Shirley J. (Veith) Carpenter, Toledo, 83. She was a public inquiries assistant in Telephone Services at MCO from 1980 until her retirement in 2003.
Dr. Charles D. Cobau, Toledo, 88. He was a volunteer clinical professor of medicine at MCO/MUO/UTMC from 1970 to 2007.
Eva L. Coleman, Toledo, 87. She was a custodian at the University from 1977 until her retirement in 2010.
Suzanne S. (Orzechowski) Koder, Mequon, Wis., 76. She was a nurse at MCO from 1974 to 2000.
Dr. John Burchfield (att. 1963), Sylvania, Ohio, 83.
Kathryn Palmer (att. 1977), Perrysburg, Ohio, 79.
'40s
Dorothy Reetz (Bus '47), Defiance, Ohio, 96.
'50s
Wayne Seppeler (Eng '52), Mountain View, Calif., 88.
James Waffle (Bus '56), Fort Wayne, Ind., 89.
**Daniel Doherty (Bus '58), Albany, N.Y., 84.
Darrell Clay (MEd '57, Ed Spec '68), Perrysburg, Ohio, 90.
Ruth Elendt (Ed '50), Maumee, Ohio, 90.
Marilynn Fulton (Pharm '57), Toledo, 83.
Richard Simmerman (Eng '57, MBA '69), Palatine, Ill., 84.
W. Whitaker (Bus '55), Saint George, Utah, 87.
Mary Wanatick (A/S '51, MA '88), Humble, Texas, 89.
Chester Wyraz (Eng '54), Perrysburg, Ohio, 86.
'60s
James Weber (Pharm '61), Ashtabula, Ohio, 81.
Dennis Rohrs (MEd '69), Gross Ile, Mich., 78.
**Lorine Reid (Law '69), Dayton, Ohio, 85.
Panzie Stevens (MEd '68), Charlotte, N.C., 83.
Jon Wozniak (Ed '69), Haslett, Mich., 69.
William Hopkins (Ed '69), Swanton, Ohio, 72.
Lucian Sieja (Eng '65), Naperville, Ill., 76.
Ronald Sherrer (Bus '60), Toledo, 81.
Mary Lou Waggoner (MEd '68), Bowling Green, Ohio, 87.
'70s
*John Moore (UTCTC '78), Holland, Ohio, 82.
Ronald Jankowski (MEd '76), Maumee, Ohio, 68.
Christine Carroll (MEd '77), Toledo, 68.
Lisa Leonhardt (UTCTC '79), Oregon, Ohio, 58.
Nelda Langenderfer (UTCTC '78), Swanton, Ohio, 92.
Marilyn Freeman (Ed '76), Toledo, 88.
Mark Johnson (Bus '76), Toledo, 65.
Frona Walters (UTCTC '78, Ed '86), Maumee, Ohio, 74.
**Dallas Howard (Bus '73), Toledo, 65.
Karen Donnell (UTCTC '76), Toledo, 69.
'80s
Jon Carter (UTCTC '80, Bus '83), Chattanooga, Tenn., 60.
Douglas Ford (Eng '83), Elmore, Ohio, 58.
Harry Herman (Eng '82), Dayton, Ohio, 59.
Carol Lever (MEd '81), Weaverville, N.C., 80.
'90s
Rhonda Mominee-Fuelling (A/S '94), Toledo, 51.
Kathie Weaver (Univ Coll '92), Rossford, Ohio, 67.
Amanda Moronti-Forster (A/S '96, MA '01), Lambertville, Mich., 44.
'00s
Connie Obrock (HSHS '00), Curtice, Ohio, 62.
Janet Solarek (Univ Coll '01, Honors '01), Whitehouse, Ohio, 85.
'10s
*Darin Goodman (Eng '16, Honors '16), Bowling Green, Ohio, 25.
*Rex Groll (Comm/Arts '15), Oregon, Ohio 29.
*Annual Alumni Association Member
**Lifetime Alumni Association Member