By Brian DeBenedictis
Toledo women's basketball senior Kaayla McIntyre is a finisher.
The 6-foot-2 center knows how to play in and around the basket with sheer precision. She currently ranks second in Mid-American Conference history with an overall 62.4 field-goal percentage, making 470 of 757 of her shots from the floor.
"I have a lot of confidence in myself and my abilities, and that has allowed me to be successful in my basketball career," said McIntyre, who also ranks fourth in school history in career blocked shots (105) and 22nd in scoring (1,101 points). "I take a lot of pride in knowing that I rank second, but I understand I wouldn't be in this position without my teammates putting me in the best position to succeed."
McIntyre came to UT after finishing off a highly successful career at nearby Notre Dame Academy. She helped the Eagles make four straight trips to the Division I 'Final Four' totaling 1,397 career points and 1,073 rebounds, and was tabbed the state's co-Player of the Year as a senior.
"I developed good work habits early on at Notre Dame under Coach (Travis) Galloway, and those habits translated well into my freshman year at Toledo," McIntyre said.
To say McIntyre's strong work habits carried over well to UT may be an understatement.
The Toledo native shot a MAC single-season record 64.3 percent (81-of-126) from the field as a freshman. For her efforts on the hardwood, McIntyre was named the MAC's Sixth Player of the Year, as well as being picked to the MAC All-Freshman Team.
"I knew Kaayla could shoot a high percentage simply because she has so many unique qualities," Head Coach Tricia Cullop said. "She has such tremendous poise and really lets the game come to her. Kaayla also has great hands, outstanding hand-to-eye coordination and superb touch around the basket."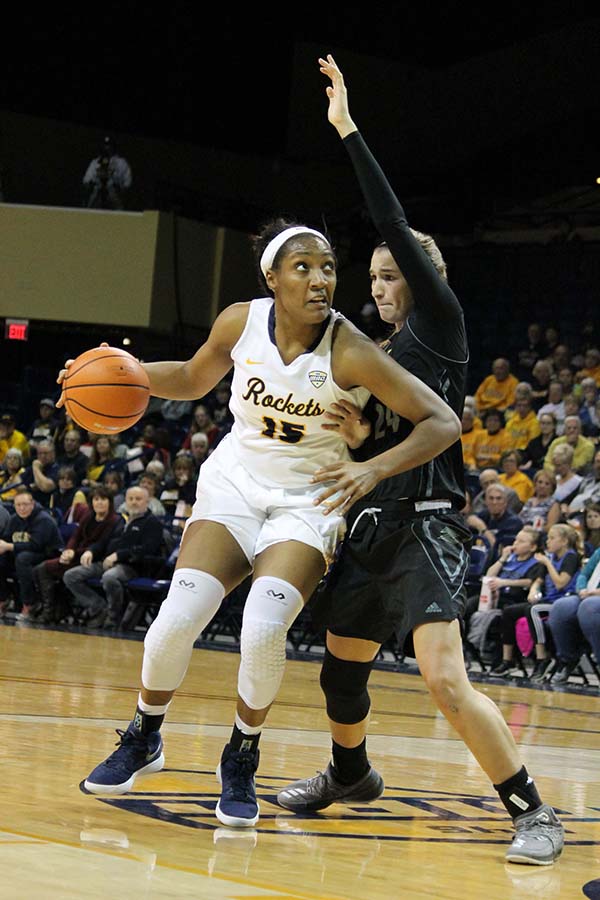 McIntyre did not rest on her laurels as a sophomore, instead she took her game to the next level. She played a key role in the Midnight Blue & Gold completing some unfinished business, as the Rockets claimed their first MAC championship since 2001. McIntyre once again led the MAC in overall field-goal percentage (.602, 147-of-244), averaging 10.0 points, 5.0 boards and a team-high 1.2 rejection per contest.
"It was an indescribable feeling to win the MAC," said McIntyre, who tied a school-tourney record with six blocked shots in the championship game. "We had a lot of talent on that team, and we put it all together at the right time in March."
As a junior, McIntyre worked tirelessly to help Toledo defend its championship and become the first conference team to capture back-to-back championships in over a decade. She mastered her ability to finish using both hands around the basket. She reaped the benefits of that hard work in 2017-18, tallying a team-best 16.0 points, 7.7 rebounds, 2.4 assists and a team-high 1.4 blocks in 31.7 minutes. For the third-consecutive year, she finished first in the league and ranked seventh nationally in overall field-goal percentage (.632, 215-of-340), en route to earning third-team All-MAC recognition.
"Being able to finish with both hands is something I take a lot of pride in," said McIntyre, who has scored in double figures on 57 occasions as a Rocket. "I've worked extremely hard at being able to do that. Since I can finish with either hand, defenders have to play me straight up and I think that gives our team an advantage."
Added Cullop, "Kaayla has done an outstanding job developing the use of both hands around the basket and with making good decisions when she gets double teamed. Once you've been scouted, teams are going to take away things you like to do. Kaayla has not backed away from that challenge, though. She has embraced it and continued to find ways to fine-tune her skills, and I believe that's what separates her from the rest."
Despite McIntyre's best efforts, Toledo fell short in its bid to repeat as MAC champions. But all was not lost in the Rockets' season, as they advanced to the second round of the 2018 Postseason WNIT.
"It was definitely disappointing not being able to defend our MAC championship, but I thought we responded well by winning our first-round game in the (Postseason) WNIT," McIntyre said. "We didn't let that disappointment affect our ability to play well in the postseason, which I thought was very important for our team chemistry and development."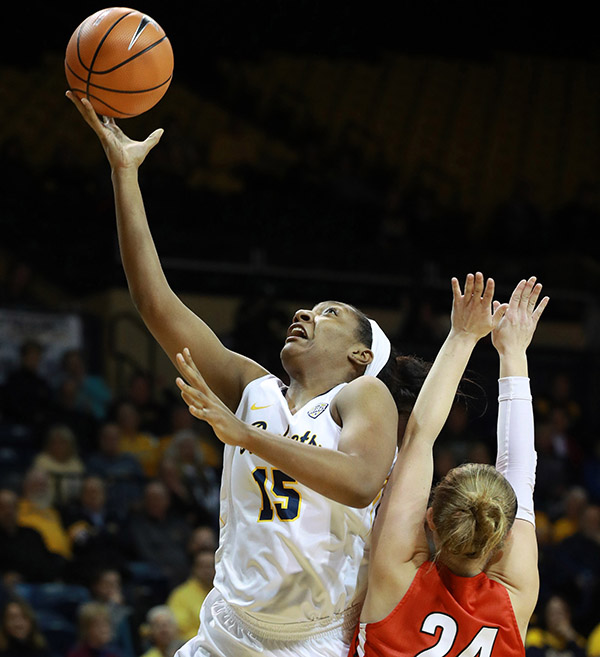 With three years of collegiate basketball experience, McIntyre is clearly one of the main leaders on this year's team. So far, the senior captain is converting a team-best 57.4 percent (27-of-47) from the floor, while tallying a squad-best 15.5 points, 6.3 caroms and a squad-best 1.0 blocked shots in 26.0 minutes.
"Even though Kaayla broke the MAC single-season shooting mark as a freshman, I think she's gotten better each year," Cullop said. "We've doubled her shot attempts and continued to find ways to surround her with good outside shooters so that she can continue to get solid looks at the basket. It's been great to see Kaayla become such a dominant post player."
The 2018-19 Preseason All-MAC West Division honoree hopes to dominate the competition once again this season and finish her UT career the right way, hoisting another conference title for her hometown team.
"I'd love nothing more than to finish my career with a second MAC championship," McIntyre said. "I've worked extremely hard to be the best player and teammate I can be, and I can't think of a better way to go out than that."