By Steve Easton
When asked to describe senior Nate Navigato on the basketball court, the first word that most Rocket fans would probably use would be "shooter." The 6-foot-8-inch, 225-pound forward has definitely earned that reputation as he inches closer to becoming the top three-point shooter in University of Toledo history.
Navigato entered the 2018-19 season just 56 treys behind Nick Moore's (1999-2003) school record of 276, and will likely take over the top spot later this season. Navigato's journey to re-writing the Toledo record book nearly didn't happen because the Rockets didn't initially have a scholarship to offer him when he came on his official visit in the fall of 2014.
"We made a big mistake in Nate's recruiting process," Head Men's Basketball Coach Tod Kowalczyk said. "We had summer verbal commitments from Taylor Adway, Luke Knapke and Jaelan Sanford. We didn't have a scholarship for Nate even though we loved him. I know he was devastated that we didn't have a scholarship for him, and he ended up signing with Buffalo."
Fortunately for the Rockets, University of Buffalo Head Coach Bobby Hurley was hired by Arizona State in the spring of 2015. That allowed Navigato to re-open his recruitment, and gave UT another opportunity to land him.
"When I came on my visit to Toledo, I thought the campus was amazing," said Navigato, who set UT's season record for three-point field goals with 94 triples last year. "I really fell in love with the program and coaching staff, too. I was very excited when a spot opened up for me in the spring."
Kowalczyk was ecstatic as well to have a second chance to gain a player he describes as a perfect fit for his offensive system.
"To have a forward who can spread the floor and really shoot it is so valuable," Kowalczyk said. "The spacing of our offense is really good because of his ability to shoot from the perimeter."
Navigato has helped the Rockets develop a three-point attack that ranked in the Top 20 in the country. UT shot 40.1 percent from three-point range last year and is in a similar position in the early stages of the 2018-19 season.
"We've had some good shooters since I've been here, but I think we'll have our best shooting team this season," Navigato said. "We have so many shooters that if I have a contested three, I would rather make the extra pass to one of my teammates for an open three. I think everybody on our team has that mentality and that makes it a lot of fun."
Navigato's enjoyment of the game and reputation as a shooter was developed growing up in Geneva, Ill.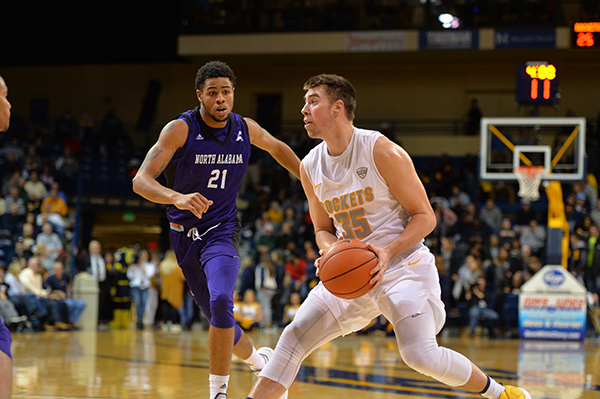 "I always was the tallest player on my team when I was young but I didn't want to just play close to the basket," Navigato said. "I wanted to be that player who could shoot and play inside at the same time and be a dual threat like Dirk Nowitzki and Kevin Durant. I would pick out random spots in our back yard and just shoot all the time."
Navigato credits his father, Dan, for teaching him at an early age the keys to developing into a good basketball player. He also had the advantage of growing up as an older brother to triplets, Dominic, Devin and Cole, who are three years younger.
"We had a lot of fun playing outside against each other and it started to get really competitive when we got older," Navigato said. "I played against them in games of one-on-three at first, but then we'd go two-on-two and have lots of shooting contests."
After playing baseball, basketball and football for most of his childhood, he started concentrating solely on basketball at the start of high school.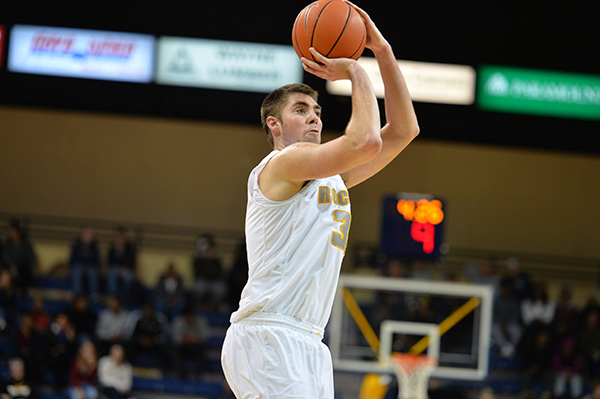 "I really started working on perfecting my stroke in my freshman year," Navigato said. "That's when I started doing a lot of reps. I had a coach who really helped me out, and from then on I just kept working on it."
That hard work paid off as Navigato earned all-state honors following his junior and senior seasons and became Geneva High School's all-time leader in points (1,764), assists (227), three-point field goals (176), steals (132) and blocked shots (69).
Navigato's success carried over to Toledo as he has been the Rockets' leader in three-point shooting as a freshman, sophomore and junior. After reaching the Mid-American Conference championship game last year, the only thing missing from Navigato's career is a trip to the NCAA Tournament. That's a goal he and his teammates are determined to reach this year.
"I think we really have the potential to have another great season, like we did last year," Navigato said. "Our chemistry is great again and going to the NCAAs would be a perfect ending to what has been a great four years."