Please submit your class note to: Amanda.Schwartz@utoledo.edu
Class Notes
'60s
| | |
| --- | --- |
| | **Bob C. Grant (A/S '68) returned to the board of directors of the Head Start Community Program of Morris County, N.J., as president. Grant served on the board as a member and president from 2002 to 2016. |
'70s
Dr. Richard Markoff (PhD '78) recently wrote a new book, "Million Dollar Moments and the Amazing Professionals Who Helped Make Them Possible." The book features chapters written by 18 different resource development professionals and non-profit executives who describe the circumstances behind their first, or most meaningful, million or multi-million-dollar gift. A past president of the St. Vincent Medical Center Foundation, Markoff is the founding president of the Greater Toledo Chapter of the National Society of Fund Raising Executives. He is also the former executive vice president of the Simon Property Group's Simon Youth Foundation. Markoff taught graduate courses in interpersonal skills for leaders, management training and development, and major topics in human resources at Indiana University Purdue University Indianapolis while serving as visiting senior advisor to the chancellor. He is the founding president of the Damar Services Foundation.
*Hon. Alan G. Lance Sr. (Law '73) assumed senior status from the U.S. Court of Appeals for Veterans Claims and is enjoying travel and family.
| | |
| --- | --- |
| *Robert E. Wisniewski (Law '76) received the Professional Hockey Players' Association Workers' Compensation Panel Member of the Year Award at the association's annual meeting in Niagara Falls, Ontario, Canada. | |
| | |
| --- | --- |
| | *Michael Mikkonen (UTCTC '77, A/S '79, MEd '82, Law '87) received both the Order of the Heel from the Junior Bar at the Gridiron Show and the Arabella Babb Mansfield Award at the Toledo Women's Bar Association Annual Meeting in 2018. |
'80s
| | |
| --- | --- |
| **Hon. Denise Navarre Cubbon (Law '81) was recognized with the YWCA of Northwest Ohio Milestone Award in March 2018 for her contributions to government. | |
| | |
| --- | --- |
| | David Reape (Bus '88) joined HW&Co., a leading CPA and business advisory firm, as principal and director of the firm's tax services group. Reape specializes in servicing tax-exempt entities and is a sought-after speaker on tax issues affecting nonprofits. He works out of the firm's Cleveland office. |
Timothy Hoffman (Law '86) was appointed to the Michigan Finance Authority Board of Directors in 2018 for a four-year-term, by former Michigan Gov. Rick Snyder. The board was established to further improve efficiency in state government by consolidating 10 public finance authorities. Hoffman is the executive director of regulatory affairs at Consumers Energy Company. Located in Michigan, Consumers Energy Company provides electric and natural gas service to more than six million residents.
| | |
| --- | --- |
| **Stuart F. Cubbon (Law '81, MBA '98) has been named to the board of the Ohio Legal Assistance Foundation. Cubbon is partner and president of the Toledo law firm, Cubbon and Associates. | |
*Randall A. Samborn (Law '82) formed his own strategic communications consulting practice in suburban Chicago, Randall A. Samborn & Associates LLC, specializing in crisis and litigation communications.
William G. Chris (Law '85) was elected president of the Akron Bar Association. Chris is the managing partner for the law firm Roderick Linton Belfance LLP, located in Akron, Ohio.
'90s
Kathryn Carlisle-Kesling (Law '99) is leading the new law firm Buckley King in Salt Lake City, Utah. She is a certified specialist in residential realty property law, in addition to her practice in business transactions and estates and trusts planning. Buckley King is a commercial law firm that provides legal advice and representation on traditional and complex matters in business, finance and manufacturing.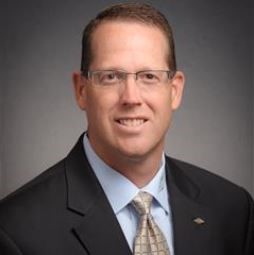 Kevin Kill (Bus '93)
was named senior director of commercial vehicle, aftermarket and indirect purchasing at Dana. In this new role, he will be responsible for developing and implementing purchasing strategies that meet the needs of the business that include material cost reduction, supplier capacity utilization, supplier quality and delivery improvements. Kill has worked in numerous roles at Dana for more than 24 years. Dana, located in Toledo, is a leading supplier of traditional and electrified light-vehicle driveline technologies, including complete drivetrain systems and components for passenger cars, crossovers, SUVs, vans and light trucks.
Eric Fleetham (Law '94) was named director of the research, writing and advocacy department at Ave Maria School of Law in Naples, Fla.
Andrew Schneider (A/S '94, MA '00) was promoted to principal and senior vice president of TranSystems. Schneider is a senior transportation planner responsible for managing multi-modal planning studies, stakeholder and public involvement, agency coordination, environmental studies and documentation, and program management. TranSystems, headquartered in Kansas City, Mo., provides engineering and architectural planning, and design and construction solutions to enhance the movement of goods and people across an integrated transportation infrastructure.
Hon. Michael R. Goulding (Law '95) was elected to the Toledo Bar Association board of directors for 2018-19. Goulding is the Judge of the Lucas County Common Pleas Court in Toledo.
'00s
| | |
| --- | --- |
| Dr. Alex Adams (Pharm '07, PharmD '09) was named budget chief by the state of Idaho's Governor-elect, Brad Little. He will be the administrator of the governor's division of financial management. Adams graduated as class valedictorian. | |
| | |
| --- | --- |
| | *Sarah Skow (Law '06) was recognized with a YWCA of Northwest Ohio Milestone Award in March 2018 for her volunteer contributions. Skow is an attorney at the law firm Spengler Nathanson PLL, located in Toledo. She practices in the areas of complex business litigation, professional malpractice defense, tort litigation, public entity defense, landlord/tenant, civil rights and employment law. |
Gretchen S. DeBacker (Law '03) received the Access to Justice Award for Public Interest Law in May 2018 in recognition of her pro bono services on behalf of low-income women and their families. DeBacker is the legislative director for the City of Toledo's Mayor's Office.
'10s
Ted Otieno (Eng '14, Honors '14), an expert in the field of energy management, was asked the following question by ESI-Africa Edition 5, 2018, "What technologies, regulations or techniques are needed to achieve high levels of energy rates that can effectively contribute to reducing carbon emissions worldwide." His response was published in that edition of the online magazine. Endustrial Support Ltd., an energy-management firm headquartered in Kenya, works with companies to survey, analyze and apply energy-efficient solutions to their daily energy consumption. Otieno is the managing director at Endustrial Support Ltd.
Steven Vandercook (Law '14, MBA '14) accepted a position with NASA at the John F. Kennedy Space Center in Cape Canaveral, Fla. to support the next chapter in human space flight.
Births and Marriages
| | |
| --- | --- |
| *Katherine Elmlinger (MEd '16) and Bryan Nobles announced their engagement and will wed on June 29 at St. Mary's Catholic Church, located in Clyde, Ohio. Katherine is an intervention specialist with the Norwalk City School district, and Bryan is employed at Bassett's Market in Bellevue. | |
| | |
| --- | --- |
| | *Dr. Melissa Straub (MED '16) and Dr. Kevin Hogan (MS '10, MED '14) were married on Sept. 8, 2018 at Infant Jesus of Prague Byzantine Catholic Church in Boardman, Ohio. Melissa is an assistant chief resident at Vanderbilt University Medical Center's Pathology and Residency Program and will be sub-specializing with fellowships in cytopathology and surgical pathology. Kevin is an attending physician at Nashville General Hospital. The couple reside in Nashville, Tenn. |
In Memoriam
Faculty, staff & friends
Dr. William McMillen, Perrysburg, Ohio, 71. He worked at MCO/MUO/UT from 1982 until his retirement in 2012, and most recently served as interim provost and executive vice president for academic affairs in 2010 and delayed his retirement to take the post permanently in 2011. McMillen was vice president for government relations for both UT and MUO from 2005 to 2006; he played a pivotal role in navigating the legislative process that led to the merger of the two institutions. In addition, he oversaw the legislation in the state assembly that changed the name from the Medical College of Ohio to the Medical University of Ohio. McMillen held a variety of senior-level positions at MCO involving government relations, fundraising, communications and affirmative action while serving four presidents. In addition, he was secretary of the MCO Board of Trustees for 10 years and received a community-based appointment in the Department of Psychiatry in 1994. At UT, he worked on initiatives in strategic planning, sustainability, economic development, and relations with the Ohio Board of Regents. McMillen also led efforts for a successful accreditation visit from the Higher Learning Commission. He penned a play, "First Do No Harm," which premiered in February 2018 through the Toledo Repertoire Theatre's Toledo Voices. McMillen also wrote fiction and nonfiction, including the books "From Campus to Capitol" (2010) and "Sticks" (2000). He wrote a government relations column, "The Party Line," for The Chronicle of Higher Education under the pseudonym Peter Onear.
Joyce E. Fulkerson, Toledo, 71. She worked at MCO/MUO/UTMC as a nurse and surgical technician from 1965 until her death.
Rosemary L. (Reas) Kahle (MEd '82), Perrysburg, Ohio, 84. She was a faculty member at MCO from 1976 until her retirement in 1995. She was an assistant professor of nursing and helped develop a nursing skills lab. In 1986, she received the institution's Outstanding Faculty Member Award.
Patricia C. (Schinner) Kunst, Elsmere, Ky., 85. She worked in several departments at the University from 1995 to 2006.
Barbara J. (Simmons) Matthews, Holland, Ohio, 86. She was a volunteer with the Satellites Auxiliary and a patient advocate in the late 1980s. Matthews also helped in the Pastoral Care Department at UTMC.
Shirley A. (Williams) Butwin, Perrysburg, Ohio, 62. She was a chaplain at MCO/MUO/UTMC from 2000 to 2009.
**Dr. Daniel J. Hanson, Toledo, 90. He was a clinical professor emeritus of pathology and an adjunct professor of pharmacy. He started his volunteer faculty appointment at MCO in 1971. An ardent Rocket fan, Hanson was honored with the 12th Man Award in 2004.
Mary Ellen Kreft, Toledo, 88. She was a volunteer with the Satellites Auxiliary in UT Medical Center's Pastoral Care Department.
Dr. Norman Blume, Mission Hills, Calif., 94. He joined the University as an assistant professor in 1956 and earned promotions to the rank of full professor in the Department of Political Science. In 1967, Blume received one of the University's Outstanding Teacher Awards. In 1979, the U.S. Department of State selected Blume to participate in its Scholar-Diplomat Seminar on European Affairs. He retired from UT in 1983.
Dr. Dewitt C. Davison, Toledo, 86. He joined the University as an assistant professor of education in 1967 and was promoted to associate professor of educational psychology in 1973. Davison was a member of the advisory committee for Upward Bound and served on the University Financial Aid Committee.
James L. Routson, Oregon, Ohio, 79. He was a former instructor of mathematics.
**Willard (Bill) W. Smith, Toledo, 91. He began his longtime association with the University as a lecturer of political science in 1954. Smith was hired as director of administration and assistant professor of political science in 1961. Three years later, he was named vice president-treasurer and served in that position until 1975 when he became vice president for business affairs. During this tenure, the University transformed from a municipal institution with just a few buildings into a state school with more than 40 buildings on three campuses. Smith was one of the UT representatives in Columbus for the historic signing in the governor's office that made the school a member of the University System of Ohio in 1967. The Cleveland native also frequented the state capital to discuss the creation of a new medical school in Toledo; the Medical College of Ohio was founded in 1964. At the University, he oversaw the physical plant; security; personnel; purchasing and Central Services; Facilities Management; and the UT Bookstore. During most of Smith's nearly three decades at the University, at least one major construction project was started each year. The long list of projects includes Carter Hall (1964), Stranahan Arboretum (1964), Snyder Memorial Building (1964), Student Union additions (1965 and 1973), Ritter Planetarium (1967), Bowman-Oddy Laboratories (1968), Health Education Center (1969), Parks Tower (1972), Law Center (1972 and 1981), Carlson Library (1973), Center for Performing Arts (1976), Centennial Mall (1980), Stranahan Hall (1984) and McMaster Hall (1987). Smith also served as a non-voting executive secretary for two Presidential Search Committees. He retired from the University in 1989.
| | |
| --- | --- |
| E. Lillian Volkmer (att. 1971), Kettering, Ohio, 83. She was hired in 1966 as a clerk II in McKinnon Hall, was promoted to clerk III and later became a clerk specialist, retiring in 1982. Volkmer expressed that the lasting joy and blessing of her time at UT were the several thousand women who appreciated her. She kept in contact with many of them after graduation and received cards, wedding invitations and birth announcements, even years after her retirement. When she passed, she left a portfolio of more than 800 works, including poetry and autobiographical essays of events and memories of her life, beginning at age 11. Her son, Rob, organized, edited and published her works into five volumes, "The Early Years," "Memories," "Musings," Kids, Cats, and Other Playful Things," "And Finally…!" Each volume weaves her poetry and stories with personal memories from her children. As a young woman and adult, she also did poetry readings of her work, including some held at the University. Volkmer's books are available on Amazon and Kindle. | |
'40s
**Warren Pratt (Bus '49), Toledo, 94.
Ervin Doman (A/S '49, Ed '52, MEd '58), Toledo, 97.
Norman Frisk (Eng '48), Toledo, 97.
'50s
**Rev. Allan Reed (A/S '52), Doylestown, Pa., 90.
Selma Schwartz (Ed '57), High Point, N.C., 83.
**Richard Bayer (Law '58), Inez, Ky., 91.
Donna Quertinmont (MEd '57), Toledo, 84.
Edward Grover (A/S '57), Rolling Hills Estates, Calif., 86.
*Robert Stephenson (Ed '54, MEd '65), Sylvania, Ohio, 87.
Patricia Buenting (Ed '52), Perrysburg, Ohio, 88.
*Mark Pownall (Eng '50), Toledo, 94.
'60s
**John Koch (Bus '66), Waterville, Ohio, 84.
James French (Ed '60, MEd '69), Holland, Ohio, 81.
Edward Huss (Bus '60), The Villages, Fla., 82.
Jacqueline Wires (MEd '69), Walbridge, Ohio, 83.
Ramona Jenkins (Ed '69, MEd '81), Toledo, 71.
**Rev. Linda Zaye (A/S '61), Delaware, Ohio, 79.
**Geraldine Stiefel (Ed '68, Ed Spec '80), Sylvania, Ohio, 86.
Elaine Bornstein (Ed '66), Brillion, Wis., 89.
Eugene Hubbard (UTCTC '62), Temperance, Mich., 78.
**Karen Cieslewski (Ed '65), Sylvania, Ohio, 76.
'70s
Lanning Bryant (MBA '71), Walnut Creek, Calif., 72.
Generose Curie (A/S '75, MEd '77), Maumee, Ohio, 78.
James Elkington (UTCTC '79), Perrysburg, Ohio, 71.
Stephen Wernert (A/S '76), Toledo, 68.
Michael Kopka (UTCTC '70), Toledo, 73.
Joyce Rhegness (MEd '76), Ottawa Hills, Ohio, 78.
Janet Curliss (Ed '73), Toledo, 76.
Thomas Lagos (Bus '76, MBA '78), Sylvania, Ohio, 64.
**Cynthia Vroman (Ed '71), Toledo, 69.
'80s
Ruby Robbins (UTCTC '86, Bus '06), Toledo, 55.
Deborah Shufeldt (UTCTC '88, Univ Coll '96), Toledo, 61.
Catherine Wolfe (Bus '85), Elyria, Ohio, 61.
Linda Piszchala (UTCTC '83), Toledo, 61.
**Carolyn Geraci (A/S '85), Fort Myers, Fla., 82.
Howard Doering (Univ Coll '83), Graytown, Ohio, 70.
Philip Varner (Univ Coll '87, Law '91), Toledo, 60.
Gayanne Ford (Ed '89), Waterville, Ohio, 83.
Jeffery Pownell (Bus '81), Toledo, 59.
'90s
Elizabeth Gorman (Law '93), Dayton, Ohio, 52.
Robert Carr (Bus '98), Law Vegas, Nev., 42.
Junell Knepper (UTCTC '90, Univ Coll '93, MA '95), Alger, Ohio, 68.
Robert Faber (MBA '92), Toledo, 75.
J. Dianne Belinger (MEd '97), Swanton, Ohio, 74.
Jeffery Dickson (UTCTC '94), Sylvania, Ohio, 64.
'00s
Jane Dumas (MNRS '04), Fremont, Ohio, 67.
Shannon Frye (Ed '00, MEd '04), Holland, Ohio, 45.
'10s
*Raymond Slomka (Univ Coll '17), Swanton, Ohio, 87.
*Annual Alumni Association Member
**Lifetime Alumni Association Member