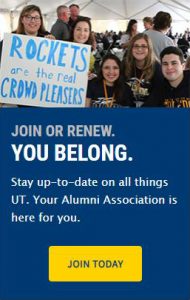 Joining your University of Toledo Alumni Association as a paid member connects you to your alma mater and your fellow classmates, and it allows you to take advantage of a multitude of benefits.
There is a lot of value packed into the $35 single membership cost for one year, including savings for you at local restaurants, like Black Rock Bar and Grill, breweries such as The Casual Pint, and retailers, like Wersell's Bike and Ski Shop. There also are discounts at national companies like Nationwide Insurance.
From apparel to services, your UToledo Alumni Association offers you cost savings from many different merchants. Membership also provides opportunities to receive discounts on event tickets, including Rocket sports and theatre performances and film screenings. Both the Student Recreation Center and Morse Fitness Center also pass along savings to Alumni Association members.
Through Alumni Association memberships, alumni automatically support student scholarships at UToledo. Your $35 membership purchase includes a tax-deductible minimum gift of $10, which will be given in your name to the UT Foundation Alumni Association Membership Scholarship Fund. You receive all the benefits of membership, support future Rockets and bolster the University's national ranking in U.S. News & World Report as an active alumni participant.
The UToledo Alumni Association hosts hundreds of events annually for alumni. There are local affiliates and regional, national and international chapters that are open to more than 155,000 UToledo alumni worldwide. UToledo also has special affinity affiliates such as its Black Alumni Affiliate and the LGBTQA+ Alumni Affiliate.
Each annual membership also includes a free Toledo Rocket flag. A lifetime membership purchase includes an embroidered fleece jacket.
We make joining your University of Toledo Alumni Association easy. In fact, if you click right here, you can join right now!