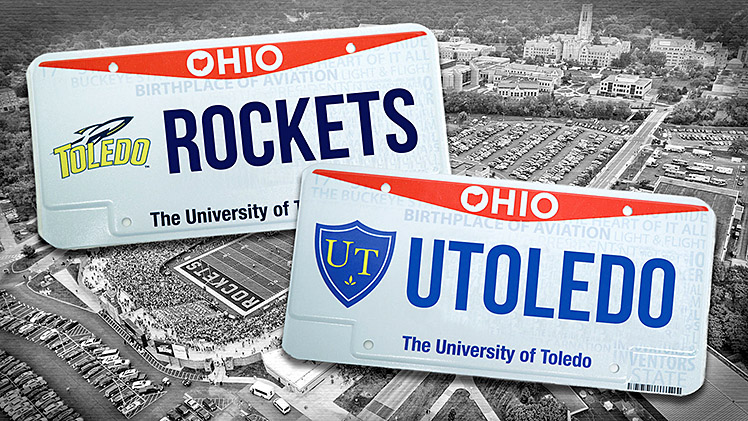 The University of Toledo is proud to announce that drivers now have a choice of two UToledo specialized plate designs when ordering their Ohio license plates – a UToledo logo plate and a Rocket icon plate.
Any Ohio resident with a valid driver's license may order the UToledo collegiate plates for their vehicles by either stopping at any Ohio BMV agency or visiting www.oplates.com. In addition to annual license registration fees, UToledo specialized plates cost $35, with $25 directly supporting UToledo student scholarships.
"We're pleased to offer our alumni and other stakeholders an additional opportunity to show their Rocket pride wherever they go," stated President Sharon L. Gaber. "Our goal is to get hundreds of UToledo collegiate plates on the road over the next few months to help fund student scholarships and raise awareness of the University."
"Along with wearing Rocket gear, flying a UToledo flag at home or contributing to the University through the Foundation, purchasing UToledo specialty plates is another great way our students, faculty, staff, alumni, donors and our athletics fans can promote UToledo," noted Bonnie Murphy, associate vice president for auxiliaries.
"While the University logo plate has been available for several years, last fall we were able to quickly gather more than the 200 signatures required to petition the BMV to produce a newly designed Rocket plate, which we anticipate will be very popular among Rocket fans," Murphy said.
UToledo plates may be purchased through the BMV at any time throughout the year, and also may be used for vanity plates. Once purchased, it takes approximately three weeks for Ohio collegiate plates to be delivered via the U.S. Postal Service.
For more details about UToledo specialty plates, including all associated costs and other frequently asked questions, visit utoledo.edu/license-plates.