Toledo native stays close to his roots, gives back to a community that needs him
By Paul Helgren
There are lots of places that Tycen Anderson could have played college football, but there was only one he could call home.
Anderson, a junior safety with the Toledo Rockets, has lived his entire life in Toledo. He played high school football at St. John's Jesuit, where he was a first-team all-state cornerback as a senior.
College scholarship offers streamed in from all over the country, but Anderson never wavered on his choice. He wanted to make a real difference in the community in which he played and there was no better place to do that than in Toledo.
"I had other offers but this is my hometown," said Anderson. "The people I grew up with are super important to me."
Anderson's father, William, advised him to consider all his options during the recruiting process, but quickly learned there was only one option for his son.
"He made an amazing choice," said William. "He had a shoe box full of letters from schools but he chose Toledo. I didn't know he had so much love for Toledo."
Part of being a hometown hero is being recognized and admired by people in your own neighborhood. Anderson takes that responsibility seriously.
"My loyalty to my family, to the people I grew up with and to this city is huge because I know everywhere I go, it's a big responsibility to play for your hometown," said Anderson. "Coach (Jason) Candle said that to me when I was getting recruited and he didn't lie."
Anderson's profile in the Glass City may become even more pronounced this season. Candle is counting on him to be a leader for a team that has been predicted to win the West Division of the Mid-American Conference this season.
"Tycen is a guy the coaches and players trust and count on," said Candle. "He provides tremendous leadership to our program in the effort he puts forward to be a great teammate, a great student and a tremendous football player."
Anderson is one of 14 local players who have chosen to stay home to play for the Rockets. But perhaps none are more connected to the Glass City than Anderson.
Anderson has lived in three Toledo neighborhoods, all with the challenges typical of urban America. But he had one critical advantage over some of his peers — a strong and loving family. William and Sandra Anderson provided unconditional love and support to their son, Tycen, and his sisters, Tyonna and Janya.
"Some friends that I grew up with went completely down the wrong path, doing the wrong things," said Anderson. "So, I'm just super appreciative of my family. I love my family to death. That's my 'why' right there. When we're doing a hard workout, I can always envision my mom, my dad, my grandma, my grandpa and everybody. I can always see them in the back of my head, just smiling and pushing me forward. Growing up, we might have not had everything, but we always had each other."
In addition to his parents, Anderson's grandmother, Linda Payne, has greatly influenced his life. Her life, which hasn't always been easy, serves as an inspiration to him.
"My grandma, she's one of the reasons I take my academics so seriously," said Anderson, a finance major who earned Academic All-MAC honors as a sophomore. "I remember growing up, I was maybe in the fifth grade, and she was trying to get a GED because she didn't graduate high school. I remember sitting at the table and just trying to do my best to help her. That's one of the reasons why I take my academics so seriously, knowing that she doesn't want me to fail."
While family is the biggest reason Anderson chose to stay close to home for college, his commitment to his community is a close second. He accepts and embraces his status as a role model in the community.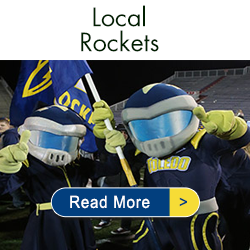 "Growing up, we didn't have too many role models to look up to," said Anderson. "But I always had great youth league coaches who helped guide me in the right direction, as well as my dad. Just seeing how I have some influence in my city and in my inner-city community is huge. We've got a couple guys that I grew up with who are on the same page as I am. The young guys in our community, they really look up to us."
While Anderson has undoubtedly had a positive effect in the Toledo community, the reverse is also true. Growing up and living in Toledo has helped mold him into the person he is today, which made his college choice so easy three years ago.
"Tycen went where he needed to go to become a better person," said his father, William. "He wouldn't be getting the love anywhere else that he gets here."